The Great Migration: Three Days in Tanzania's Serengeti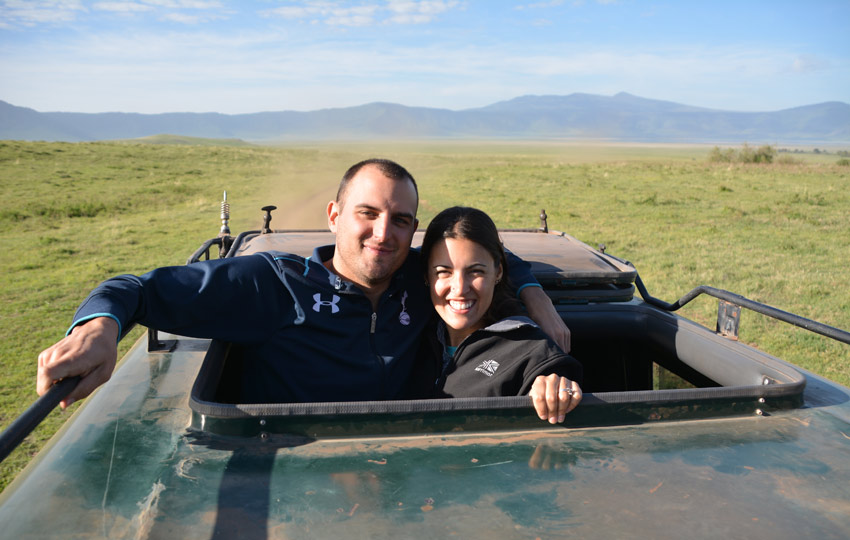 When I first began creating an itinerary for Africa, I centered it around one place: The Serengeti.  It has been a bucket list item for years, and the anticipation of visiting Tanzania's wildlife paradise has only grown over the last year.  We will be visiting the Serengeti on a three-day camping safari along with four other people from our Oasis Overland group.
The pictures speak for themselves, and my little knowledge on zoology really can't explain or do this experience justice, so I will try and keep my post short and visual.
The safari actually covers much more than only a game drive through the plains of the Serengeti.  We will also spend a day exploring Lake Manayara National Park, followed by an early-morning drive through the Ngorongoro Crater, then ending with the big finale: The Great Migration in Serengeti National Park.
Day One: Lake Manayara
We leave the city of Arusha at 5:30 am after getting aquatinted with our guide Benji, and our new safari vehicle, a trusty Toyota Land Cruiser.  The truck is complete with 4WD, a removable roof, and random large dents in the side panels.  Do I dare ask how those dents got there?  Our guide is a local Tanzanian who speaks exceptional English and the company he works for is called Adventure Sport and Leisure.
We arrive at the gates of Lake Manayara around 9am and begin our safari with a drive through lake's surrounding jungles.  It doesn't take long to see animals as within five minutes we are surrounded by baboons.  What amazes me right away is how the animals are completely ignoring us.  There are two vehicles with us, and the baboons are descending out of the jungle on our right, crossing the road, and heading towards the lake.  All without ever even looking at us.  It is a stark difference to other places in the world we have seen monkeys.  In those places the monkeys seem to rely upon the visitors for food, and it causes them to constantly look for and be around humans.  Here in Lake Manayara, it is clear the rangers are doing a good job of keeping vehicles from interacting with the animals.  This is why these baboons don't even flinch at our presence.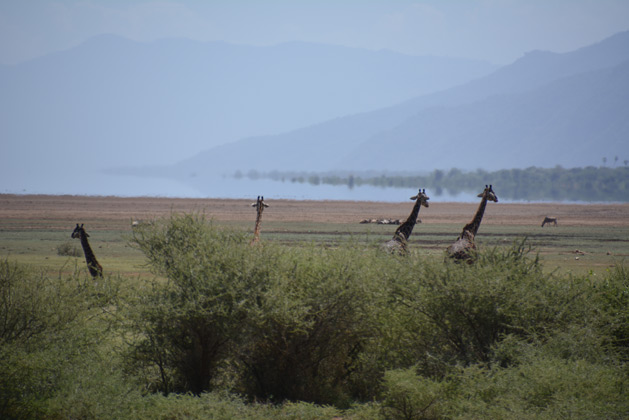 After we leave the jungle, we get our first view of Lake Manayara.  We never really get too close to the lake itself, as we aren't allowed to go off-road, however there are animals everywhere, especially giraffes and zebras.  Our day ends at a really nice campsite that has hot showers and WIFI!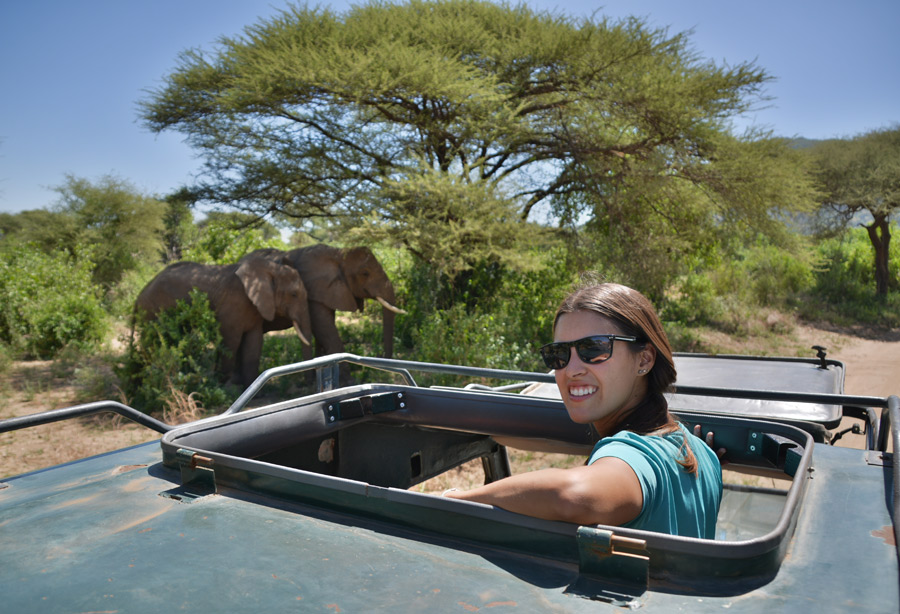 Day Two: Ngorongoro Crater
We start day two even earlier than day one, at 5am we leave for the Ngorongoro Crater and arrive at the park gates right around 8am.  The crater is a UNESCO World Heritage site and is the home to over 25,000 animals, including the endangered black rhino.  As great as yesterday was, nothing could have prepared us for the beauty and excitement of today.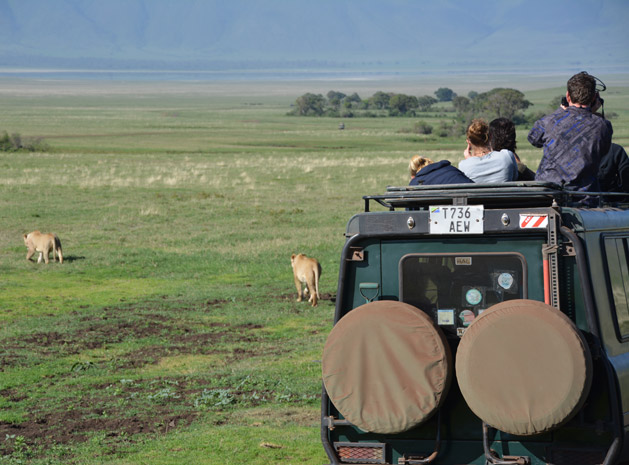 Our biggest hope today is to see both lions and a black rhino.  Within the first hour, we have spotted a pride of lions about 250 meters away.  Even though they are far away, we are still very excited, and I shoot about 50 pictures of what I later realize are specs that sort of look like lions.  The excitement dies down after 10 minutes, and right as our vehicle gets ready to move on, someone notices that the lions have began to move… and they are moving right towards us.  Lions only hunt at dusk and dawn, so since it is around 9am, these lions seem more relaxed and chill than scary and viscous.   To everyone's delight, they walk right towards us, and six lionesses pass right through our two vehicles.  I could have reached out the window and petted one!  It was one of the best moments of our trip so far, seeing lions living in the wild.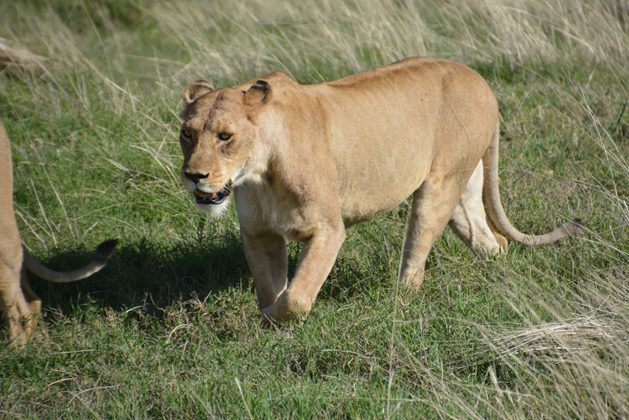 Other highlights of our day in the crater include seeing a black rhino (it was about 300 meters away, so the photo isn't that great), as well as seeing the mating ritual of the ostrich.  I admit I knew nothing about how ostriches mate, so having the guide give us the play by play of what was happening made it even more hilarious.  First, the male performs a dance to impress the female.  If the female is satisfied, she then lays down, and the male runs over to mate.  We were about 200 meters away, and while the dance was funny, when they actually starting "doin' it", no one could hold there laughter.  It looked like an old cartoon where a fight would be depicted by a bunch of characters rushing into a big dust cloud, and every once and a while and hand, foot, or face would pop out.  Imagine that, but with feathers instead of dust.  Oh, and yes, I took a video, see below:
Day Three: Serengeti National Park
Day three was really the part of our Africa trip I have been looking forward to the most: Seeing the Great Migration of 1.2 million wildebeest.  I've seen it on TV and YouTube before, but I have always wanted to see it in person, and this trip to Africa really was centered around seeing this specific natural phenomenon.   We actually arrived on the Serengeti at the end of day two, and did a short game drive on the way to our campsite.  During the drive we were able to see more of all the animals we had already seen, but this time they were in such great numbers than before.  Elephants, zebras, wildebeest, lions, jackals, hyenas, leopards, hippos, and many different types of birds, including the awesome-looking vulture.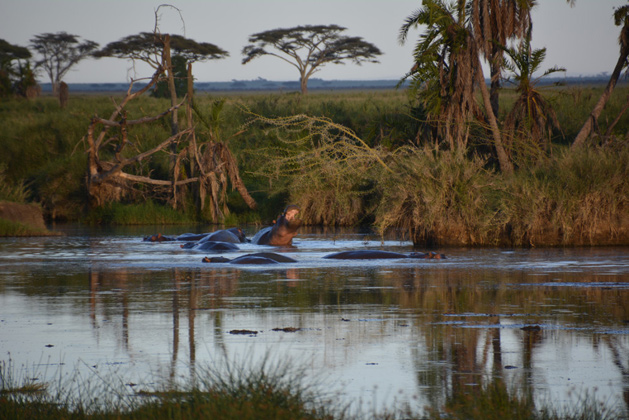 We camp on the night of day two in the heart of the Serengeti plain.  With no fence.  Meaning any animals can roam in or out of our campsite as the please.  We are told to remove all food from our bags and tents so that we don't attract any unwanted four-legged visitors.  I wasn't as afraid as I thought I would be, but I also wouldn't say I was 100% comfortable with it.  There were about 30 other tents in the campsite, so I guess I took comfort in the fact that even if a lion came into our camp for some dinner, the chances of him eating us is only 1 in 30.
The next morning, we get back onto the safari truck at first light.  Our goal is to find lions hunting wildebeest this morning.  We are in luck, within 25 minutes we have found a pride of lions who have just brought down a big prey.  We are about 100 meters away and watch as about eight lions feast on the kill.  There are also about ten hyenas wandering around waiting for their turn to eat the leftovers.  We also watched jackals sneak in and steal away pieces of meat, and then have the lions chase them away.  If you click the photo below, you can see a jackal on the left with a piece of meat in its mouth.  This moment was one of the most amazing 30 minutes of our trip so far and even beat seeing the lionesses up close on day two!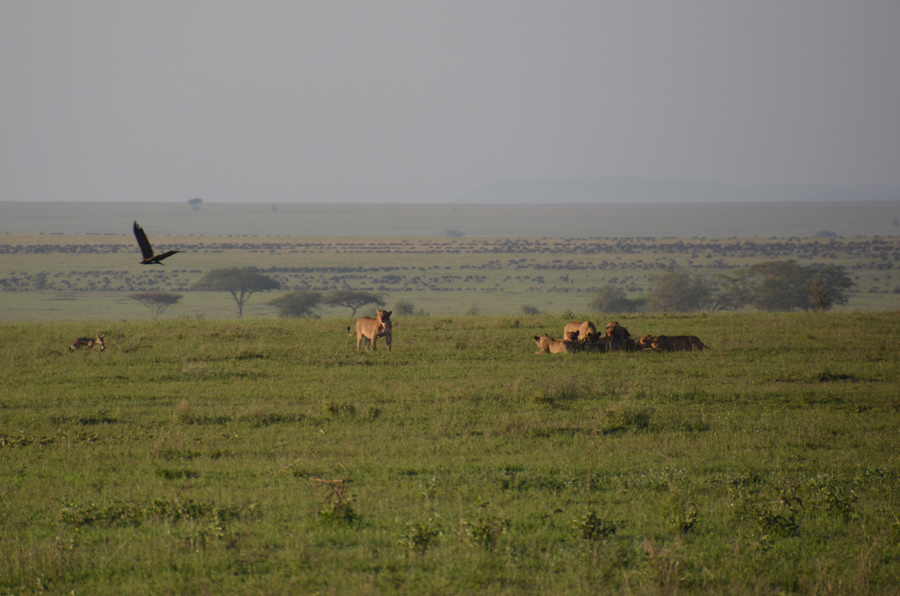 Then, the last part of the three-day safari, is fittingly the part I was most excited about:  seeing the Great Migration.  Although there were wildebeest all over the Serengeti both yesterday and early this morning, we needed to drive another hour or so to find large groups of wildebeest and zebras who make the migration together each year.   The Great Migration is the term given to the annual event where nearly two million wildebeest and zebras travel over 500 miles to find better grazing grass.  They basically walk in a giant circle from Tanzania to Kenya, then back to Tanzania.  January marks the beginning of this migration, and in February, over 500,000 wildebeests will be born in just a 2-3 week period just before the wildebeest begin their move.  Crazy!
The site of so many animals in one place, in the wild, lived up to its expectations, and even exceeded them.  It is the coolest thing I've ever seen: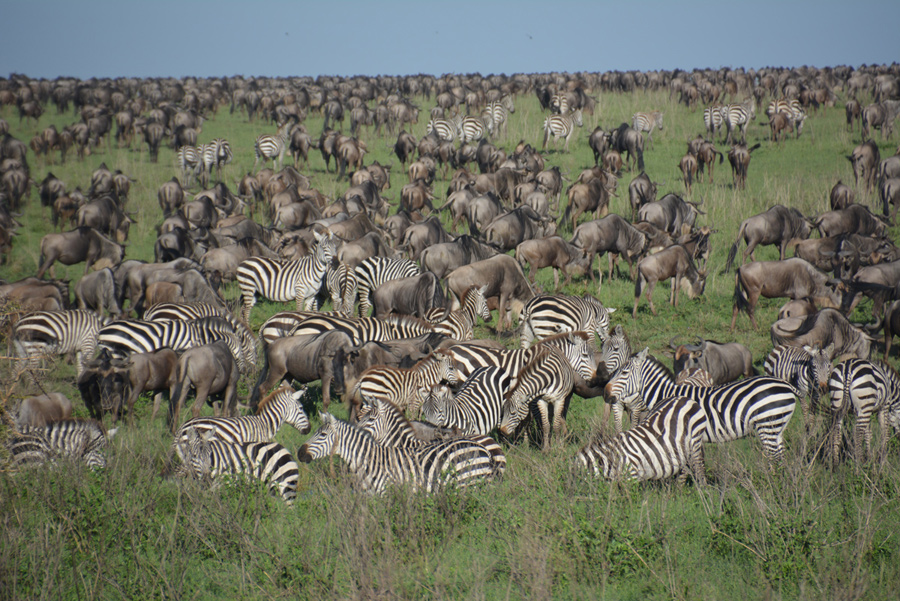 I will be putting a video together of our time in Africa that will include some great footage of these safari's, but in the mean time, check out the best photos from the trip in the Facebook album below:
[fbalbum url="https://www.facebook.com/media/set/?set=a.491764780939957.1073741853.313060352143735″]