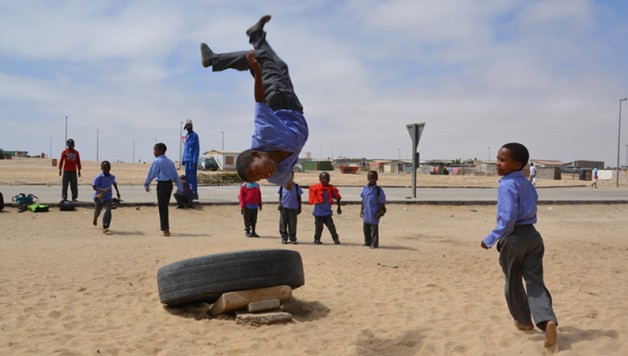 A Township Tour in the Heart of Namibia
Our time in Africa with Oasis Overland is slowly coming to an end, and I made the realization today that most of the activities that we've been participating in have been focused on nature and wildlife instead of on local people and culture.  Although we have had some amazing experiences with the natural world over the last month, I feel like I've missed a few opportunities to interact with locals.  The best days of our trip always involve interaction with locals, so when I was offered the opportunity to take a tour of the local townships outside of Swakopmund, Namibia, I immediately said yes.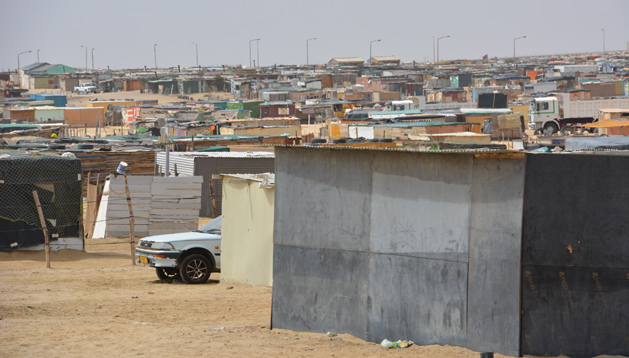 I'm not sure if I'm more excited or disappointed when I'm picked up from the hostel this morning and find out that I am the only one going on the tour today.  Excited because it means I basically have my own private tour guide and can mold the tour more to my specific interests, but a little disappointed that so few tourists in this town choose to do the only activity that really showcases local culture.
My guide's name is Bambo (pronounced Bomb-bō) and on the short drive over he gives me a crash course on the history and organization of the townships.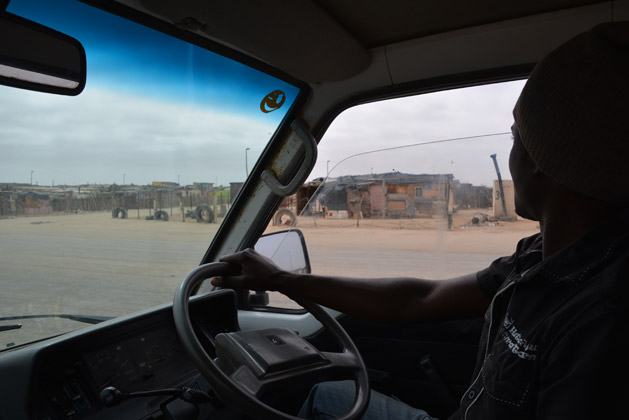 Bambo first gives me a quick rundown on why Swakopmund is a good city to live in.  In a weird sort of way, Swakopmund is kind of like Namibia's version of North Dakota.  A small population with and an unemployment rate 1/4 the size of the rest of the country.  Bambo tells me that the two major industries in town, tourism and mining, are helping to bring more jobs to the locals.  While unemployment in Namibia has been estimated to be as high as 50%, here in Swakopmund, it is more like 10%.  With such a difference in work available compared to the rural areas, the inevitable is happening– more and more people, especially young people, are moving to this growing city every month.  Bambo speaks very highly of what the government has been doing to accommodate all the new arrivals, and our first hour of the tour is spent driving around talking about the subsidized housing programs working so well here.
The "half-houses" of Mondesa
The township has been broken down into three separate neighborhoods.  Neighborhoods one and two, known as Mondesa, are where locals can take advantage of interest-free government loans to build a new house for their family.  The houses are actually built in two phases of financing, which allows citizens the ability to afford the beginning of construction twice as fast.  By the way, just to give you an idea what we're talking about financially, a house here costs about $2,000 USD.  Bambo points out many "half-houses" scattered throughout the township of people still paying off the first loan, slowly moving to the day when they can finish the construction on the second part of their homes.  He also shows me where Mondesa is expanding.  There are many nearby grids of roads that have no houses yet at all.  The government is currently installing electricity and water grids so that more construction can begin.
The program seems to be working extremely well.  Everyone who lives in this township has electricity and access to clean water.  Some even have satellite TV and solar water heaters.  The biggest struggle for people here in transportation to and from work.  Many walk for miles each day to and from work, and those who do have transportation are those people who working in the mines.  The mine workers can afford better transportation because they are paid better (they basically get paid higher wages in exchange for the hazardous working conditions).
We also drive past the community center that was built using a large donation from Brad Pitt and Angelina Jolie, aka Brangelina.  They donated the money in honor of their daughter Shiloh who was born in Swakopmund.
The waiting list community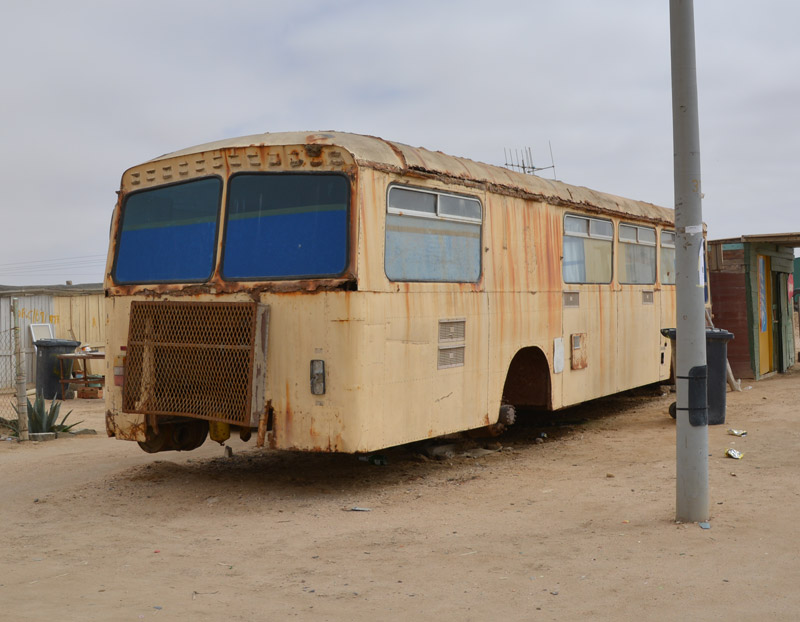 The Mondesa program is so successful that the government can't keep up with the demand.  This has caused the creation of another community.  It's known as the Democratic Resettlement Community, or the DRC for short.  It's a neighborhood of people who are all awaiting their turn to move into a new Mondesa house.  This neighborhood features houses made from all kinds of recycled materials, and it is one of the most amazing things I've ever seen.  The creativity and determination of the people building these houses is incredible.
There are houses that have salvaged cracked windows from old store fronts, used old billboards as roofs and walls, and built from wood of all shapes, sizes, and colors.  I even see an old city bus(pictured on the left) that has been turned into a house!  Bambo stops at a few houses in particular that are creative, and the owners allow us to chat with them a bit.  My favorite is a lady who has one of the most immaculate gardens I've ever seen.  He tells me that a nice garden can make anyone happy, regardless of how much money you have.
This neighborhood is a perfect example of not judging a person by his or her house.  At first, it looks like a town full of poverty and sadness, but when you look closer and get the proper information, you see it for what it really is.  These houses are just temporary dwellings, full of ambition, optimism, and generosity.  When a family gets accepted for a Mondesa house loan, they simply give their former DRC house to a family that has just moved to town.  It is both beautiful and inspirational.
Buying dinner and a quick language lesson
Bambo asks me for permission to stop and order some meat for his dinner tonight.  I jump at the chance to see what his day to day food looks like and immediately agree.  Although, I was a little unprepared for what came next.  We pull over to a lady on the side of the road who has a table of goat heads.  Fresh goat heads.  These heads were cut-off by butchers in town, and since the restaurants and rich people don't care for eating the heads, they are sold to this lady for next to nothing.  She then chars them to remove the skin and sells them to locals in the township for about 25 U.S. cents each.  Bambo says that the heads still have edible (and tasty), parts on them.  There is meat in what's left of the neck, the ears and cheek meat are good, and of course the eyeballs can also be eaten.  For half of a dollar, he now has meat for his dinner, which he will pick up later today after the skin has been charred off for him.
The most interesting part of the transaction isn't the goat head.  It's the language they are speaking.  It is a dialect of Khoekhoe language, which features four distinct types of clicking noises.  It is the most unique way of speaking I've been able to witness, and it is extremely difficult for non-natives to speak.  Bambo tries to give me a quick lesson, but I fail miserably.  If you want to hear some of the language spoken, here is a quick little video I found online of someone speaking it: https://www.youtube.com/watch?v=qjApWXTZeOg
The boy acrobats of Mondesa
Our next stop is a spontaneous one.  While driving through the township, I notice a group of 20 or so kids taking turns doing acrobatic flips off of a homemade tire rig.  I ask Bambo if we can stop and watch for a little while, and he answers with a "You're the only one on the tour man, you can do whatever you want."
It is pretty crazy watching these daredevil kids perform jump after jump on this tire.  They show no fear.  Since I have a little bit of acrobatic experience myself (circa my time on an NBA Dunk Team), I decide to give it a try.  It does not go well, and I end up doing an awkward flip and landing directly onto my back in the sand.  After a good laugh from everyone, I decide to become just a spectator again.
The boys vary in skill, and it's fun watching the ones with more ability teaching the younger boys tips on how to jump higher and land better.  One of the boys even scales a nearby ten-foot-high wall and does a back flip off the top.  These kids are crazy!  Cirque du Soleil needs to come recruit here.
The schools of Mondesa and the DRC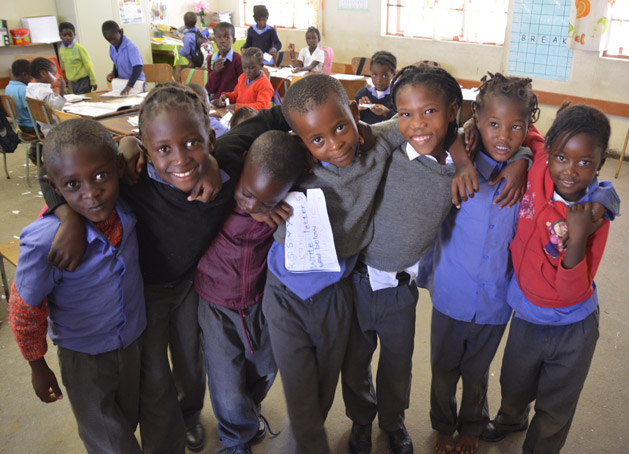 Bambo then takes me to one of the local schools within the township.  School here is free up until 8th grade, and Bambo has arranged for us to take a quick peak inside a first grade classroom.  I was a little reluctant to do this, as I didn't want to disturb the students, however, the teacher actually came out first and told me they were in the middle of an art-project, so I wouldn't be causing a disruption.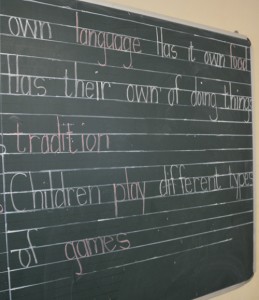 The first thing I learn inside the classroom is that the students here are taught in both English(primarily) and Afrikaans.  Since most of these children also know their local Khoekhoe dialect too, it means they will soon be fluent in three languages, giving them a big advantage as they move onto further education opportunities.
Today the children were learning about other cultures.  A perfect day for me to visit!  The chalkboard was full of facts about how cultures differ around the world.  For example, the board says "Each culture speaks its own language and has its own food" and "Kids play different games in other cultures".  I get to watch them sing a song to end their free-time before I head outside for some recess.
Schoolyard Soccer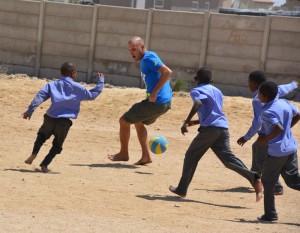 When we head outside, I notice there are about 14 boys getting ready to play some soccer.  I hand Bambo my camera and head over to join the game.  I divide the boys in two and put myself on the team with the smaller goalie (that's fair right?).  The level of play is incredible, and I quickly learn that I am the worst player out here.  A few times I get the ball only to have it immediately swiped away by the same quick kid every time.  After 30 minutes my team loses 2-0, but the experience is something I'll never forget.
A quick snack at the Namibian McDonald's
Back in the car, Bambo points out a set of food stalls lining the roads and tells me this is his city's version of McDonald's.  I ask if we can stop to try it, and he doesn't hesitate to pull over.  Each cook has a tray of raw meat, and a table full of salt and spices.  The way it works is you pick your meat, spice it your self, and give it back to the chef to have it cooked.  This way each piece can be seasoned just the way you want it.  For less than $1 USD, both Bambo and I have our fill of fresh, great-tasting meat, cooked right in front of us.  This same piece of meat at a restaurant in town would have cost at least $10 USD.  The benefits of eating with the locals!
A visit with the treasure of Swakopmund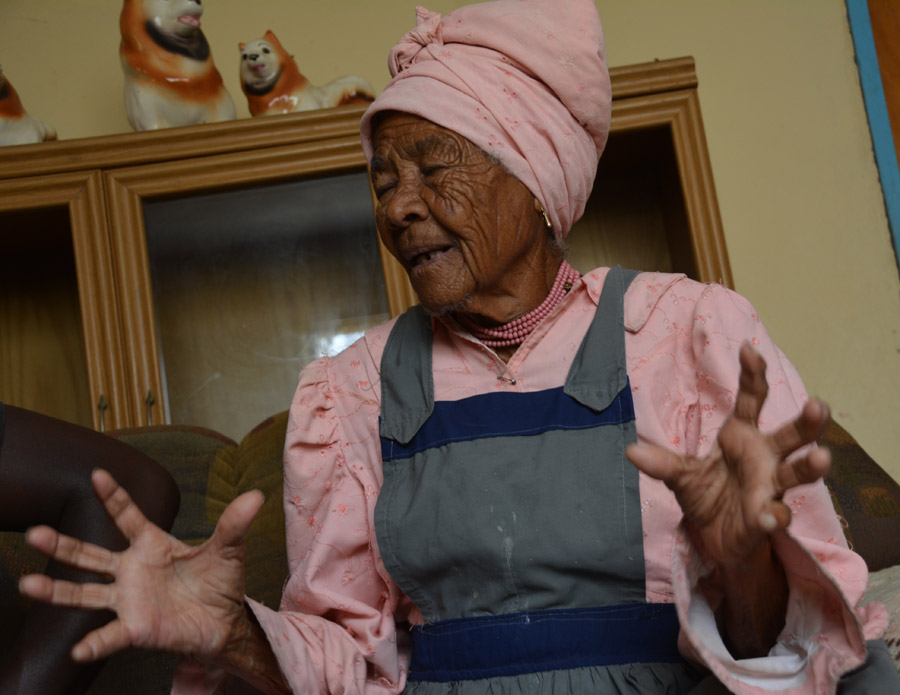 After our stop at what I've now named "McMibee's", we head to the house of one of the township's most respected elders.  Her name is Ouma Lina (Grandma Lina), and she has lived through three distinct periods of Namibian history.  The colonial period, the apartheid period, and the current independent Namibia.  Again, I am thankful to be the only one on the tour today, as I get to spend 30 minutes having a great
conversation with Ouma as Bambo translates.  There is still a large German population in Namibia because of the colonial history, and Ouma can even speak German.  She tells me what life was like under South African rule and tells me that apartheid was the worst thing to ever have happened in Namibia.  I also find out she is the mayor of the township, a judge, AND the pastor in the local Lutheran church.  She gives me a big smile and warm handshake when I tell her that Alissa and I were married in my hometown Lutheran church.
At the end of our conversation, I ask a few light-hearted questions such as "Do you use Facebook?", to which she laughs and says she has 'people' to use the internet for her.  When I find out she's never left Namibia I ask "If you could travel anywhere in the world, where would you go?" to which she answers "Germany."  She explains she has friends there that she knew in the 1940's that she wants to visit.
I also get to meet two of her grandchildren and three of her great-grandchildren.  Ouma hilariously struggles to keep one of her granddaughters from attacking her with hugs and kisses as she leaves for work.  She reminds me so much of my own grandmothers, and it was an experience I'll never forget.
Eating with the locals
Our last stop is at a local bar inside the township for some drinks and another meal.  The meal consists only of local fare: maize porridge (called pap), dried spinach, dried berries, dried beans, and the grand finale, caterpillars.  Fried caterpillars.  This makes me really glad I have a 16oz beer with me!
I leave the caterpillars for desert and try everything else first.  We eat with our hands, using the pap as sort of a base to eat everything else.  The pap has the consistency of mashed potatoes, but tastes more like white rice.  When I finally get to the end, I give the caterpillars a shot and eat three of them.  They are crunchier than expected and taste kind of like pistachios.  Kind of.  I also find out they originally starting eating caterpillars because the farmers can easily pick them off the leaves as they are out picking berries, thus increasing their food yield for the day.
It is a great way to end one of the best experiences of my time in Africa.  The tremendous kindness and respect I was shown all day by both adults and children alike was incredible.  The entire day was truly spent in amazement at how well this township functions and how great all these people are.  They made me feel like a guest, not a gawker, which is exactly how township tours should feel, and I can only hope that they also felt the same level of respect from me in return.