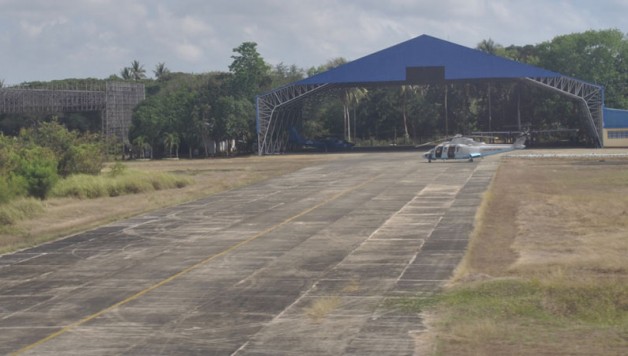 The Complete Guide to Flight Hacking
If Bridge was able to be recognized by the IOC as a sport, than I believe Flight Hacking has a chance to one-day, become an Olympic sport. Flight Hacking requires skill, discipline, and whole lot of patience. And thanks to sites like FlightFox.com, flight hacking is starting to become competitive. Here is your guide to becoming an expert flight hacker, and avoiding $109,221 airfares.
A few things to know before we start:
The cheapest days to fly are almost always Tuesdays and Wednesdays. However, I will be using a combination of weekend and weekday searches on this example to try and be more realistic to most peoples' schedules.
The best bet for the cheapest airfare is five weeks from today. So if you are researching airfare for a trip six months from now, still do your searching five weeks out. Keeping in mind that there are some seasonal changes based on each destination.
When I search airfares, I am 95% of the time selecting the "my dates are flexible" by default and automatically checking the 3 days before and after each search.
In order to simplify this "How-To" I will be using an example route. I will do an international flight to add a little more excitement, plus flight hacking is much more effective when traveling from country to country vs. domestic travel. So let's assume we are in Sydney and we want to go round trip to Bali, Indonesia. Let's see how cheap we can make this happen.
Step 1: Download and prepare tracking spreadsheet
The first key to successful flight hacking is organization. Here is a link to the spreadsheet that I have built and use, but feel free to create your own style too: FlightPlanner.xls. I will post a link at the end of my completed spreadsheet for the Sydney-Bali hack.
Step 2: Get a baseline fare
I need a baseline fare, aka what a normal traveler would pay. To do this, I will use the top two fare search sites, type in my ideal travel dates, and see what the cheapest option is. I recommend first searching Kayak.com, then Skyscanner.com.
I search roundtrip SYD to DPS on Kayak.com and Skyscanner.com, 10/28 to 11/11 and the cheapest fare was $818 (per person) on Skyscanner. I input that into my spreadsheet as option one.
Before I begin hacking, I need to verify the Skyscanner fare. It is important to remember that tickets aren't BOOKED on Kayak and Skyscanner, so just because they tell me a fare is a certain amount, it is important that I select the fare, proceed to the booking site, and verify what the actual cost will be. In this case, I clicked the BOOK button on the Skyscanner fare and it took me to Jetstar.com (the airline). I picked the cheapest fare they had on each day, added two checked bags because their website makes it very clear that any bag over 22 pounds will be checked on arrival for a larger fee.
After it's all said and done, I get the final fare to: $839.37. ($21 more than Skyscanner's estimate). In my experiences, the fares usually go up a little after getting to the booking sites.
So, now I have my per-person baseline fares:
Baseline Fare:
$448 from SYD to DPS
$390 from DPS to SYD
$839.37 Total Baseline Fare
Here is what it looks like in my spreadsheet, which I am planning for two travelers:



My goal based on this will be to get the Total Baseline Fare down by $250 to $589.
Step 3: Analyze the origin and destination airports
Now it's time to find alternate routes to my destination. Sure, a non-stop flight would be nice, but I don't have that kind of dough. I am going to visit TheAirDB.com to analyze both airports. I search TheAirDB and find both of the airport's details page: Sydney's Kingsford Smith Airport (SYD) and Bali's Denpasar Ngurah Rai Airport (DPS).
The map on each page is my first tool, and will help me find cities that are cheap to fly to from SYD, and get me closer to Bali. The airport pins on shown on the map are the destination cities that the airport flies to directly, and the black pins are the most valuable since that means the destination is served by more than one airline (aka competition=lower prices!)
I am looking for cities that are closer to Bali, and black on both the SYD and DPS map. Here is the list of airports that match that target perfectly: Singapore, Kuala Lumpur, Bangkok, Hong Kong, Darwin, Cairns, and Perth.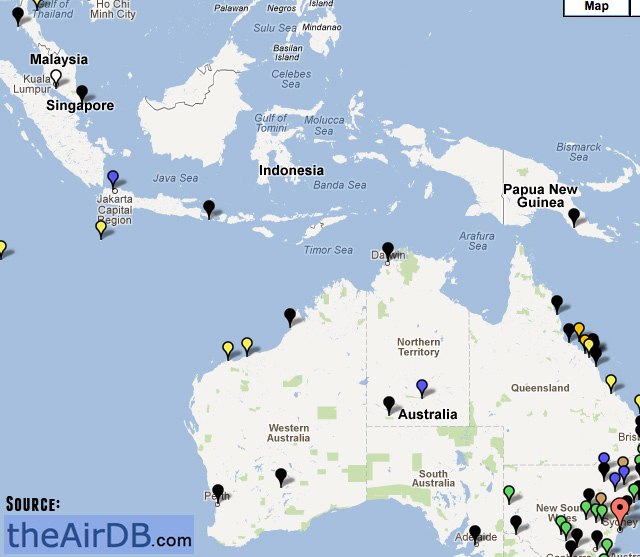 Step 4: Find cheap stopovers from departure city
Before I start with my list of cities above, I am going to quickly test some cities that don't quite fit the target, but still have potential. These are cities that will take me off the path and create longer flight times, but still have large airports serviced by many airlines. Here are the cities I am going to check quickly: Tokyo and Melbourne.
To check these "less-than-ideal" cities, I simply search a one-way fare to see if it I can find a cheap, non-stop leg that gets me to a more ideal airport. In this case, I searched Melbourne to Bali to see if it was cheaper than the $448 one-way fare from my baseline fare. (it wasn't, so Melbourne is out). I then check Sydney to Tokyo one-way. (it was $579, so Tokyo is out).
Now my longshots are gone (but are always worth checking!), it is time to start with my good list. I am going to focus on finding a cheap flight to Bali first. I am going to search one-way fares to Bali, departing from cities much closer to Bali than SYD. (Make sure to search both Kayak and Skyscanner)
Here is what I get:
Singapore to Bali: $84 on Kayak
Kuala Lumpur to Bali: $80 on Kayak
Bangkok to Bali: $268 on Skyscanner
Hong Kong to Bali: $239 on Skyscanner
Darwin to Bali: $244 on Kayak
Cairns to Bali: $595 on Kayak Cairns Eliminated
Perth to Bali: $225 on Kayak
Now I am going to search the one-way fare from SYD to all the cities above that weren't eliminated. I will then add the fare above to see how many of them are cheaper than my baseline, one-way fare of $448 from SYD to DPS.
Here is what I get and how it compares to the baseline fare:
SYD to Singapore: $213 on Kayak (Total = $297) $151 cheaper
SYD to Kuala Lumpur: $400 on Kayak (Total = $480) $32 more
SYD to Bangkok: $505 on Skyscanner (Total = $773) Bangkok Eliminated
SYD to Hong Kong: $750 on Skyscanner (Total = $989) Hong Kong Eliminated
SYD to Darwin: $166 on Skyscanner (Total = $410) $38 cheaper
SYD to Perth: $187 on Skyscanner (Total = $412) $36 cheaper
Step 5: Find cheap stopovers from return city
Since I am returning to Sydney, I can skip the map step. To save space, I didn't list all the results of this step like I did above. The only difference was the the return from Bali to Singapore looks a bit cheaper than SIN to DPS, (good news!). The total estimated fare is now: $639. I've already saved $200. Now let's verify the fares and dates on the booking sites, and see if I can save even more money. Note: Kayak and Skyscanner will list the booking site options directly under each fare. It will look like this: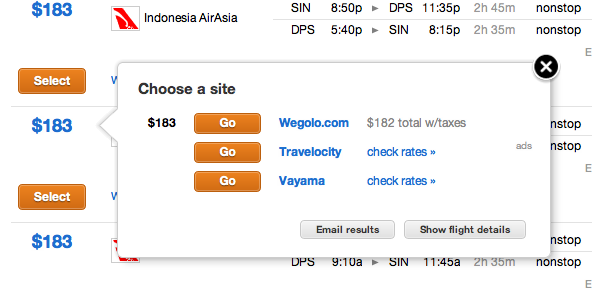 Step 6: Verify your fares
I will begin making my Kayak and Skyscanner searches based on my chart I created of the lowest route (SYD to SIN to DPS to SIN to SYD). I will be looking for additional hidden fees or last minute fare changes, as well as seeing if I can get a cheaper fare by leaving on nearby dates. I will also be looking at buying round-trip tickets now, as they tend to be a bit cheaper(depending on the airline).
I already know that two one-way fares (SYD to SIN and SIN to SYD) cost $476, so I search Kayak for a round-trip ticket. I also use variable dates to try and find the cheapest day to depart and return. While playing around with departure and return dates, I find that it's $100 cheaper to leave a day earlier. I give $15 back on the booking site thanks to a credit card fee! But not, bad, I've already saved an additional $85.
Now I repeat that with leg #2. The flights from SIN to/from DPS ended up being $10 cheaper to buy as one-way flights, even though it was through the same airline! (AirAsia). When I was on the booking site, I made sure to check if it was cheaper to fly on a different day of the week. Check out the chart below, and you'll notice it is $27 cheaper to fly on Friday vs. Saturday:


After all the verifying, here is my final chart:


Step 7: Book your flights
I beat my goal of $250, and ended up with a total cost of $532.18 per person, a savings of $307.19. Last step is always to give ONE FINAL check of the dates and times to make sure you can safely make all your flights. You'll notice that on this itinerary, I chose to spend one-night in Singapore on both the way to Bali, and on the way back.
Final Notes
Round trip flight hacking is trickier and more time consuming than a one-way trip, but I tend to find more savings success with round-trips. In order to save the most, you need to have time and flexibility. The more of those you have, the more you'll save. It also helps to be open to adventure and leaving your comfort zone. The example above has me leaving Singapore at 2:10am in the morning. I can assure you it will be an interesting experience!  Here is a link to my final planning spreadsheet for this example: FlightPlanner-SydneyBali.xls