10 Tips For Surviving 2014 Sasquatch! Music Festival

2014 Sasquatch! Music Festival
This year, Sasquatch announced that in 2014 the festival will join other major festivals like Coachella in expanding to two weekends.  Memorial Day will no longer be the only holiday weekend to experience Sasquatch, but July 4th will also bring hundreds of thousands back to the Gorge for a second Sasquatch weekend.  The best part of this announcement is that the July version of Sasquatch will feature a completely different line-up.
2014 Dates: Friday 5/23 – Sunday 5/25 AND Friday 7/4 – Sunday 7/6
Location: The Gorge, Washington State
Ticket Info: Tickets for the Memorial Day Sasquatch festival will go on sale in February.  Sasquatch no longer sells one-day tickets, so you must purchase a four-day pass. The four-day pass comes with access to general camping.  It is unclear when the July festival tickets will go on sale, but we are assuming it will be in early May. 
1.  Buy your tickets in February when they go on sale
If you are set on attending Sasquatch 2014 then I highly recommend buying your ticket the day they go on sale (February 2014, exact date TBD).  It is tempting to wait and see if tickets on secondary sites will drop below face value.  Mostly because they have dropped in price the past two years.  In 2011, tickets dropped below $250 in May, and in 2012 they dropped to $280 in March, but shot back up to over face value in April.  Bottom Line: The festival is getting more popular every year.
Is it possible to save money and buy tickets secondhand in March? YES.  But if you really want to go to Sasquatch 2014, I recommend buying the tickets for face value in February and not risking the tickets never dropping in price.
2. Arrive on Thursday!
The music doesn't officially start until Friday, however if you want to truly experience Sasquatch, arriving on Thursday is crucial.  You will avoid six-eight hours of lines, and get a bonus night of partying in the campgrounds.
In 2012, we arrived at 7pm on Thursday, two hours after the campgrounds opened.  We waited in a quick, one hour-long line of cars.  I describe the hour as quick because if you arrive Friday, your wait will be at least triple in length, if not more.  Here's a shot of the four hour car line on Friday:

The first thing you need to do at Sasquatch is exchange your paper ticket for a wristband.  On Thursday, we waited in a 10 minute line to get our wristbands.  On Friday, the line wrapped around the campsite, and was a minimum of four hours long.  Don't take my word for it.  Check out the picture below of the Friday wristband line.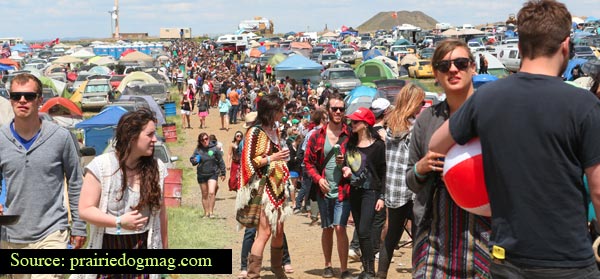 3. Bring clear liquor in sealed water bottles
In the campgrounds, you can drink all the beers and liquor that you bring along with no problems.  However, once you enter the festival gates each day, everything changes.  The security guards strip search you and throw away anything other than bottled water, and once inside beers cost $11 to $14 for 24 oz cans.  Instead of paying the cost of a 12-pack for one beer, use this awesome video tip to bring in your own bottle of vodka.  Then all you need buy on site is ice-cold mixers! (Obviously be smart, and be careful mixing them in plain sight of security, they will kick you out.)
4. Bring a lot of water
There are waterspouts scattered throughout the campgrounds, but they aren't always close-by, and it isn't the best tasting drinking water.  On your way to Sasquatch, stop at Walmart or Target and buy two gallons of water for each person in your campsite.  You won't regret it, as you'll have enough fresh water for drinking, cooking, brushing your teeth, etc.  Drink water, water, and more water.
5. Buy your ice the night before
The line for the campground convenience store is pretty long most of the day.  We found it pretty easy to just stop at the store on the walk back to the campgrounds every night after the music ended.  Throw the ice in the cooler, and you wake up with ice cold beer without having to wait in a long line.
6. Prepare for the weather
The weather at The Gorge can be 85 degrees and sunny one moment, then pouring rain the next.  Make sure your tent is in good enough shape to handle pouring rain and heavy winds.  Bring two tarps; one for underneath your tent, and one to create a canopy to shield from both the sun and rain.  We opened the back of our mini-van's tailgate, tied a tarp to each corner, and tied the other side to our coolers.  Just like that, we had a nice shady porch.
You also want to make sure you bring a backpack with you to the festival grounds each day.  The walk from your campsite to the festival grounds is a good 20-30 minutes, and you will only want to do it once each day.  So be prepared, and pack the following to ensure you enjoy your 6-8 hours away from the campgrounds:
Poncho – When it rains, it pours.
Sunscreen – Sunburn is not fun.
Water bottle – There are also a couple of places to refill your water bottle inside the festival.
Snacks – They allow you to bring in one bag of food.
Jacket/Sweatshirt – It can get cold at night.
7. Bring something to cook with
The best option is to buy a little propane burner and two pots (one for water and one for food).  Make sure you get a burner that can handle high winds, otherwise you'll never get food hot or water boiling.  Bring canned food that's easy to heat and eat.  We also brought an REI french press so we could make hot coffee each morning.  You will see experienced Sasquatchers coming with full grills, coolers stocked with expensive meat, and setting up buffets three times a day.  I just don't think that's necessary.  I'd rather spend the day being lazy and drinking instead of cleaning hardened food off all my dishes.
8. Bring headphones
The campground parties are loud, tend to go all night, and the campsites are set up really close to each other.  If you have trouble sleeping when it's noisy, bring headphones or earplugs to sleep with.

9. Bring music and light
Make sure to bring a boombox that runs on batteries.  You'll want music playing all day, and your car battery can only handle so much.  They don't allow fires at the campgrounds, so you will want to have a way to keep your site lit.  We brought a few lanterns and set them around the chairs.  It had all the ambience of a fire, but none of the heat.

10. Don't pay for premier camping
This festival is not for people looking for luxury.  Premier camping is just a way to suck more money out of the people who can afford it.  The shower lines are long everywhere, and the walk from premier camping to the festival is only a few minutes shorter.  Save the money and use it to buy an extra 30-pack of beer, you'll always go through one more case than you think.
UPDATE:  Here is commenter Erin's take on "Should I do premier camping at Sasquatch?":  Sure, if you are 20 and love the stench and noise of all night partying then general camping will suffice. Premier camping is a very cheap oasis in comparison. With fees,a $191 prem camping pass can be used by 6 people max in one vehicle. You can shower any time. lines are short. lots of space. but the real crux is the shuttle. easy on and off…avoiding a LONG walk back to General. AND the biggie is that you can leave anytime of the day with Premier… OH there was also a separate entrance for Prem Campers…saving more time at the gate.
Got more Sasquatch! questions?  Leave a comment below:

Our group at the Sasquatch campgrounds