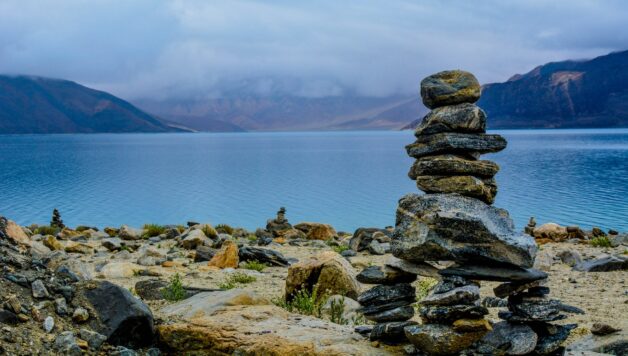 Amazing Places to See in Leh Ladakh
Are you awestruck by adventure? Do you want to embark on an exciting trip to India? If that's the case, have you considered travelling to Leh in the Himalayas? Not just a typical route, but with your bicycle.
Regardless of age, every biker aspires to go on a Leh Ladakh bike ride at least once in their lives. While they can imagine getting the perfect trip, reality might not be perfect. The rough terrains in Leh and Ladakh often bring surprising surprises, but the trip is filled with breathtaking experiences and stunning spots to visit and appreciate.
The saying "there's beauty everywhere; all you need to do is look – is a reality about the captivating Leh Ladakh. A road journey to Leh Ladakh in India will provide stunning views of snow-covered mountains, rugged landscapes with rising peaks, dangerous routes, as well as the roar of your bike's engines. Thus it would help if you planned your Ladakh bike trip to be about positive energy and the unending enthusiasm of the cyclist.
The best time to travel to Leh Ladakh on wheels is from June through September, during which you will take in the best sights of Ladakh. However, you can enjoy your bike ride all year, except the monsoons. If you ride across the High Passes, you will see a lot of places throughout your tour to leh ladakh that you can easily book through Thrillophilia.com.
The Leh Palace
The Leh Palace was constructed in the seventeenth century. Leh Palace is a perfect tourist attraction to visit during the Leh Ladakh tour. It is among the highest structures, it has nine stories. It provides stunning panoramas of Leh town and Leh's famed Zanskar and Stok Kangri mountains of the Himalayan mountain ranges.
It is possible to search for bikes for rental within Ladakh and Leh to take in the stunning views of the gorgeous Himalayan region of Leh. Choose a reliable and sturdy bike to take you on a road trip. Make sure you take time to admire the sunrise and sunset views from the highest point of the famous Leh Palace. To get the most out of your trip, plan your visit during Galdam Namchot Festival, where locals come together to celebrate their festival.
Pangong Lake or Pangong Tso
Pangong Tso or Pangong Lake is an absolute must-see during your travels across Leh Ladakh. Beautiful beauty, tranquil hills, and clear waters are just a few distinct features that make the Pangong Tso a stunning landscape in the whole region. In addition, the lake has been an ideal location for film shoots in India.
The Zanskar Valley
Cave monasteries abound with breathtaking views, panoramic views, and stunning landscapes, and the Zanskar Valley is a popular tourist destination throughout Leh Ladakh. If you are a fan of trekking trails or are interested in experiencing river rafting, don't pass up the opportunity to visit Suru and Zanskar valleys. They are two of the most isolated valleys in the Himalayan region, and the river rafting experience will be unlike anything you've ever experienced.
Khardung La Pass
To get the most out of your cycling trip to Ladakh, the best route is to traverse that well-known Khardung La Pass at an elevation of 5,600m. The Khardung-La pass is regarded as the top mountain pass globally to traverse by bicycle and is an important pass on the Siachen glacier. This road takes you to the Shyok and Nubra Valleys – two famous valleys in Ladakh.
Phuktal or Phugtal Monastery
Phugtal Monastery is one of the monasteries isolated within the southeastern part of the Zanskar valley in Ladakh. The Gompa is known for its education, medicine, enjoyment, and learning. The Phugtal monastery resembles an awe-inspiring honeycomb from a distance. Apart from architecture enthusiasts, it is also a great place for trekkers. Phuktal monastery is a great choice for those who love trekking since it's an ideal entry point to stunning sights.
Shanti Stupa
Finally, going to Ladakh without looking around at its Tibetan structures and being a part of Buddhist practices is a clear no-no. It is essential to go to at least the Shanti Stupa -its incredible architecture and white-dome pagoda dedicated to Buddhism. The Stupa is located on a hill at around 1100m above sea level, and the Stupa allows you to enjoy numerous stunning panoramas of the surrounding area.
If you've not yet begun making plans for your bicycle tour to Ladakh and the Himalayas, start planning it now. It is possible to contact travel experts to get more information on these tours.
Photo by Aaron Thomas on Unsplash