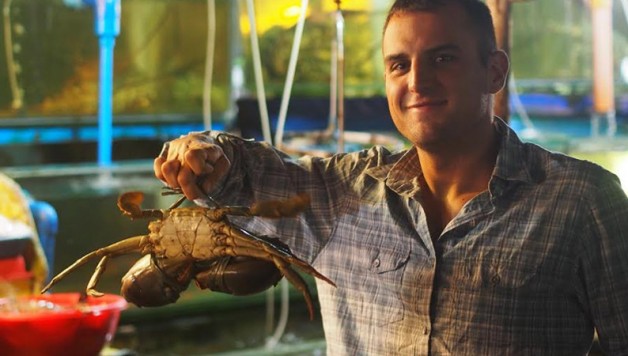 Eating With the Locals in the Philippines: Three Ways to Experience Manila's Food Culture
If you're new to this blog, or to my travel stories, then you need to know something about me before reading further.  I am not a foodie.  It's not that I don't like to eat.  I love eating, and I enjoy trying new, unique, and tasty food.  However, there are two main reasons I don't really write about food.
1. I am not good at writing about food or describing what I'm eating.  It is extremely difficult for me to talk about why one fish is better than another, or why one wine tastes better than another.  I end up using really generic buzz words and sounding dumber than I normally sound. "The risotto was to die for."  Boring!
2.  I really don't know what I'm talking about when it comes to food.  I can do my best imitation of a food critic all day long, but when it comes down to it, those who know food will know that I am an amateur who also eats too fast.  When I say I don't know about food, it isn't that I don't know the difference between coriander and basil or a banana and a plantain, but more that I lack the cultural knowledge about food that is required to really be an international foodie.  For example, in Vietnam, the food is so, so damn good.  I know it has something to do with the ingredients available, the French influence, the Chinese influence, etc. etc., but I honestly have no idea and taking the time to learn about the food has always taken a back seat in my writing choices to history and adventure travel.
So, with that said, let's talk about food! 
Three ways to experience Manila's food culture:
 1. Eat with a local
This is normally easier said than done.  In some countries, it can be extremely difficult to find a local willing to either take you into their home or take you to a local restaurant.  In Manila, and the Philippines in general, there are two factors that help in finding a local to show you around.  First-off, nearly all Filipinos speak at least a little bit of English.  So finding someone who is fluent in English is pretty easy.  Secondly, the friendliness of Filipinos is unmatched anywhere else in the world.  Just take a walk around a mall in Manila, and before you know it you will have a couple new friends willing and excited to show you some hot food spots in their city.
Recently, there have been some awesome developments in the whole "Eat with a Local" movement.  There is a new website called Withlocals that allows locals in certain cities to post food experiences, tours, and cultural activities that you can tag along with.  It's a win-win situation.  The traveler gets an authentic experience with a local, and the local gets some cash (the locals set a small cost for each experience).  Just in Manila alone, there are eight food experiences available with locals.   Some even teach you to cook as well!
2. Visit one of Manila's Dampa Markets (Wet Market)
In Manila, I've heard many tourists complain that it is hard to find good local, Filipino food.  Or even if they do find some good local food, they complain the experience wasn't cultural enough.  If you're craving a cultural experience in Manila, look no further than a dampa market.  These markets, known as wet markets in English, are not only tasty, but they're fun too.
Here's how the markets work.  You walk down an aisle that is packed on both sides of fish vendors.  They are aggressive, and will shout at you to check out their goods.  Ironically, they all have the exact same product, but it's still fun to shop around.  There is a huge variety of fresh fish, crabs, lobsters, prawns, scallops, etc.  Once you pick out and purchase all the seafood you want, you can then take it to any of the nearby restaurants and they will cook it for you.
If you want to experience a dampa market in Manila, I recommend going to the one that is in Pasay District 1 (near the Mall of Asia).  Tell a taxi driver you want to go to the dampa market on Diosdado Macapagal Ave near Mall of Asia.  Here is a google map link to one of the restaurants near the market.
3. Eat some of the best international food in the world
Who says you have to eat filipino food when in the Philippines?  In Manila, some of the best food to try is actually from chefs cooking other culture's food.  Everything from South American to Chinese to every European specialty is available.  I actually took advantage of a Withlocals experience and signed up for "Discover the best unknown eats of Makati" tour.  The tour took us to a few hotspots that served non-filipino food.  My favorite was a Mexican restaurant called El Chupacabra.  Mexican food has always been one of my favorites, but has also always been the hardest to find outside of the U.S. and Mexico.  I am usually left disappointed when I go to a Mexican restaurant in other countries.
This was not the case when my brother and I stumbled in El Chupacabra.  They specialize in street tacos, and soon after sampling 6 or  7 different kinds of tacos, I had a new favorite restaurant in Manila.  I've since returned four more times to sample more of their awesome tacos, including the beef tongue taco.  YUM!