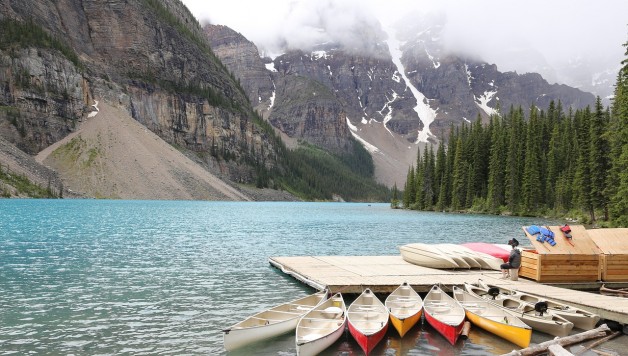 Go to Banff … But Stay in Canmore
You've seen the pictures — the majestic mountains reflected over a perfectly still Lake Louise, the towering waterfalls in Johnston Canyon, the sweeping views as the Banff Gondola climbs up Sulphur Mountain. These pictures have rightly convinced you to visit Banff National Park for your vacation this year.
Banff National Park is Canada's oldest national park. It's only 90 minutes from Calgary International Airport and right off the Trans-Canada Highway, which makes it easy to access from almost anywhere. Combined with its unparalleled beauty, this accessibility also makes it the most visited park in Canada.
Banff is a massive park and there are plenty of ways to find solitude, even during prime season. Take alternate trails to reach the most visited spots, get to popular attractions early in the morning and avoid holiday weekends. Find accommodations in Canmore, just outside the park. Here are four reasons to make Canmore the home base for your next Banff trip.
Short drive. Canmore actually borders the park. For the time it takes you to put on your hiking shoes in the morning, you can drive from Canmore into Banff.
Avoid the crowds. You'll encounter others like yourself in Canmore, but you'll avoid the tourist rush and tourist traps that come along with Banff, where the bulk of the park's visitors stay. Canmore has all the charm of a cozy mountain town, but with the amenities necessary for the 13,000 year-round local citizens.
Get more luxurious lodging for less. The town of Banff is located within the national park and therefore, building in the area is strictly limited. As a result, the accommodation in Banff is often older, smaller and more expensive than you'll find in Canmore. Check out the Solara Resort and Spa in Canmore, which offers serious luxury as an all-suite property, for less than you'd pay for a standard room in Banff. Solara has beautiful one-, two- and three-bedroom suites that you'll love coming home to after a long day exploring the epic natural landscapes.
Eat at amazing restaurants. Enjoy delicious meals in Canmore without the Banff price tag. Tapas, a restaurant serving excellent versions of traditional Spanish tapas, was named one of the best in all of Alberta and the most romantic restaurant of the Rockies.
For a more casual meal, go to the Iron Goat Pub and Grill. Try unique Canadian dishes like the Alberta game meatloaf or bison burger, while sipping a beer on Iron Goat's patio with its unbeatable mountain views.
For a hearty breakfast before your day hiking around Banff, check out The Summit Cafe offering expertly brewed free trade coffee and delicious huevos rancheros.
Banff National Park is a gorgeous place to visit in both the summer and winter time, depending on the activities you prefer to take part in. Gear up, make reservations and visit your new (soon-to-be) favorite mountain destination.