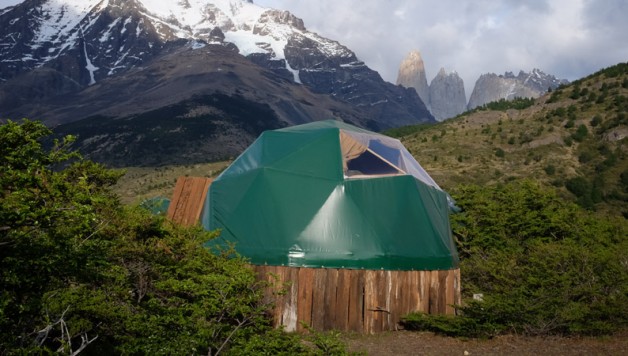 Our Home for the Next Week: EcoCamp Patagonia
After a 45-hour journey via Santiago, we have finally made it to Chilean Patagonia!  The final eight hours of our journey took place this morning with a flight from Santiago to Punta Arenas, followed by a van ride to EcoCamp, which will serve as our base for the next six days.
Chilean or Argentine Patagonia?
I mentioned in the last article that Anne and I chose EcoCamp because of its commitment to sustainable tourism in Patagonia, particularly here in Torres del Paine National Park where it's located.  However, prior to even hearing about EcoCamp, we first had to decide where in Patagonia we would be visiting.  Patagonia is a gigantic region spanning both Chile and Argentina.  It is more than twice the size of California and four times the size of the UK.  The concept of "seeing all of Patagonia" in one week is a pretty laughable concept, so Anne and I really had our work cut out for us on deciding where in Patagonia we would spend the majority of our time.
We had narrowed our decision down to two potential Patagonia destinations:
1. Torres del Paine National Park – In Chilean Patagonia, home to the "Towers of Paine" and location of some of the most-scenic hiking treks in the world.
2. Los Glaciares National Park – In Argentine Patagonia, home to Mount Fitz Roy and nearby the backpacking town of El Chaltén.  Also features incredible day hikes, but due to its close proximity to a town, tends to also be more crowded.
Deciding between these two national parks feels a bit like choosing between visiting "Barcelona and Madrid" or between "Italy and Greece". Like the debates between those "similar, yet different" locations, there tends to be a never-ending overload of opinions written online about why each is better.  However, during our research of Torres del Paine and Los Glaciares, the thing that stood out the most is that there are only positive things written about both places.  That alone made this research more enjoyable then the typical "Here's why City A is awesome and City B sucks" comments and articles that seem to plague travel sites these days.  It was clear we couldn't make a bad decision and that that we just had to pick between two incredible, can't miss destinations.
This is where EcoCamp comes in.  During our research, we had come across an article in National Geographic that mentioned EcoCamp in it's list of top accommodations in Chile.  EcoCamp is a fully sustainable, domed-accommodation located on a ridge over-looking Torres del Paine National Park and the more we researched it, the more we wanted to visit.  Within a couple of days, our decision had been made.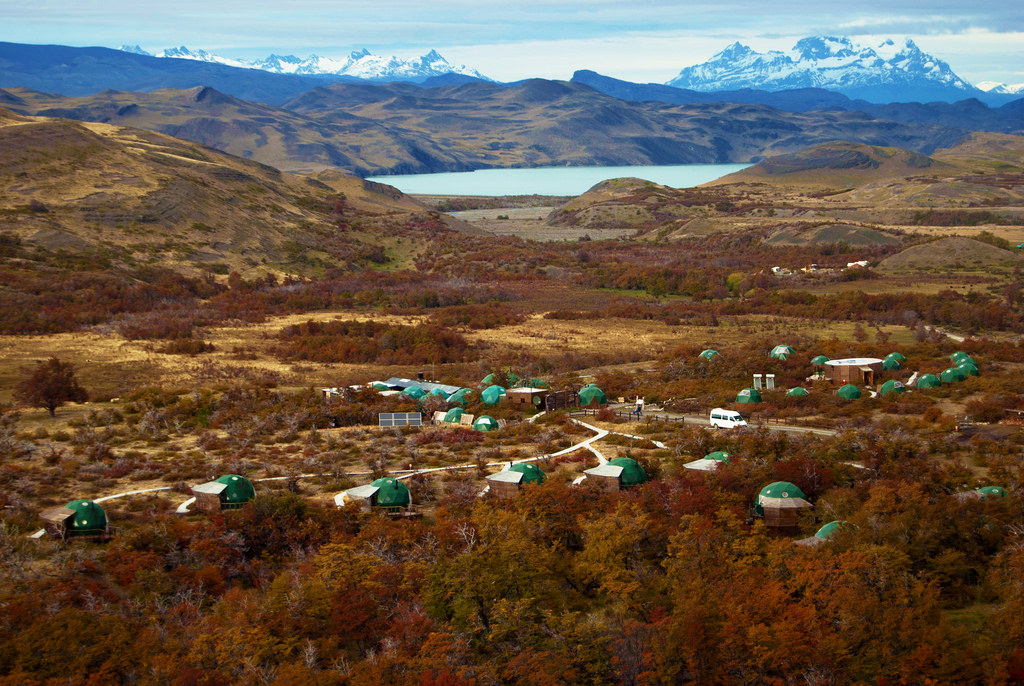 Above: EcoCamp aerial view – Photo from EcoCamp
EcoCamp 101
I've always been a pretty skeptical traveler, especially when it comes to tourism companies and their "claims".  It's a cynical world these days, and although I try to travel without preconceived opinions, there is always a small part of me constantly trying to ensure I'm not about to be ripped off or scammed.  Visiting EcoCamp for the first time has me in a state of excitement, curiosity, and yes even some skepticism.  I mean, it is hard not to feel at least a little bit of skepticism for a hotel in the middle of the wilderness that claims to be carbon neutral, run on 100% renewable energy, and serve world-class food.  If anything, my bullshit detector will be on full blast when we first arrive, but it has more to do with my expectations being high than anything else.  Let's see what this place is really like!
Prior to arriving, here is what we know about EcoCamp:
– The hotel is made up of 30 or so eco domes that were built in a "leave no trace" method modeled after a nomadic people who used to call this area of Patagonia home.
– There are multiple different types of domes, ranging from private ones we sleep in to big community domes where we can gather and eat together.  They even have a yoga dome.
– EcoCamp has both a certified Environmental Management System (ISO 14001) and Quality Management System (ISO 9001).  In other words, they are incredibly environmentally friendly AND people friendly.  A combination that is very rare these days.  How rare?  They were the first hotel in Chile to achieve this and they are the only hotel in Patagonia that has both.
– Once we're there, they will take care of arranging all the hiking and excursions, ranging from easy to strenuous and from half-day to 5-days in length.
That's the basics of what I know as our plane lands in Punta Arenas.
Driving to EcoCamp
Our first actual interaction with the EcoCamp staff comes at the airport where we are greeted with a sign, a brown-bagged lunch, and in what is a first for me in my travels, a Field Guide.  It is always a sign of good things to come anytime I am given food during my first encounter with a hotel or tour operator.  While the lunch is good, the thing I am most impressed by is the Field Guide.  We have a 3-hour drive to EcoCamp, so being supplied with a well-organized guide of the most common plants and animals in Patagonia is really timely and convenient reading material but it's also a really unique souvenir.  It also serves as a safari checklist to mark off everything we will be trying to spot while in Patagonia.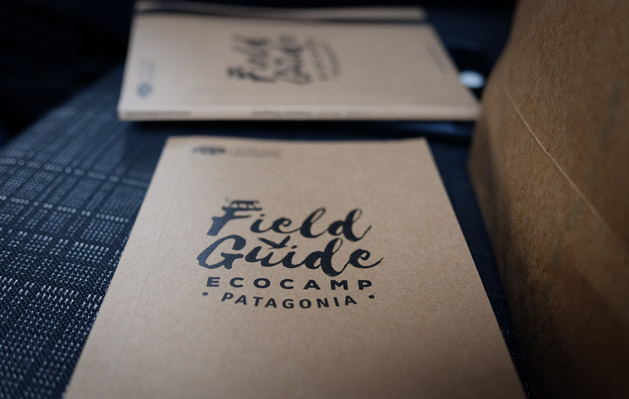 The closer our van gets to Torres del Paine, the more beautiful the scenery becomes.  This is especially true when we see the first turquoise lake that photos we saw prior to coming just don't do justice.  The melting glaciers of Patagonia carry sediments of the rocks they've slowly pulverized, turning the water into a beautiful turquoise color that in comparison makes the Gulf of Mexico look brown.  Not only does Torres del Paine contain mountains, glaciers, and lakes, but it also lies in a transition area between a desert ecosystem and forest ecosystem.  This unique combination creates some of the most breath-taking landscapes we've ever seen.  This is when I'm glad Anne is here with her camera, as she is much better at capturing this sort of thing than I am: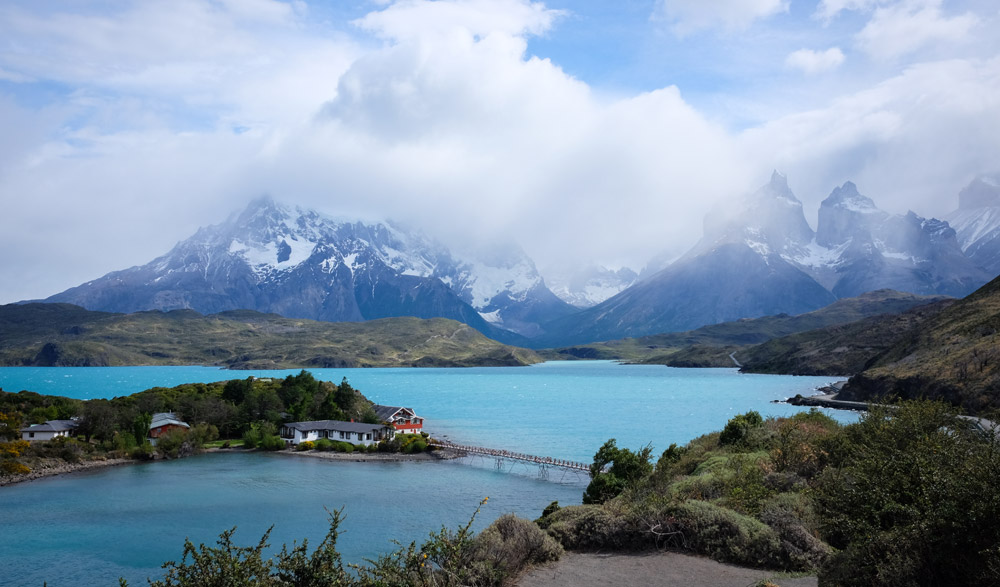 Above: Our first glimpse of Lake Pehoé in Chilean Patagonia
Arriving at EcoCamp
We are greeted at the entrance by the local staff and find out that we've arrived just in time for that evening's briefing.  The briefing is always run by two of the guides and the purpose is to go over the plans and options for the following days treks.  There are always at least three options that guests can partake in, and each is ranked from easy to demanding.  Each trek is described with just the right amount of detail and guests can ask questions about what to wear, what to bring, etc.  For people like us, who don't have the time, ability, or desire to map out our own treks within the park, this serves as the perfect option to trek for five straight days without having to spend hours on research and planning.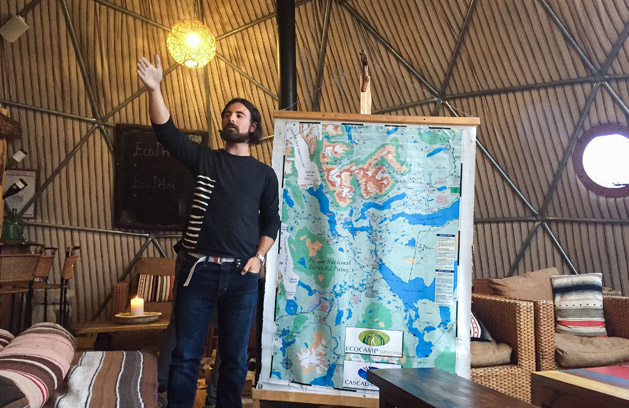 This initial briefing is also conveniently held in the same dome that houses the bar, so we are also able to enjoy some Chilean wine and local beers while mingling with the fellow guests who have come from all over the world to be here.  Just in our first 10 minutes we've met people from Brazil, Switzerland, and The Netherlands, as well as some fellow Americans.  My favorite of the bunch is an American woman named Susan who has recently retired and decided to embark on a year-long solo trip around the world.  She hasn't yet hit her halfway point in her trip and she's now in New Zealand with a fresh tattoo on her ankle that she got in French Polynesia.  Inspiring stuff!
Anne and I have chosen to do what is known as the Tower Base Trek tomorrow, which is by far the most popular of all the day treks here at EcoCamp.  It's a 14-mile round trip trek that takes you all the way to the base of the Torres del Paine towers.  I'll have a write-up on that trek, complete with Anne's photos, later this week!
Other treks that we will be taking part in later this week include a trek to spot wild horses, a climb up a mountain known as Cerro Ferrier, and a boat trip out to see a glacier up close.
On my walk back to our dome from the briefing, I get my first glimpse behind-the-scenes of how this place generates its electricity when I walk past a giant solar panel (just don't walk on them)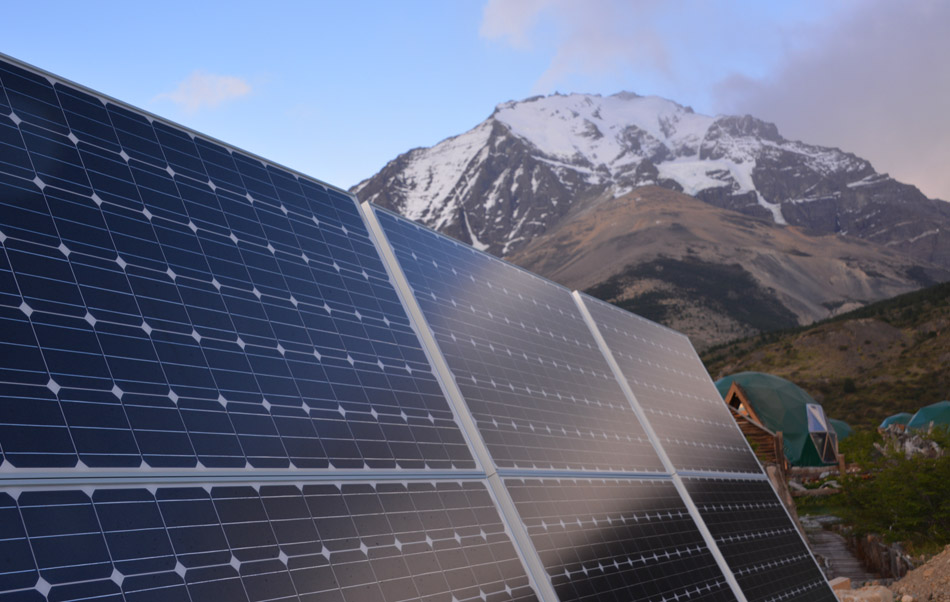 Inside the EcoCamp Domes
After our briefing, Anne and I take some time to admire our new digs for the next week.  I mentioned that I really wasn't sure what to expect with these domes.  They definitely have a "cool" factor to them, with a sort-of futuristic igloo look, but what are they like in the inside?  Upon first glance, we are completely blown away by just how well these domes are designed.  It is obvious that a lot of time was put into how to utilize every square inch of the limited space within each dome.   Certain small details really stand out, like the placement of transparent materials in just the right spots in the roof so that we can see the stars at night.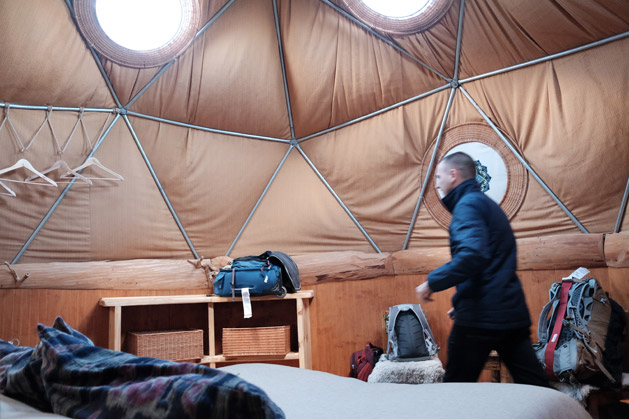 There are three different levels of domes to choose from: Standard, Superior, and Suites.  Each step up includes a bit more luxury, taking you from camping to glamping depending on your preference and budget.  The Superior and Suite Domes have the added benefit of having private bathrooms and showers, but other than that the discussion amongst the guests is that you really can't go wrong here with any of the dome options.  This place started out 15 years ago with just a couple of standard domes, and now they have everything from the basic dome all the way up to a two-floor suite dome complete with sky lights!  There was even a welcome chocolate box on our pillow with the phrase "Dome Sweet Dome".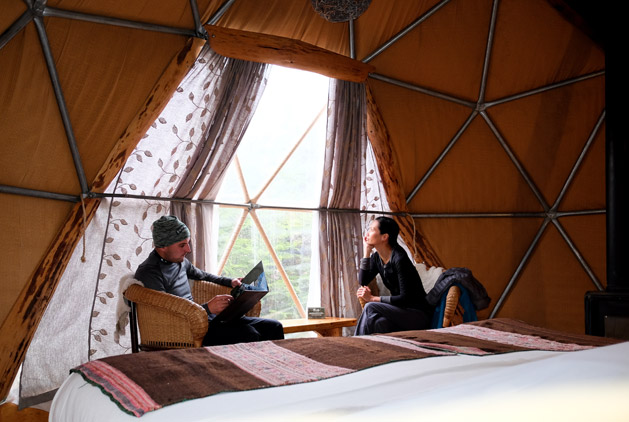 Food at EcoCamp
After settling in our dome, we head back to the community dome for our first experience with EcoCamp's acclaimed restaurant.  When you are staying at a place this remote, there's only two options for food:  The hotel restaurant or "don't eat".  That puts a lot of pressure on places like this to serve not only good food, but to have enough variety to serve the diverse group of tourists they see each week.  I've never been a foodie or a picky eater, but I can recognize quality when I see it and taste it.  In fact, just one glimpse at the menu made it pretty clear we were in for something special.
Food service is another area where EcoCamp excels at sustainable tourism.  All the food is bought from nearby farms and local vendors and nearly every employee is from the closest town.  Even the chairs we're sitting in were built just miles down the road.  It is tourism the way it should be: dollars going right back into the community not a far away metropolis, or worse, a foreign entity.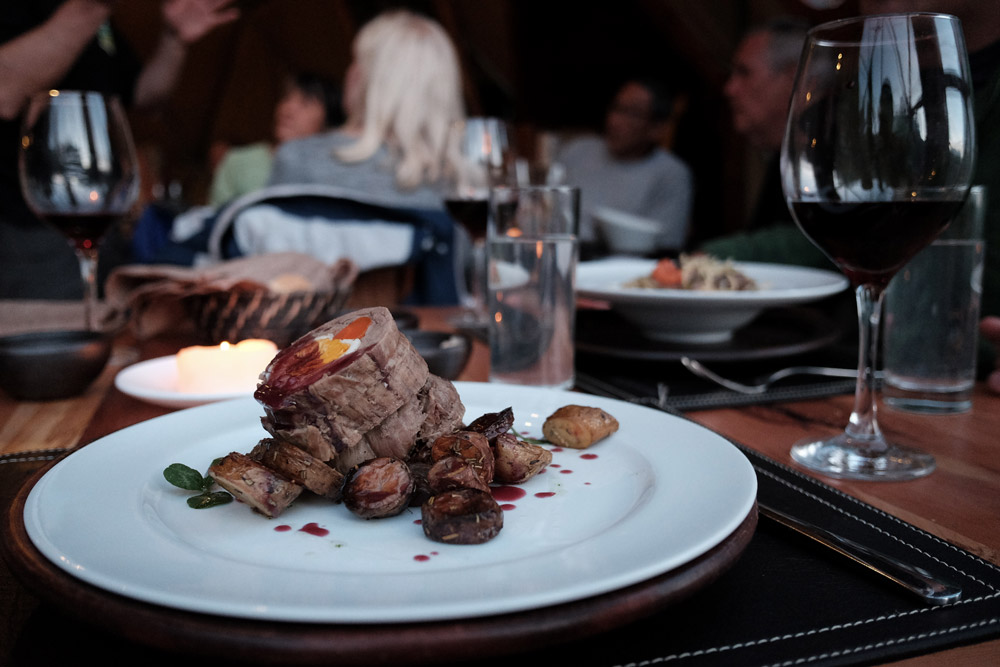 If you thought the menu looked appetizing, take a look at the presentation of the food!  It's easy to forget we're in the middle of nowhere as we are served food this great, but it just adds to what makes this experience so unique.  The food tastes even better than it looks.  The table to our left has just come back from a full day trek and I don't think there is a crumb of food left on their table.  Trekking really builds up your appetite and one thing is for certain here at EcoCamp's restaurant:  Very little food will go to waste.
As our table plays the fun game of trying to avoid talking about the U.S. election, we start seeing deserts coming out of kitchen.  I think it is also becoming clear that any calories we will burn while trekking will quickly be re-consumed here at dinner each night!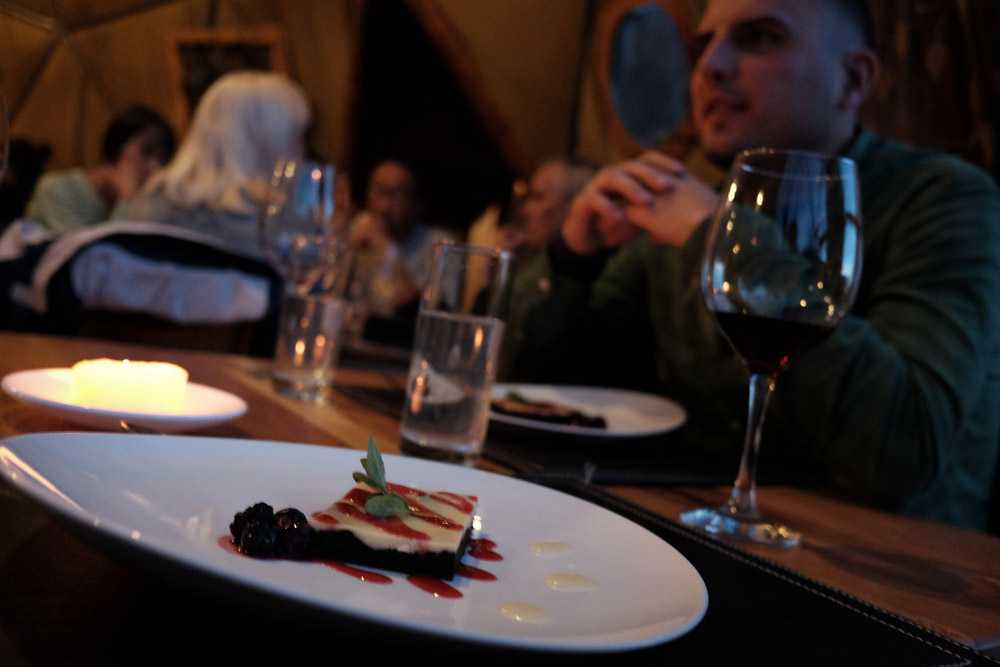 Nightlife in the Community Domes
The vibe and atmosphere begins to change as dinner ends and guests and staff begin making their way into the bar area.  One of the things I like about EcoCamp so far is that the staff feel more like a part of the overall community instead of a typical hotel staff.  They really make guests feel like part of the larger group and the guides themselves are walking encyclopedias of knowledge when it comes to Patagonia and trekking as a whole.  Just in the first night, I've heard some really incredible stories from treks around the area as well as guides who have trekked all over the world, including Antartica and Nepal.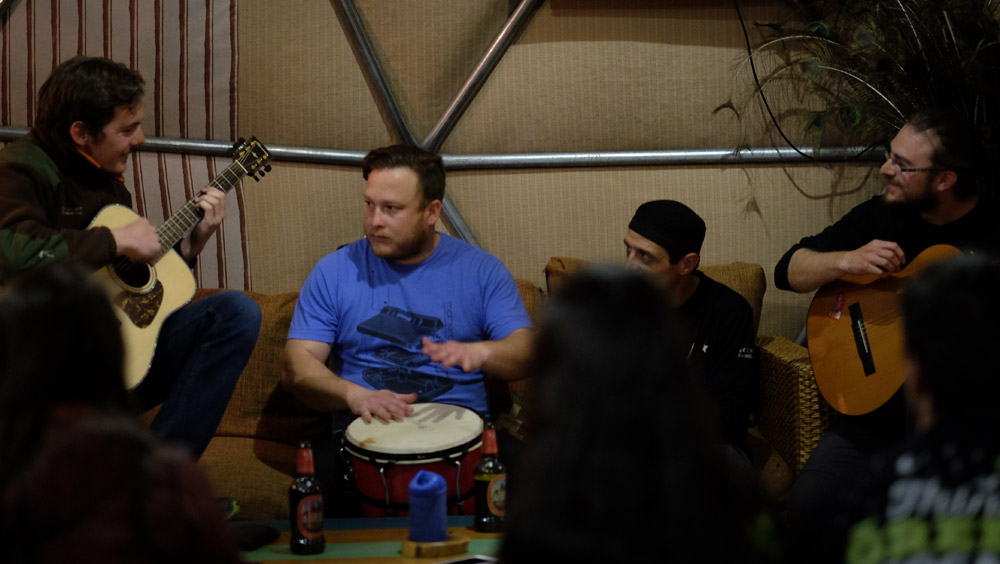 Later in the night, a bunch of the guides have a little jam session with guitars and drums.  Some of the musically-gifted guests even join in for a couple of songs.  The live music really adds to the atmosphere here, and although we've only been here for less than a day, it already feels like I've spent a week here.
I try not to exaggerate too much in my travel journal, but after just one day here at EcoCamp I have realized it is going to be very difficult to describe this place without over-using words like "incredible", "fantastic", and "amazing".  Saying that EcoCamp has met and exceeded our expectations is an understatement, and we are so damn excited to get out into the wilderness and see Patagonia up close.  Our first trek is tomorrow morning and we're looking forward to sharing that story with you as well!
It really is beautiful down here: