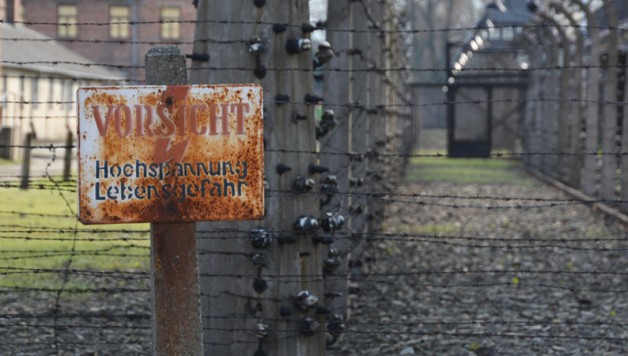 A Walk Around Auschwitz and the Ruins of Pure Evil
"Oh my god, have you like, done Auschwitz yet?  It's like, sooo sad."  This is what the 19-year-old girl at our hostel asked me during breakfast yesterday.  I wasn't really sure how to react to her question.  Have I DONE Auschwitz yet?  What a weird way to phrase that question.  I think Auschwitz is a place everyone who can visit, should visit.  However, I don't like how it seems to have become more of a tourist attraction instead of a place to learn and remember.  This girl, after asking me this question and telling me how sad she was, then turned to her attention back to her iPhone and said to her friend, "Oh my god, have you seen Bailey's new profile picture?  Does she think that looks cute?"
I guess I don't really know if she really grasped what she saw at Auschwitz, but I can only hope she learned enough to pass on the knowledge and experience to her children and grandchildren.  I am curious to know what it will be like visiting Auschwitz today, and I hope it has the feeling of a place meant to be a reminder of what happens when evil and hate run the world.  In my opinion, the whole purpose of even keeping this place around is summed up by the quote that is actually posted above the door to the Auschwitz Museum:
What happened here?
Here's the deal.  I don't want to turn this article into some sappy writing where I try to evoke emotions from the reader as I talk about how I'm being effected by all of this.  This article isn't about me, and if I did that I would be like the people who post articles on Facebook about a deadly car accident with the quote "Wow.  I drive by this intersection every day."  As if somehow they are the victim instead of the people who actually died.  So instead, I am going to list the facts of what happened at this death camp and show what it looks like today.  I will leave it up to you to have your own reaction to what is presented to visitors at Auschwitz instead of making you listen to my reactions to all of it (with a couple of exceptions).  Here is a quick reminder of the facts from Auschwitz:
– Auschwitz was actually more than one camp and was made up of over 40 smaller camps as well.  However, the majority of prisoners were kept at and/or died at one of the two large camps: 'Auschwitz I' and 'Auschwitz II'.  Auschwitz II is also known as Birkenau, and from now on I will refer to 'Auschwitz I' as just 'Auschwitz' and I will refer to 'Auschwitz II' as 'Birkenau'.
– All of the camps were located in Poland, but should never be referred to as being "Polish camps".  The proper name for camps like these is "German Death Camp in Nazi-Occupied Poland." (just ask Obama)
– The first prisoners arrived at the camp in May of 1940, and the camp was liberated by the Russians in January of 1945.
– Around 1.1 million people died at Auschwitz and Birkenau.  Most were killed within an hour of their arrival at the camp.
–  Auschwitz did have a gas chamber where 60,000 or so people were killed, but the vast majority of the gas chamber deaths occurred at Birkenau where the Nazis built a much larger killing machine system, complete with a railway leading directly to the chambers.
– Auschwitz has been mostly rebuilt, including its gas chamber, in order to show how the camp would have looked like during its active years.  However, Birkenau has been basically left in the state it was found and has many buildings that were destroyed by the retreating Germans, have rotted away, or are slowly falling apart.
Auschwitz and the hall of proof
The first thing I notice at Auschwitz is how unbelievably crowded it is.  The majority of the crowds are student groups who seem to be from all over the world.  I don't think it's a bad thing that it's crowded here, but it definitely makes it a little tougher to see the exhibits with so many people.  If I could do it over again, I would have visited here early in the morning right as it opened.
The museum is broken into several buildings, all of which used to be part of the original camp.  The buildings have all been renovated on the inside, but there are some original spots left, including some of the former "standing cells" where prisoners would be tortured by having to stand for days at a time.
The hall of proof
The building that is the most important here is the hall of proof.  This is where all the artifacts and possessions of the victims are being stored for visitors to view.  Once inside this building, there is absolutely no denying what happened here (and at other nazi death camps).  The artifacts are all kept behind glass for the world to see.  There are hundreds of thousands of pairs of shoes, thousands of suitcases, pairs of glasses, and even a two-ton pile of hair that was shaved off of victims heads.  The exhibits are surreal, yet sadly they are 100% real.  So real that they are starting to rot and fall apart.  This is one reason the crowds don't really bother me here.  It is important that as many people as possible see these artifacts before they inevitably rot away.  Here are some of the photos I took from the museum:
The glass in front of these exhibits make it difficult to photograph.  I was unable to get a decent photograph of what I would consider the most disturbing of the exhibits, the two-ton pile of hair.  If you want to see a photo of the hair, click here.
There are some other exhibits in Auschwitz I that are also quite moving.  The first gas chamber was built here and used to murder about 60,000 before the nazis built the larger complex at Birkenau.  The gas chamber was destroyed by the Germans when they left here, but has since been reconstructed using the original materials.  Visitors are allowed to go inside and see what it would have looked like, and are able to see the original walls inside the chamber.  If walls could talk, these would have a lot to say:
Birkenau: The epicenter of nazi terror
Arriving at Birkenau has a completely different feeling than Auschwitz.  There are no more crowds, and the camp is much more spread out and open.  Unlike Auschwitz I, where the buildings have been restored, Birkenau has been left in its original state.  The buildings that had been made of wood have all rotted away years ago, and all that is left of those are their brick chimneys.
The main entrance to the camp has not only a place for us to walk through but a tunnel for the train to enter:
Victims were brought directly into the camp via over-crowded railway cars.  They would then be lined up and separated into those who could work and those who couldn't.  The ones who could work would last an average of three weeks before either starving or working to death.  Those who were deemed unfit for work were sent directly to the back of the camp, to the gas chambers, and killed immediately.
There were six working gas chambers at Birkenau.  They were destroyed by the retreating Germans, and were left alone after the war.  It was decided to let them fall into ruins instead of trying to restore them.  They also did not want to tear them down and remove them in fears of revisionists who still try to deny anything ever happened here.  Both chambers have had their roofs collapse, but the majority of the buildings' ruins are still there.
For me, there are three spots at Birkenau that are the most heart-breaking.  The first is the steps leading down into the gas chambers.  The steps are still there for visitors to see, and to me they symbolize the horror of this place more than anything else here.
The second site that is equally disturbing worth seeing is the pit where the remains of hundreds of thousands of victims were put.  The pit was dug up by the nazis as they at one point decided to use the ashes to fertilize the nearby fields where food was grown.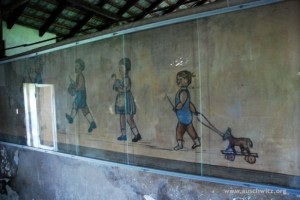 Our last stop in Birkenau is the inside of a barracks.  Some of the barracks were built with bricks, and these are the ones that are still standing today.  We went inside two different barracks, one that would have been used for women and one that would have been used for children.  If you are familiar with the story of Anne Frank, then you might find it interesting to know that she was kept here at Auschwitz in one of these barracks for a while.  She didn't die here though, she died in a different concentration camp in Germany.  The children's barracks has some original drawings on the wall made by children who stayed here.  This is the third of the three spots I mentioned, and I think these drawings are the most tragic WWII "artifacts" left on earth.  Just calling them artifacts doesn't seem right, but what they really are is proof of a crime.  It was too dark in there for me to get a good photo of the drawings, but to the right is a photo from Auschwitz's website.
I mentioned that Birkenau has been left alone.  It isn't completely accurate, since they have recently taken a few small steps to keep some buildings from falling over.  You can see in the picture below that some wooden structures have been built as support for some of the barracks' rotting walls.  In the next 10 years, some really tough decisions are going to have to be made about what to do with this place.  It can only stay in its current condition for so long before everything is just a pile of rubble.  At some point things will need to either be covered in big glass structures, or removed completely.  It is why I don't mind the large crowds here.  The more people that can see this with their own eyes, the better.  There are too many lunatics out there who try to claim this never happened.  Once these buildings are gone, we need to ensure future generations still know exactly what happened here, as horrible and disgusting as it is to talk about.
It also began raining right as we left Birkenau, but I was able to climb the main tower and get a shot of the men's portion of the camp: