11 Tips for Surviving Lollapalooza 2014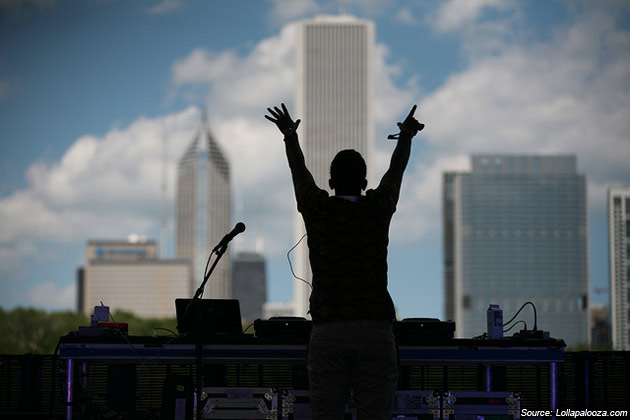 2014 Lollapalooza Music Festival
Dates: Friday 8/1 – Sunday 8/3
Location: Grant Park – Downtown Chicago, Illinois
Ticket Info:  Three-day passes went on sale March 25th and sold out in three hours.   Lollapalooza also sells single-day tickets which is a good option if you are strapped for cash or time, but of course those sold out almost immediately as well.  If you have the cash, Lollapalooza's website is still selling Platinum Tickets ($$$$!), otherwise, it's time to resort to craigslist and other re-selling websites.  Stubhub is a rip-off, and will only be worth it if you see prices drop at the last minute, which can happen.  Posting on Lollapalooza's Facebook page and asking to buy extra tickets is also another great way to find second hand tickets without paying a fee.
Camping: There is no camping option.
2014 Lineup: Eminem, Lorde, Skrillex, Arctic Monkeys, Kings of Leon, Outkast, Broken Bells, The Head and the Heart, Childish Gambino, and many, many more. The full lineup is available on the Lollapalooza website: FULL 2014 LOLLAPALOOZA LINE-UP.

1. What to bring to Lollapalooza
Standard list: Sunscreen, hat/bandana, hand sanitizer, closed-toe shoes, blanket, sunglasses, camera… but you already knew that.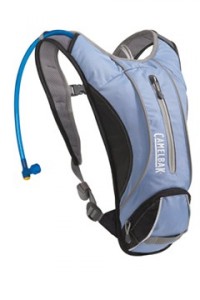 Pro tips:
Walkie talkies – Especially for big groups (cell service is awful).
Poncho/garbage bag – For some reason is always seems to rain at Lollapalooza… Anyone remember 2012's mega storm? They evacuated the entire crowd for several hours only to welcomed back to the muddy remains of Grant Park… or how about Deadmau5's legendary set in 2011 which seemed to match perfectly with the storm?
Paper schedule or phone with Lollapalooza app downloaded.
CamelBak pack – can fit 100oz of water on your person which can come in handy when you're 10 rows back waiting for the headliner to start.
Cash money – ATMs have long lines and you'll spend enough time in lines this weekend, don't add to that…
2. Where to stay
There are many options and luckily Chicago has convenient public transportation so if you don't mind the commute you can stay most anywhere in Chicago without too much hassle. Book early or prepare to pay inflated prices (especially near Grant Park). There are a few hostels in Chicago and couchsurfing.com is always an option if you're looking to save a buck – again book early, cheaper options will fill up FAST.
3. What to wear
Guys: OK – this one is easy. Plan for a long hot day outside and anticipate getting dirty. Pockets are a life saver, where did I put that funny cigarette? Pretty Lights is about to start. Common Sightings: Shorts and tanks will be the norm, plenty of plaid, fedoras, ray bans and mustaches.
Girls: – You've got more options (as usual) but don't complicate things. Be comfortable and have fun with it. It's easy to get caught up in the scene, but I'm a firm believer in wearing what YOU feel confident in. Besides, if your first priority is looking fashionable – you could have done that elsewhere for much cheaper. Common sittings: Sun dresses, shorts + swim suit tops.
4. Pace yourself
If you bought the 3-day pass like you should have – you're in for a long weekend in the sun. Don't blow it all (whatever IT is for you) on the first day only to be too sluggish for the remainder of the weekend. Drink more water than you think; especially if you're boozing. Remember to find some shade and sit down occasionally so you can save your legs for your tier 1 artists.
Pro-tip #1: Check out the Google Plus stage or the BMI stage – lots of shade producing trees and a great place to eat a meal while you recoup.
Pro-tip #2: You can leave and re-enter Lolla if you need some AC, cheaper food, water, or a nap. Just don't let it be a habit!
5. Make a plan or wing it
Find your balance here – If your type-A side takes over and you schedule every 15mins of your day you're going to be disappointed. Too big, longs walks between stages (can take 20mins), too many choices, too many unknowns.  I would pick no more than 2-3 MUST-SEE acts per day and outside of that just flow with the go (or go with the flow, if you rather).  Some of my best memories at Lollapalooza are from smaller acts that I stumbled upon in passing.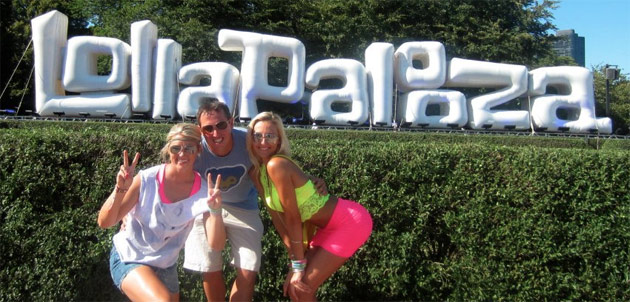 6. Be present
Now that you're inside the Lollapalooza grounds and have a rough outline of your day, remember to slow down, breathe, and be present. It's easy to anticipate what's on the horizon and who's next on your list but don't let it detract from the moment. Before you know it the festival is over and you're stuck at your desk trying to relieve that moment via youtube. Your cell phone and worries about the real world can wait – pay attention, enjoy your company, and let it be FUN.
7. Don't skip Perry's Stage!
What started as a tiny tent has quickly grown to a huge attraction with a premiere stage set-up. Yeah dance music may not be your favorite, and if you're at least 25 you're going to feel like a chaperone at a high school dance.. but it is a sight to see and not to be skipped if you want to experience all that Lolla has to offer. (Lolla veterans – you know the drill, make your own judgments here) As you approach the stage, you can already feel a different vibe. No tucked in dad shirts here. It is a world of its own – full of fuzzy boots, bedazzled everythings, dilated pupils and lots of unz. If you only make one stop, go after dark when the light show can be appreciated.
8. Getting through security
The line to get in can be a hassle but that is to be expected when you have 160,000 people (over the 3 days) crammed into Grant Park. That being said, I've rarely waited longer than 20 minutes to get in. Lollapalooza allows you to bring in empty Camelback as well as sealed water bottles, see full list here. Security will check bags, may pat you down, confiscate food/drinks, etc – again to be expected. However if you are creative I don't see any reason you won't be able to sneak in what you need. (Guys: crotch it, Girls: bra it)
9. Who should you go with?
Don't bring whiners to Lollapalooza, or people who aren't open minded – you will be hot, your legs will be tired, you will be surrounded by diverse sights and sounds and someone dragging your group down can wreck an afternoon. Don't be a afraid to split up your group when conflicting artists come up. Just pick a meeting point and regroup later. That being said, most of my marquee Lolla memories are with close friends – and re-living those moments is magical.
Group size: This is matter of opinion. Big groups can be a blast but I prefer smaller groups 2-4 people for most of the day – you're more nimble, less pit-stops = more music.
10. Not enough music?
If three full days of music doesn't fill you up – you're in luck. Every year the many Chicago music venues host tons of Lollapalooza acts in the form of after-parties (separate purchases required). This can be a great time to catch the act you missed due to one of the inevitable scheduling conflicts or just to keep the party going since the festival ends around 10-11PM each night.
Pro-tip: The best after-parties always sell out, plan ahead or prepare for a disappointment.
11. Who should you see?
Lots of debate to be had here and it greatly depends on your individual music tastes and the group you're with. I generally try to see acts I won't otherwise see. Major festivals bring in artists that rarely tour in the US and this could be your only chance to see them.
Pro-tip: You may really like that popular indie band but we both know they will play your local club in the next year so feel confident skipping them!
Scheduling Conflicts? Lollapalooza has opposing headliners (like most large festivals) to cater towards the diverse musical tastes present and to ensure the crowd is spread out. Pick one and enjoy the whole set, headliner hopping adds a ton of stress and you miss too much music. Be Here Now. This can be frustrating when your top 2 bands play at the same time on opposite ends of the festival. If that's not your thing and you don't mind camping – I would recommend Bonnaroo Music Festival in Tennessee – it's just as diverse musically (if not more so) and its one of the only major festivals that doesn't have opposing headliners.
.
Brandon runs a yoga-themed travel blog called The Yoga Nomads.