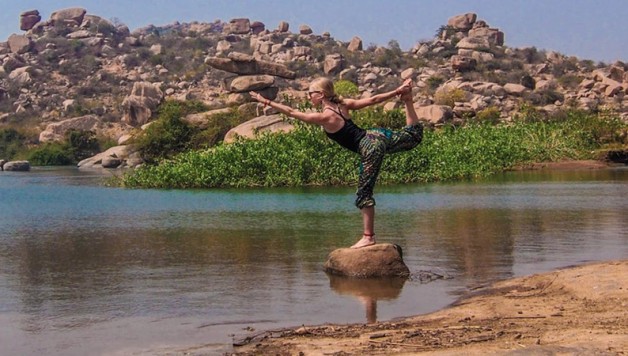 Interview: Brandon and Anne from The Yoga Nomads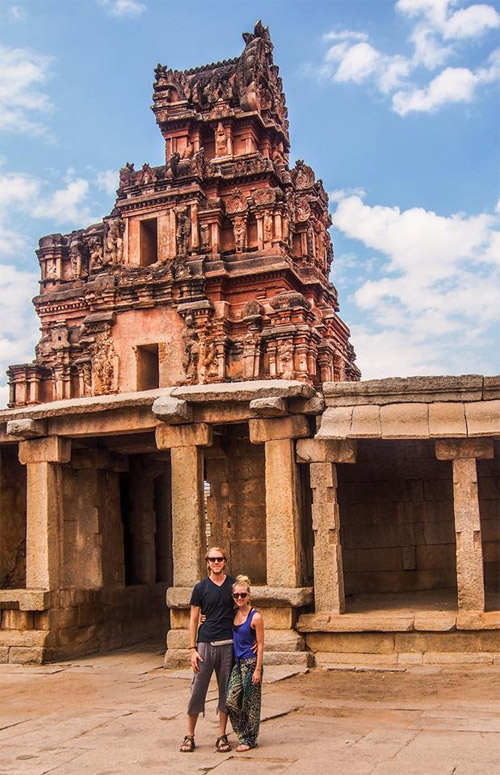 Two of our friends from Minneapolis have recently embarked on a very similar lifestyle change.  They are Brandon and Anne from The Yoga Nomads, and we've been enjoying their blog so much this past month that we decided to share it with our readers.  We also asked them to share a few insights on how their trip is going as well:
The Yoga Nomads
http://theyoganomads.com
Facebook  |  Twitter  |  Pinterest
How has the first month of your RTW trip been? Any surprises about your style of travel so far?
The first month of our trip has been eye opening to say the least. Starting our trip with India, was either our best or worst idea we've had. It is challenging in so many ways, but equally rewarding.  We've come to realize India's magic is in the subtle details between events.  For example, brief interactions over a street side chai, learning about a rickshaw driver's family during a 3-minute ride, or in pondering the meaning of life with new friends on a long train ride.
Our general travel style is "plan as you go."  We feel this allows for maximum flexibility and has led to some of our favorite memories to date! India demands a laid back attitude when traveling.  The second you create rigid plans, India tosses a cow on your train tracks reminding you that life is about the journey, not the destination.
Anything you would do different regarding planning/preparing/leaving for a trip like this?
We should have had a separate budget for toilet paper in India! 😉
You focus a lot on staying active and eating healthy – how has traveling and India been for those two things?
We absolutely love Indian cuisine and before arriving thought there was NO WAY we'd get tired of it. However constantly eating heavy meals filled with bread and rice has started to weigh us down. Luckily, fruit markets are never far away so we've been eating tons of fresh fruit and vegetables.
Staying active on the road has been more challenging that we anticipated. We seek out yoga studios in each place we visit, and recently enjoyed a 5-day yoga retreat in Goa(http://www.theyoganomads.com/yoga/yoga-studio-review-oceanic-yoga-meditation). We opt for walking over public transportation and exercise in our guest house (burpees, pushups, squat jumps, etc)
Any updates on breaking your addiction to caffeine?
Whoa let me check the calendar. After daily caffeine abuse, it's been 70+ days since I quit coffee cold turkey.  Still feeling great!  I'd be lying if I said I didn't miss the taste though.  Working on the road has been challenging and I've found having the occasional cup of green tea helps keep me sane.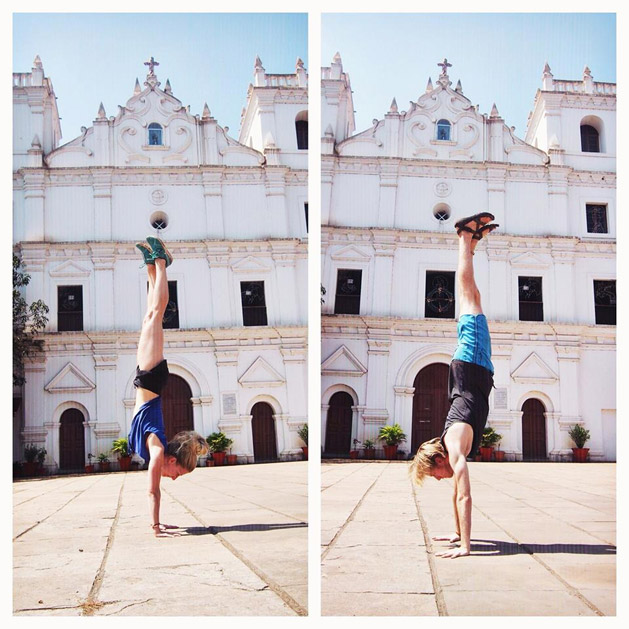 What destinations are you most looking forward to in the near future?
Oddly enough, more India. The more we learn about India's nooks and crannys, the harder it will be to leave. There is just SO much to explore here, we've already started planning return visits. Recently the Valley of Flowers has made our bucket list (google it). It is clear to see why people return to India time and time again.
Outside of India, trekking in Nepal has been on our mind lately! If you have any tips or recommendations – please share them as we are beginning to do our research!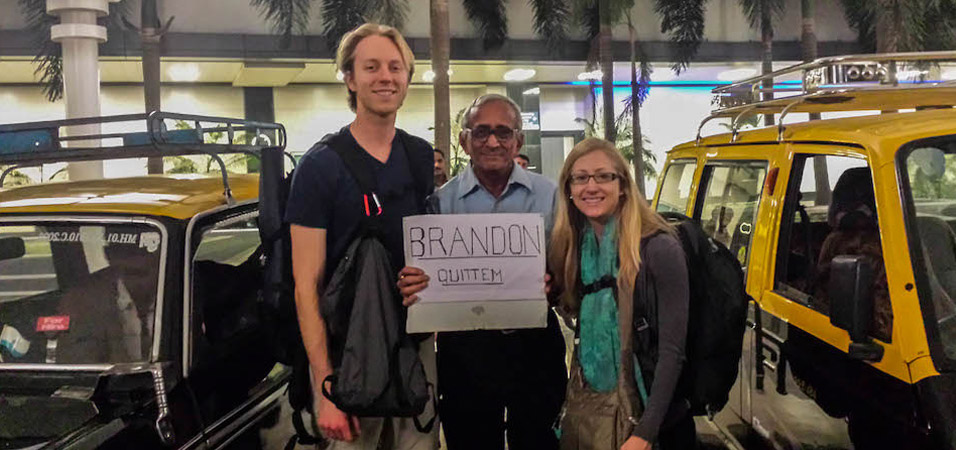 What are your favorite travel web sites?
www.IndiaMike.com is a great resource for navigating the beautifully tangled mess that is India.
Giselle and Cody from www.MindfulWanderlust.com share a similar perspective and we love their food posts and travel videos!
Not exactly travel, but since we've been getting into yoga pose photography, Robert Sturman has been a huge influence. www.robertsturmanstudio.com — Check out our Pinterest board 101 Yoga Poses Around the World to see what we mean.
When we're hungry, which is always, we read www.migrationology.com to drool over some delicious street food.
And of course, you guys!