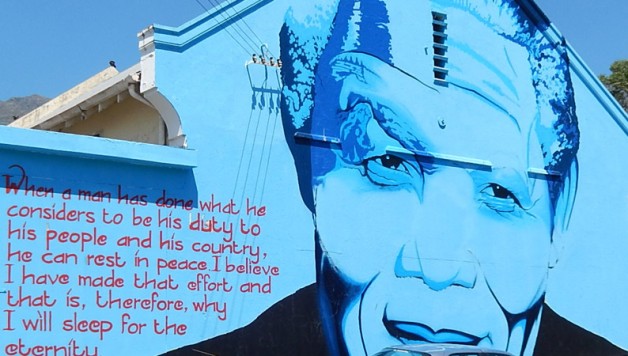 Saying Goodbye to Overlanding and Exploring Cape Town
We made it!  After 56 days on 'Woxy', our big, yellow Oasis Overland truck, we arrived in Cape Town.  In some ways, it's a relief to be back on our own and in control of our own schedule (not to mention sleeping in a bed!), but it's also bittersweet.  We had an amazing time seeing the best of Africa, roughing it in tents and with camp cooking, but also getting to know a group of 20 great, like-minded travelers.
We don't have to say goodbye to everyone right away though, as many of the passengers have, like us, booked a couple extra days in Cape Town to explore.  Dan and I have exactly ten days in Cape Town and five days in Johannesburg before hopping on our Qatar Airways flight to Istanbul!
Wine Tasting in South African Wine Country
First, a group of six of us lushes plan a self-guided wine tasting tour of Franschhoek.  We had the option to do a pre-arranged bus wine tour from our hostel, but we decided to try and explore South Africa's wine country on our own.  This saves us a lot of money, but adds a few challenges, the first being transportation.   A cab from Cape Town to the town of Franschhoek  take a little over an hour and costs about $10 per person.  So far, so good.
We got dropped off at the tourist information office, a handy little desk with friendly staff and free maps.  We have a nice lunch at a place called the Elephant and Barrel pub that costs only about $10 each, which includes sharing our first bottle of wine for the day.  While we eat, we make a plan for which of the many nearby wineries we will visit today.   We decide to start by walking about 30 minutes to La Couronne (even though the waitress guessed the walk would take an hour and a half).
We check out the tasting menu and it's my heaven: four wines and four chocolate pairings for about $4!  We sample each after an explanation from the staff and take in the beautiful views as we taste away.  On a quick tour of the facilities, we see employees actually loading a recent harvest into the grape mashing machines (or whatever are called.  Can a wino help me out here?).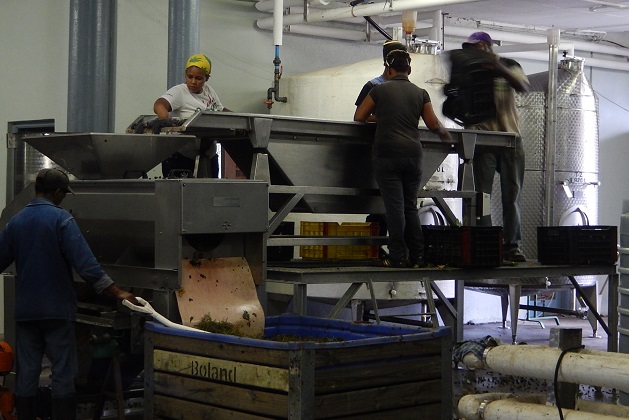 We were the only tourists there, so we were able to talk our way into three more tastes of wine before moving on to our next winerey: La Bri Estate.  This winery is not only our second of the day, but because it's nearly closing time, it also ends up being our last winery too.  Our map and the sign on the door said open until 5:00, but the staff lady here insisted the sign was wrong and that she closes at 4:30.  Nevertheless, she served us six tastings of some delicious wine, although very rushed and not too enthusiastically.  We bought a $6 bottle along with our tasting out of guilt, and shared it straight out of the bottle on the cab home.
Approximate cost of the day including lunch, dinner, transportation, two winery tastings and one bottle of wine: $45 per person.
The Most Beautiful Cricket Ground in the World
The timing of our time in Cape Town worked out perfectly for the Australians on our trip who are head over heals about cricket.  The Australians played a five-day test match with South Africa, starting two days after we arrived.  We bought lawn seats (for a whopping $8 USD each) and cheered on the Aussies as we drank away our wine hangovers.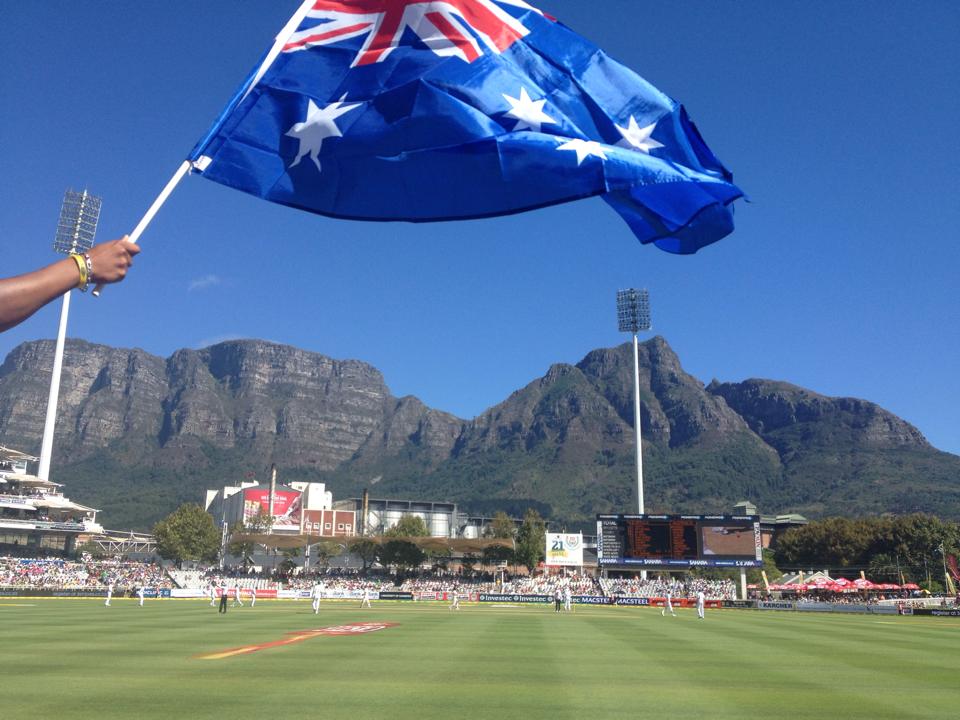 The best part of the day for me was the beautiful view of Table Mountain and spending the time with my new friends for the last time! (Although we did not take a photo with the whole group like we should have.)  Don't ask me who won or which players did well, I have no idea.  Side note from Dan: Since it's a five-day match, nobody wins after the first day.  However, four days later Australia would finally win, beating the South Africans, the number one ranked cricket team in the world.
Climbing Cape Town's Table Mountain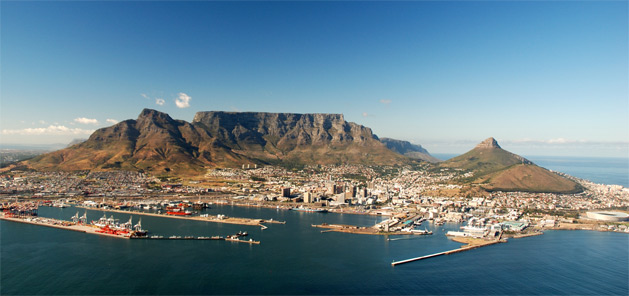 No matter who you talk to, a must-do when visiting Cape Town is visiting the top of Table Mountain.  You can see from the stock image above why they call it Table Mountain.  A cable car can take you straight to the top, but we opted to climb.  Today the cable car was actually closed due to wind, much to the dismay of our other friends, who had earlier made fun of us for wanting to climb but ended up meeting us on the trail up.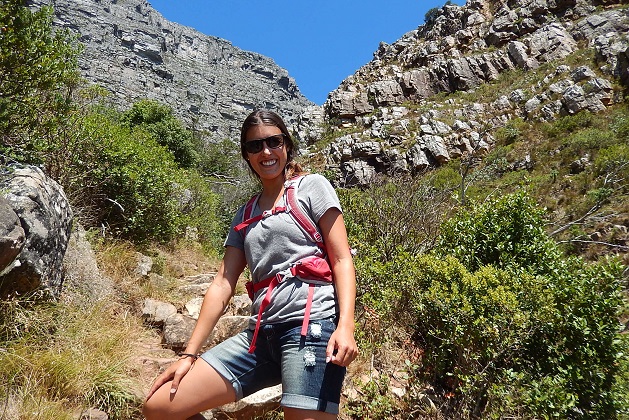 The Platteklip Gorge trail is the shortest way up, but its rocky step-like path is pretty steep.  We were already feeling the burn by the time we got up, and super sore by the time we got down.  The views were clear and spectacular though!  It took us about four hours to go up and down, including the time we spent relaxing on the top.