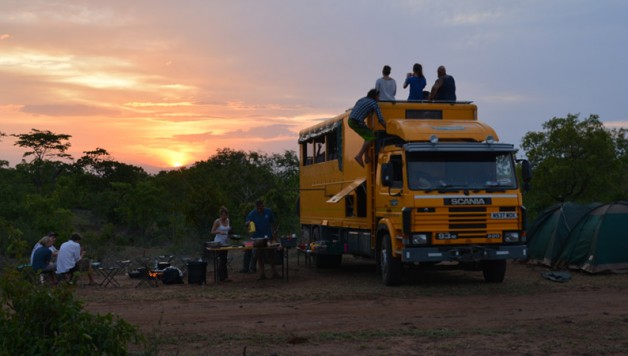 To Overland or Not to Overland? Why We Chose Oasis
Published On March 14, 2014 |
Africa, Botswana, Kenya, Malawi, Mozambique, Namibia, Recent, South Africa, Tanzania, Travel Planning, Zambia, Zimbabwe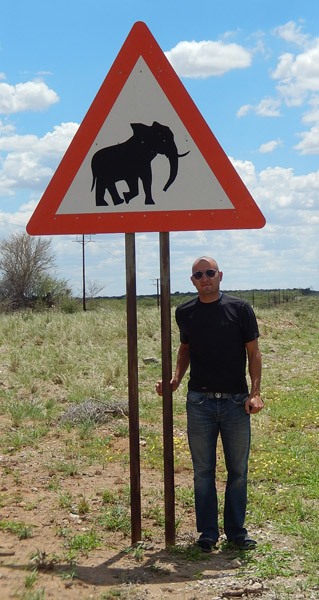 Over the course of the last two months in Africa, we've received a bunch of emails and messages asking about our trip with Oasis Overland.  Why we choose them, what is the company like, would we do things differently next time, etc, etc, etc.  Instead of answering each question individually, I decided to cover all of them, and more, in a couple of recaps of our Africa overland trip.
First and foremost, in part one below, I'll cover why we chose to do an overland trip and why we chose to do it with Oasis Overland.  In Part Two, I'll review Oasis as well as give a final recap of our trip.  Here are the details of our trip for those unfamiliar with our blog:
Trip details:
We signed up for Oasis Overland's Nairobi to Cape Town 56-Day Coast to Coast Trip.
Trip left on January 4th and ended on February 28th.
We visited eight countries on the trip, in order: Kenya, Tanzania, Malawi, Mozambique, Zimbabwe, Botswana, Namibia, then South Africa. (nine if you include an hour in Zambia)
If you are new to this blog, I think it would be helpful to know a bit about us.  We are a married couple in our late 20's who consider ourselves budget travelers—most of the time.
Part 1: To overland or not to overland?
I think the biggest question Alissa and I faced when determining what to do with our time in Africa was whether or not we even wanted to use a tour company.  Once we decided to to do an overland trip, the choice of using Oasis was pretty obvious, but I'll talk more about that below.  Many seasoned travelers would consider jumping on a tour for two months to be some sort of taboo.  We did get a few of these responses: "You're going on an organized tour!??!?!"
I'll admit it too.  Before doing my research, I had the same attitude, and actually I still do:  I do not like organized tours.  Every time we end up on an organized tour, whether it's for an hour, a day, a week, or longer, I end up losing my mind.  It is also important to note that when we tour areas on our own or with a private guide, we always have a great time and never regret it, which just adds to my contempt for organized tours.  I know there are some decent tour companies out there, but I always seem to have the same experience with all of them.  The guide is always boring and repetitive, the other passengers seem to grow exponentially annoying (as do I to them), and we usually get carted around to places and shops that give kick-backs to the tour company.  A perfect example of this would be our two-day boat tour of Vietnam's Ha Long Bay last July.  This is especially true for my attitude about tours in Asia, and in all fairness, I should probably be more specific and say I do not like organized tours in Asia.
Before this trip, I had never stepped foot in Africa, so when planning, I decided to temporarily cure myself of my pre-existing condition of hating organized tours.  The biggest thing for us in Africa was transportation.  I know some people who choose to do organized tours so they don't have to plan anything at all.  That makes sense to me, except I don't mind the planning.  In fact, I enjoy the planning part, and Africa was no exception.  I find it both fun and challenging trying to determine if and how Alissa and I could get from the Serengeti to the beaches of Lake Malawi or from a river in Botswana to a desert in Namibia.  So transportation is where I started my decision making.  For Eastern and Southern Africa we basically had three options for transportation:
1. Public transportation
Normally, as in 99% of the time, we go the public transportation route.  Some of our most interesting experiences while traveling occur on public transit, i.e. traveling in Myanmar.  However, the more I researched the public transportation in Eastern Africa, the less I wanted to use it.
Yes, seeing how the locals move around is a great way to experience another culture, but at what point into a 15-hour over-crowded minibus ride in Tanzania does the experience go from being a good, even comical cultural experience to just pure torture.  We are all for getting out of our comfort zone, but the public transit from country to country in the parts of Africa we planned on visiting was just not something we were prepared for.  A crowded train or bus is one thing, and we've done that before in other parts of the world, but OVER-crowded is where I begin to draw a line.  Here in Africa, I just don't feel comfortable, but more importantly, I don't feel safe on a minibus that is meant for 14 people but packed with nearly 30.  I think we would have been fine doing one leg of the trip on a minibus just to experience it, but as I got further into the public transportation option, I realized we would have to have used a crowded bus at least ten times in two months.  I guess sometimes we need to just admit we are still tourists and not travelers.
2. Rent/Hire a vehicle
This was the option that I initially preferred.  It allows for the most flexibility, and is by far the most challenging.  We met a lot of people in Africa, both young and old, who were making their own way across the continent.  Many had purchased vehicles just for use on an extended trip and planned on selling the vehicle when they left Africa.  I would love it if Alissa and I had the ability to do a trip like that.  The big issue though is that there is no AAA , OnStar, or 24-hour roadside assistance in Africa.  The fact is that things go wrong with vehicles in Africa.  It's part of the experience.  So is fixing the car.  That is where this option fails us.  If something were to break on the car, we would really be in trouble.  I can fix a computer in minutes, but I couldn't even point out the radiator on a car (it's in the back somewhere right? Somewhere near the flux capacitor?).
This is enough of a reason for us to not use this option, as much as the adventurous side of it appeals to me.  Yes, it would be terrible and annoying to break down in the middle of Mozambique.  However, I think it would also be a pretty great way to meet some local people.  The inevitable did of course end up happening on our trip.  Our safari truck broke down in the Serengeti, and our overland truck had the typical delays and crazy issues as well.  Each time, I was very thankful it wasn't up to me to fix the truck.
The other part of the "on your own" way that appealed to us was the navigation itself.  It would be a fun challenge to make our way from Nairobi down to Cape Town without any tour guide(s) to help us.  Even getting lost or having to make last minute changes have an appeal to me in their own way.  The problem is that the issue of knowing absolutely nothing about car maintenance trumps any pros to going with this option.
3. Book an overland tour
So that leaves us with option number three: booking a tour with one of the 20 or so overland companies that operate in Africa.   The idea of an overland tour is simple.  You jump on an outfitted passenger truck with 10-20 other travelers and make your way across terrain that would otherwise be challenging on your own.  They allow you as a passenger to experience a good number of cities and countries in Africa without having to worry about or waste time on how you're going to get from place to place.  Overland trips cater to a wide variety of travelers and the companies vary in everything from what you eat and who cooks to how and where you sleep each night.
To us, an overland tour gave us the comfort and relief of not dealing with Africa's public transport but still keeping a sense of adventure and independence that we enjoy so much.  We also thought it would be a welcome break for us to have someone else plan out our destinations, border crossings, accommodations, etc, for two months.
Why we chose Oasis Overland:
I mentioned above that there are 20 or so overland companies operating in Africa.  Actually, I have no idea just how many companies there are, but I do know that there are a lot.  Everywhere we went we would see overland trucks of all shapes and sizes.  There were many that looked a lot like our truck and some that were just plain weird.
There was the Rotel from Germany that featured 30 or so "coffin beds".  Rumor has it there was a fatal carbon monoxide poisoning accident on one of these bad boys a few years ago, although my Google search came up empty for any proof: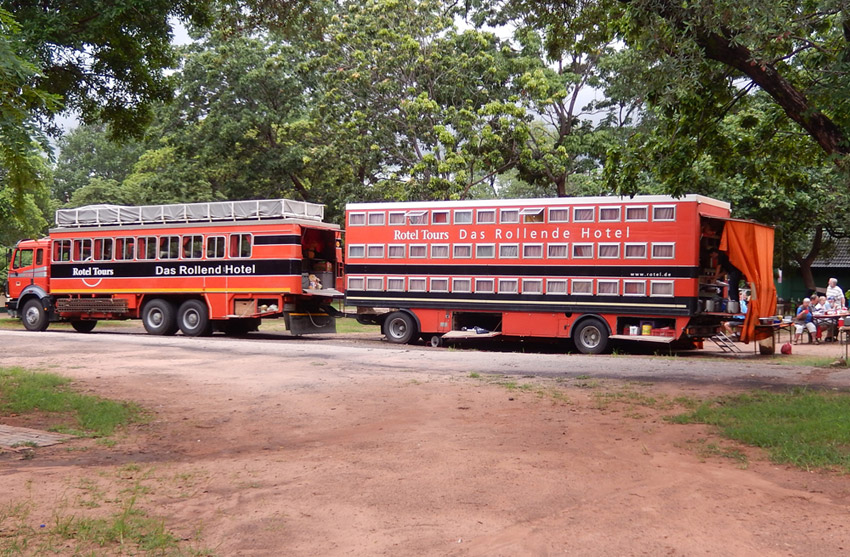 Then there was the Pink Caravan from Sweden that forced their 40 or so passengers to sleep on the roof of their bus.  Each night they scaled a painting ladder and carefully stepped over other passengers to arrive in their assigned spot.  The way I move around in my sleep would have meant a sure death: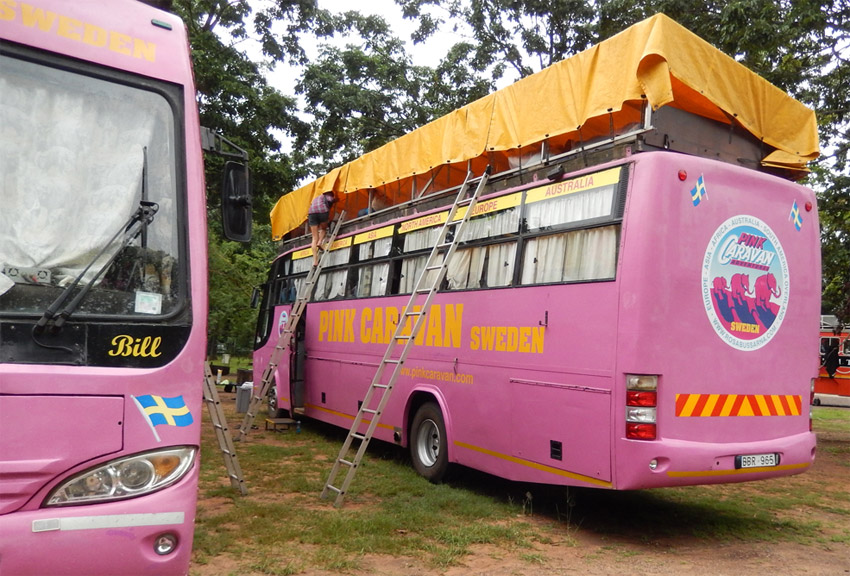 At first, I assumed all overland companies would all resemble each other, with little to nothing separating one company from the rest.  Depending on what you're comparing, that may actually be the case, but when you look closer you start to notice some big differences.  For us, two experienced travelers with no prior overlanding trips to reference, we had to make our decision based on two major factors: Price and Time.
Price
When you compare the overland trips just based on price alone, Oasis always wins.  This initially made me very skeptical.  Although we are budget travelers, we still are very careful when choosing the least-expensive options.  In this case, after exchanging a few emails with Oasis, and reviewing their website, I was quite pleased with what they had to say about the pricing of their trips.  For one, they are a small, private company that prides itself in keeping their overhead costs low and passing the savings onto the customer.  It sounds like a marketing ploy, but when you look at the size and quality of the other overland companies' fancy brochures, you realize that Oasis is sincere when they say they keep expenses and marketing budgets to a minimum.  Secondly, Oasis keeps a number of activities on each tour optional instead of automatically including everything in the tour.  This allows each passenger to pick and choose how many of the large, more expensive activities they want to participate in.  For example, a $1,500 trip on Oasis will usually end up costing around $2,000-$2,500.
Time
Because we pre-booked our Qatar Airways flights, Alissa and I knew we had exactly 72 days to get from Nairobi to Johannesburg.  We wanted to make sure whichever overland trip we chose didn't rush through Africa too quickly, but still gave us time at the end of the trip to explore South Africa on our own.  Of all the overland companies, Oasis seemed to have the most reasonable time table for traveling from Nairobi to South Africa.  For example, Oasis does the trip in 56 days, whereas G-Adventures does it in 40.  For some travelers, going fast might be necessary due to time constraints, but for us, the slower the better.  I will mention it again in my more thorough review of Oasis, but even 56 days felt a little rushed, so I can't even imagine what this 10,000 km trip would feel like in 40 days!
To give you an idea of the comparison I looked at when making my choice for a Nairobi to Cape Town overland company:
Oasis Overland:
Trip length: 56 Days
Cost per person: $3,640 USD*
Cost per day: $65 USD each
Dragoman Overland:
Trip length: 51 Days
Cost per person: $4,450 USD
Cost per day: $87.50 each
Africa Travel Co.:
Trip length: 47 Days
Cost per person: $5,100 USD**
Cost per day: $108.50 each
G Adventures:
Trip length: 40 Days
Cost per person: $4,699 USD
Cost per day: $117.50 each
Notes:  *I mentioned that Oasis Overland leaves many of their activities as optional.   To make this a fair comparison, I added the cost of the optional activities that are included in Dragoman and G Adventures tours to the cost of Oasis's tour.  The original price of the Oasis tour was $2,640, to which I added an additional $1,000 that would be needed to pay for all the major activities.  These activities include things like a safari in the Serengeti, a canoe trip in Botswana's Okavango Delta, and a weekend ferry trip to Zanzibar island. **I also added approximately $300 to Africa Travel Co. since they also don't include Zanzibar or the Okavango Delta.
Final thoughts and factors
It is important to remember that the factors that went into our decision won't necessarily apply to everyone.  For example, Oasis Overland is the only company where the passengers are expected to cook for themselves.  Yes, that is correct, we cooked for ourselves every night we camped (about 50 out of the 56 nights).  The passengers are broken into five cook groups and take turns making camp dinners with ingredients they shopped for themselves in local markets.  For some people, this is a reason to pay the additional $1,000 to use the other companies, but for us, we actually ended up enjoying shopping in the local markets for fresh food and cooking for the rest of the group once a week.
The other thing that made a small difference in our decision was the fact that we really wanted to visit Zimbabwe.  We had heard so many great things about this country from a few Zimbabweans that we met in other parts of the world, that we just had to see it.  Oasis is the only company that stops in Zimbabwe for more than one day on a Nairobi to Cape Town tour.  I think the 'Zimbabwe factor' ended up being the final thing I researched before calling Oasis and making my final booking.