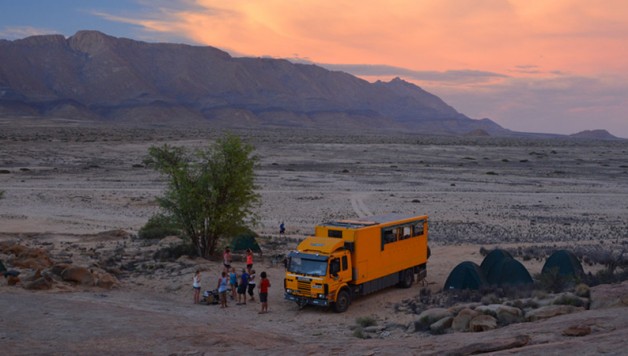 56 Days and 10,000 km Across Africa: A Review of Oasis Overland
Published On April 3, 2014 |
Africa, Botswana, Kenya, Malawi, Mozambique, Namibia, Recent, South Africa, Tanzania, Travel Planning, Zambia, Zimbabwe
Over the course of the last two months in Africa, I've received a bunch of emails and messages asking about my trip with Oasis Overland.  Why I chose them, what is the company like, would I do things differently next time, etc, etc, etc.  Instead of answering each question individually, I decided to cover all of them, and more, in a couple of recaps of my Africa overland trip.
In part one, I covered why I chose to do an overland trip and why I chose to do it with Oasis Overland.  Now, for part two, I'll review Oasis as well as give a final recap of the trip.  First off, here are the details of the trip for those unfamiliar with my blog:
Trip details:
We signed up for Oasis Overland's Nairobi to Cape Town 56-Day Coast to Coast Trip.
Trip left on January 4th and ended on February 28th.
We visited eight countries on the trip, in order: Kenya, Tanzania, Malawi, Mozambique, Zimbabwe, Botswana, Namibia, then South Africa. (nine if you include an hour in Zambia after bungee-jumping)
If you are new to this blog, I think it would be helpful to know a bit about me.
Review: Oasis Overland
How do I possibly sum up a 56-day trip into one article?  For one, this trip marked our first time being on the continent of Africa, so I really have very little to  compare this trip to.  Two, before this trip I had camped a total of one time (not counting tents at music festivals), so just sleeping in a tent for 50+ nights is enough for me to write an entire series of articles about me finding myself in Africa (gross).  So, to make this article more useful for potential 'overlanders' and people interested in Oasis, I decided to break this review down into six major takeaways from the trip:
1. The Oasis crowd
I'd love to be able to tell you that I'm such a good 'traveler' that I can enjoy a trip like this no matter who I'm with.  That just isn't true.  Certain types of people annoy me, and I usually annoy them back.  So we were a little nervous to see what types of people we would be forced to spend the next two months on a truck with.  Would they try to talk to me while I'm trying to read my Kindle with headphones in?  Would they smell?  Would they hate my constant sneezing?  Would they eat loud?  Would they wrinkle plastic potato chip bags loudly while I'm trying to sleep.  The unknowns were vast.
I'm happy to report that I was pretty relieved when I met my fellow Oasis passengers, or what I'll call "the crowd" from now on.  The Oasis passengers' age range skews younger compared to other overland companies.  Our youngest passenger was early 20's, and our oldest was early 70's.  However, the early 70's guy, Jim, is the exception not the rule in overlanding.  Besides Jim (more on him in a future article), I don't think we met one other overlander on any truck older than mid-50's, and the majority were in their 20's.  So it's safe to say overlanding in general tends to be a 35 and under crowd and the Oasis trucks seem to be even younger.
There were a fair share of solo travelers on board, and Oasis seems like a great company to book if you are traveling alone and looking to meet people.  The Oasis trucks are the only ones that have seating that faces inwards, allowing the whole crowd to socialize as a group rather than be separated in rows.
The group did like to drink and party, but from what I hear we were actually tamer than the usual Oasis crowd.  It actually was a good balance for us in terms of partying nights and quieter nights.  The group seemed to naturally know when to take it easy and when to get after it.  Three nights we all pooled money together to make a big batch of rum punch and those nights made me feel like I was back in college.
2. The Oasis crew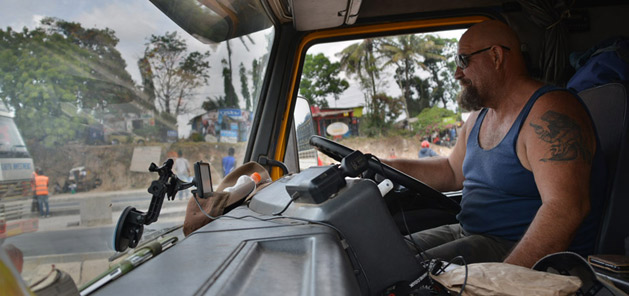 My second concern after "the crowd" was "the crew".  I was worried our driver might be a 19-year-old guy without a license who moved to Africa to find himself on the road, or that our that our tour leader might enjoy sleeping-in more than arriving in new cities on time.  In reality, my concerns really didn't even come close to being necessary.  Our driver was a professional truck driver with 20+ years of experience on the road, and our tour leader was a genuine traveler who worked tirelessly to ensure everyone onboard was having the time of their lives.  For more details on these two , I wrote a couple of articles about just how good our driver and tour leader were: On the Road in Africa, A Typical Day Onboard Woxy, and This is Africa: Stuck in the Mud
3. Wildlife experiences of a lifetime
This should actually be point number one since the wildlife that we saw on this tour was by far the best part of the trip.  It's hard to put into words how great these experiences with so many of Africa's amazing animals really were.  From seeing the Great Migration in the Serengeti, to watching lions hunting in Zimbabwe, to sneaking up on rhinos in Botswana, to petting cheetah's in Namibia, we were just constantly being left in awe.  I will forever be tainted, and can no longer visit a zoo without being those jerks that say "this isn't as cool as the real thing."  It's true though.  If national parks like these were located in areas of the world that were easier to travel to, they would be too crowded to even visit (actually, all the animals would probably be dead already, but I won't be that guy right now).  The fact that these national parks are located where they are is what makes them so special.  Sure, we saw other tourists while on safari, but within minutes we would find our truck alone among thousands of animals.
There more great photos of the wildlife we saw in the album at the bottom of this article.
4. Experiencing culture
I think the biggest difference I notice when traveling in a group is that I find it harder to interact with local culture.  When traveling alone, I really have no choice but to begin interacting with locals in order to learn my way around each new city.  However, once I was with a group of 20 other foreigners, it was simply too easy to just stay in my comfort zone and only hang around with them.  This took away from the usual experiences I have, like simply wandering around a village, or eating at a local restaurant.
This really isn't fair to Oasis to put this comment in the review, since it isn't there fault.  For one, the tour is mostly based on experiencing the wildlife in Africa, which just leaves less time to do cultural tours.  Plus, they gave us plenty of chances to see local cultures, take cultural tours, eat local food, etc.  I mean, what isn't cultural about receiving a candy bar instead of money as change at a supermarket in Zimbabwe!?
Oasis simply leaves it up to each passenger to experience as much of the local culture as they want to.  I look at it this way:  When you travel alone it's easy to meet locals, but you need to put forward extra effort to meet other travelers.  Likewise, when you're already traveling with a group, you now need to put that extra effort towards meeting locals instead.
On overland trips, it's too easy to get comfortable with your group at the local campsite bar instead of deciding to head out into the town and interact with local people.  I noticed this about halfway through the trip, and decided to make a better effort to interact more with locals.  For example, the township tour I took in Namibia was one of my favorite days of the trip.
5. Just us and the stars
One of the things that sets Oasis apart from the countless other overland companies is that they still camp in the middle of nowhere, AKA bush camping.  'Bush camping' was a new term for me on this trip, and it refers to when you camp without any facilities.  No running water, no electricity, no bathrooms, no showers, and NO WIFI.  Just us and the bush.
I didn't know this until the night before our first bush camp.  I would be lying if I wasn't a little annoyed when I was told about it.  Having never camped at all, I was already nervous about how I would handle 50 days of campsites.  Now I was being told ten or so of those nights wouldn't even be at campsites, but in the middle of nowhere.  Then again, this is why we travel, right?  To experience things we've never done before.
The bush camping nights ended up being some of the best nights on the trip.  The complete silence and serenity of being in the Malawian wilderness(pictured above) or the Namib Desert (pictured on the right) is something that just can't be experienced at traditional African overland campsites.  Don't get me wrong, I wouldn't want to camp like this every night, but the Oasis trip spreads the bush camp nights out perfectly.  We are never a day or two away from a shower, and it was always nice to get a break from campsites that had other overland trucks at them.
From what I could tell, Oasis is the only overland company that still does bush camping.  The other companies that used to operate like Oasis have either been bought up or gone out of business.  I was actually surprised to see that the other companies seem to put such a small emphasis on the camping part.  I mentioned in my "Why We Chose Oasis" article that Oasis does the trip from Nairobi to Cape Town in 56 days, while other companies do it in between 40-50 days.  The other companies basically skip the bush camps and drive longer on many of the days.  I once saw a competitor's truck pull into our campsite late at night, watched them all head into upgraded hotel rooms, and by the time I was awake in my tent at 6:30am the next morning the truck was already gone.  Our group arrived at 4pm that same day, cooked a nice camp dinner, stayed an additional day and night, then left the next morning around 8am.  That full extra day gave us time to explore a local village in Tanzania.  Hotel room or not, I just don't think I would enjoy the 40-day tour as much.
6. Part of the team
Every time I'm in a part of the world where I have some sort of housekeeper or 'help', I always feel uncomfortable.   There's been plenty of times where I'll be in a kitchen washing a dish, and the owner will tell me to leave it, their person will come clean it later.  It's not that I'm against people having housekeepers, it's just that I always prefer to do those things myself, and don't enjoy feeling like I need assistants.  On an Oasis truck, there is no one to set up our tents for us, no cook, no clean-up crew, just the passengers.  Once our tour leader showed us the ropes, we began relying on ourselves to do everything except drive (although I tried to do that too.)  This style of trip may not sound appealing to everyone, but honestly it made it more enjoyable.
I can only go by what I saw other trucks doing.  For example, I saw one truck pull up at a campsite with six passengers and four employees.  The employees set up the tents, cooked, and cleaned, all while the six passengers just sat around looking bored.  To contrast that, when our truck pulled up, it was bustling with activity, conversation, laughter, and energy as we all set up our tents, got dinner going, and cleaned the truck.   By the time dinner was ready, our group was having a great time.  When I looked over at the other group, they were still just sitting in a circle quietly.  Their crew was now cleaning their dishes for them.  Not only is it nearly half the price to travel what I now call "Oasis-style", it also creates a much more fun group of people who feel like they're part of the trip, not just on the trip.  I can't stress this difference enough, as it really makes Oasis unique.
Final thoughts
After 56 days, I can really say that I made the right choice booking my trip with Oasis.  I'm always a little uneasy choosing the least-expensive option, but in this case it worked out great.  Towards the middle of the trip, I almost forgot we were on a guided tour, and it felt more like it was a truck that 20 of us had rented and decided to drive across Africa.  Oasis doesn't sign big contracts with campsites, meaning their tour leaders have the flexibility to change campsites at the last minute, or stay an extra day in a cool place, etc.  It all just felt perfect for travelers like me.  I wanted to do Africa on my own but just didn't have the car knowledge to do it, which made Oasis's trip style the answer.  If you are the type of traveler who likes hotel rooms, personal chefs, and a tour guide telling you what to do, then Oasis is not for you.
Oh, one more thing.  If you aren't prepared to help a truck get out of the mud, it's best not to go overlanding at all!  See that guy on the far right in the photo below?  That's Jim, our oldest passenger on the trip.  He is about to jump down in that mud pit and start pushing:
Oasis cost structure tips
One more thing to add based on the comments I received.  If you are currently researching Oasis trips, you've probably already noticed that the base price for their trips are usually half the price than the other companies.  This is because Oasis keeps many of the excursions on their trips optional, allowing each passenger to customize their own trip.  In my part one article, I did a price comparison that showed that even when you add in these additional costs to an Oasis trip, they still end up being $1,000 less than the other companies.
To help you plan on what you would spend, here are some rules of thumb:
– If the optional activity lasts more than one day, consider it mandatory.  That doesn't mean Oasis won't force you to go, but it means those days where everyone else heads off to Zanzibar or on a safari, you will be just hanging out at a campsite.  Everyone on our trip went on all the multi-day optional excursions, and for the one-day optional excursions I would say about 50% went each time.
– Plan on spending about $10-20 of your own money per day.  Some days you'll spend $0, but other days you'll be required to buy your own lunch or dinner.  So just prepare and have spending money.
– If you want to save money, cut out scuba-diving, horse back riding, and sky-diving.  There's $500-$600 saved right away!
– Each Oasis itinerary is a bit different, but on this 56-day trip, we spent a little over $1,000 EACH on optional activities and about another $350 each on snacks and meals.
– Like I mentioned above, even with the optional activities factored in, Oasis is by far the most affordable overland company in Africa (probably everywhere).
.
.
Also, here are the best photos from our trip:
[fbalbum url="https://www.facebook.com/media/set/?set=a.523475407768894.1073741856.313060352143735″]