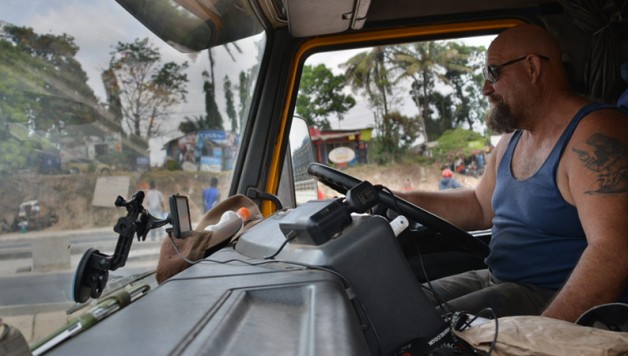 On the Road in Africa: The Streets of Dar es Salaam
The most unique part of our time here in Africa, especially compared to our most recent 12 months, is our method of transportation from country to country.  This is the first time we are doing an organized tour like this, and the whole concept of an "overland trip" was completely new to us two years ago when we planned this trip.
Last week, I wrote about what our day to day is like with Oasis Overland, but now I want to give you a chance to see what the time is like day to day on the truck itself.
Driver, Mechanic, Smooth Talker
Before our drive through Dar es Salaam in Tanzania, our driver Mick invited me to sit up front in the truck's passenger seat for the day.  I immediately agreed, as I have only been seeing these African roads from the side windows of the truck, and I feel that the craziness of Dar es Salaam traffic is more exciting when sitting shotgun.  Normally, the passengers on this trip sit in the back of the truck.  The seats face inwards rather than the normal rows of four, giving probably the best layout of any overland truck.  The circular seating arrangement creates a really fun, conversational atmosphere during our long days on the road.  The conversations usually get sparked about the music that is playing that day.  The truck is equipped with an mp3 dock, so each passenger has been taking a turn sharing his or her music tastes with the rest of the group.
However, today my curiosity has taken me out of the back of the truck and into Mick's world.  It's hard to explain this truck's cab.  It is a fusion of crazy African roads, Australian driving, and American country music.  If I were asked to describe what an Australian truck driver would look, act, and sound like, I would have simply described Mick.  These roads require concentration, skill, and most importantly, patience.  Mick seems to have developed all three of these skills during his stint in the Australian army and his 20-30 years of driving trucks all over the world (he's also spent years driving overland trucks through South America).
Two nights ago, we found ourselves in a situation where we were more grateful than usual to have Mick around.  During a routine maintenance check, Mick noticed a spring bad broken on one of the back axels.  Unlike most of the other overland companies, Oasis drivers are responsible for their own maintenance and repairs.  Mick noticed the broken spring around 3pm, and worked non-stop, even through dinner, until he and our guide Joe finally emerged victorious from under the truck just before midnight.  That ensured we didn't lose any days waiting for local mechanics to fix it.  Knowing that Mick is so skilled with truck maintenance really adds an extra level of peace of mind during long driving days.  If we break down, we know we won't have to sit and wait for help.
Today starts out with a little excitement.  We are stopped by some local police who spend about five minutes trying to find some sort of infraction to cite us for.  They first check to see if we are wearing seat belts.  We are.  Then he asks Mick for his yellow fever immunization card.  He has it.  Then, desperately looking for anything that can allow him to ask us for money he spots a small crack in the windshield.  The bottom left corner of the windshield was hit by a rock a few days ago, but the crack is so small you can barely see it.  The officer uses some spotty sign language to communicate to Mick that he will probably have to write a ticket.  This guy is just hoping Mick offers him a bribe, but instead Mick gives him something much more entertaining.  60 seconds of quick-talking and explaining in his trademark outback Australian accent have completely caught this officer off guard.  He finally realizes that Mick isn't giving him a dime and allows us to go on our way.  Another skill needed to be a driver in Africa!
Africa's Walking Wal-Mart
I offered to drive this morning through Dar es Salaam, but Mick just gives me the "In your dreams" look.  Instead, I just sit back and watch him slowly weave between crazy Tanzanian traffic.  The traffic is either moving extremely slow, or completely stopped for about three straight hours.  It isn't the type of traffic I am used to in the U.S., and is even much different then the crazy traffic of mega cities in Asia.  The only similarity I see between African and Asian driving is that drivers in both places seem to ignore the centerline, if of course the road itself even has one painted on it.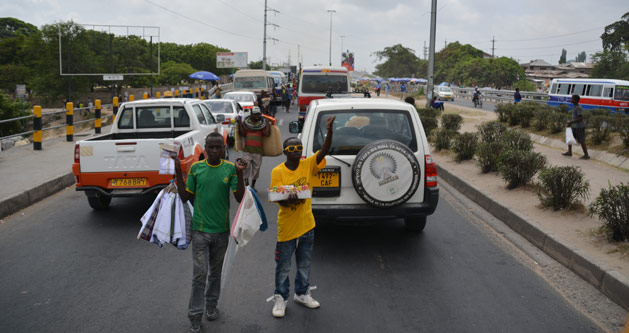 Here in Tanzania, the police seem to just direct traffic with a nonchalant, "I'll work when I feel like it" attitude.  There are also no stoplights.  Instead the police sit in the shade under a tree and casually watch one direction of traffic slowly move along.  Then, whenever they finish their drink or snack, they slowly walk to the road, and stop the traffic to allow the other direction to go.  Traffic in one direction can sometimes be stopped for 30 minutes or more.
This is when the real action begins.  There are hundreds of people walking through the cars, all selling a niche item.  I've seen this type of sales work in other parts of the world, but never with such variety.  There are the obvious items: water, soft drinks, fruit, ice cream, cashews, cans of Pringles, etc.  But I begin noticing more and more unusual items.  Things most people would never consider buying out of their car window: Sunglasses, shoes, clothing, children's toys, CD's, DVD's, and even some nice Tupperware sets.
It doesn't stop there, as it only began getting weirder.  I looked out the window and saw a guy selling ONE doll and ONE dollhouse.  Not much inventory, but definitely a unique product.  I then saw a man buy the doll through his window, assumingly for his daughter.  It reminds me of attending Disney on Ice shows as a kid.  Watching vendors strolling up and down the aisle with cheap crap that lights up in the dark, hoping to find impulse-buying challenged parents.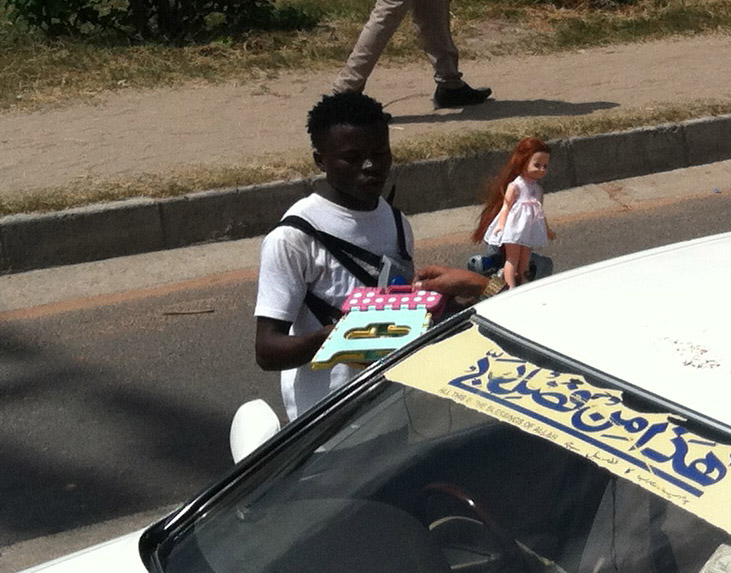 Here are some more of the favorite items and salespeople I spotted: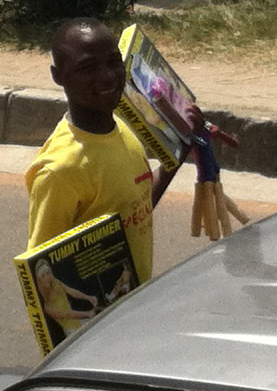 – Electronic bug zappers (the tennis racket-looking ones).
– Someone with all sorts of auto products (tire cleaner, WD-40, etc.)
– A guy selling ONE text book, that said "Introduction to Physics"
– Someone selling a 1990's As Seen on TV ab workout machine called the "Tummy Trimmer".  Pictured on the right.
– Some Miley Cyrus sticker books, the pre-crazy version.
I've given the roads of Dar es Salaam the nickname of Africa's Walking Wal-Mart since you can basically buy anything on these streets that you could in a Wal-Mart.
It seems so odd to me to see this type of "shopping", but in many places in Africa shipping and transportation of goods is extremely expensive.  There are no Wal-Marts around here and many of these drivers rely on seeing the diaper salesperson once a week in their car or to purchase a gift for a loved one at the last minute.  It will be fun to come back to Africa in 20 years and see how these roads will have changed.  It will be only a matter of time until these roads are upgraded and won't allow for people to simply walk in and around the cars.  That puts thousands of people out of work, but it would also cheapen the transportation in Africa with the hopes of these same thousands of people being to sell goods in stores instead.  Seeing things like I did today make me want to do research on urbanization and development in Africa, as I know the topic must be both fascinating as well as controversial.