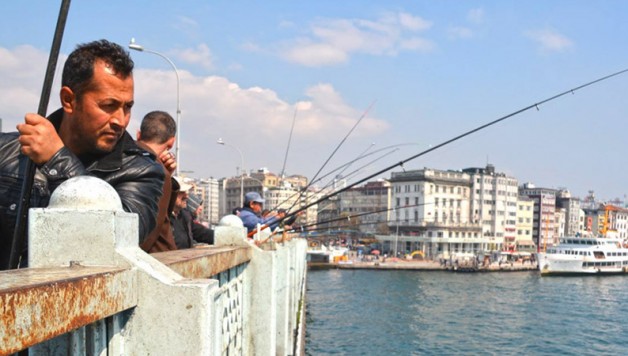 Straddling the Continents: 3 days in Istanbul, Turkey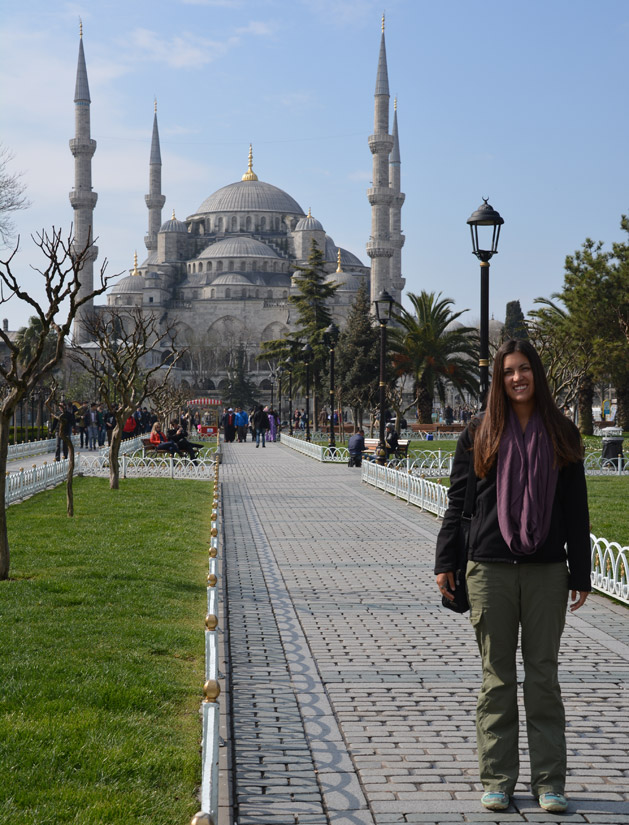 We are out of Africa!  We've had a few nights in Johannesburg to readjust to finding our own way around a new city, but surprisingly, I still kind of miss our overlanding tent!
Istanbul is a city that travelers who we've met from all over tell us they love.  Our first impression is an incredibly simple 'train then tram' to the city center. Yes, public transportation! (Southern Africa has a long way to go on the public transit front.) We get off the tram in the middle of the old city of Sultanahmet and love it already.  It's hard not to be in awe of the huge dome of Hagia Sofia church next to the impressive Blue Mosque with its towering pillars (minarets).
Equally wonderful to me is Sultanahmet square, the area located between these two ancient holy buildings.  I love pedestrian-friendly cities, and this square is exactly why.  It's surrounded by unique, ancient buildings and sculptures, full of people walking, and better yet, selling food and drinks.  It just gives off that laid-back, European vibe that we've been missing.
We find our hostel and an overpriced British pub to watch the Tottenham game, and turn in early after our long night on a red-eye flight.
Galata to Grand Bazaar
We start our first day of sightseeing with a sweetly strong Turkish coffee (of course) then a tram to Galata Tower for a view of the city.
I love how packed together all the houses are with their skinny alleys and roads. The rooftops are also really cool – lots of the clay-looking roofs that I've always pictured Turkey to look like, and many of the homes and businesses in the area have rooftop patios that make me want to move in!  The variety of bright colors on all the buildings add such beauty to the landscape, especially when compared to cities that tend to have buildings of all one color.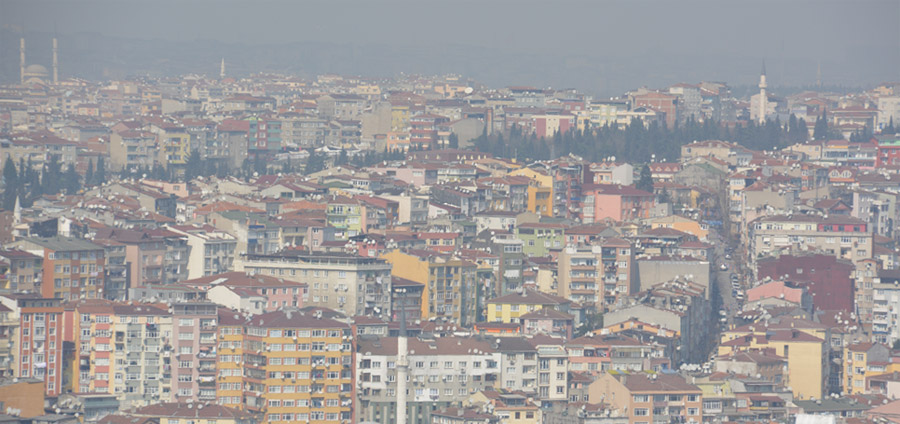 We spend the rest of the day wandering around the Western part of Sultanahmet and its dozens of shopping districts. We bought a few warmer clothes and some gifts (very unlike us!) and checked out the Grand Bazaar, the world's oldest shopping mall.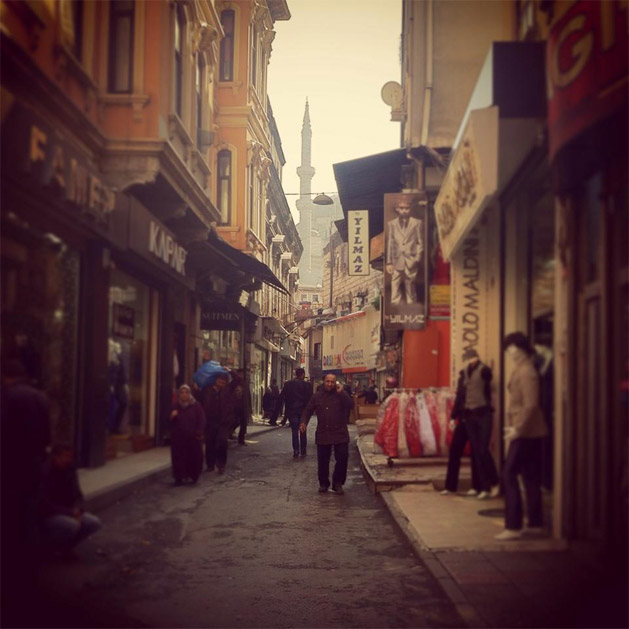 We also found plenty delicious and cheap food – fish bread (sandwiches with just-caught little fish filets), fresh squeezed juices, and of course, donar kebabs.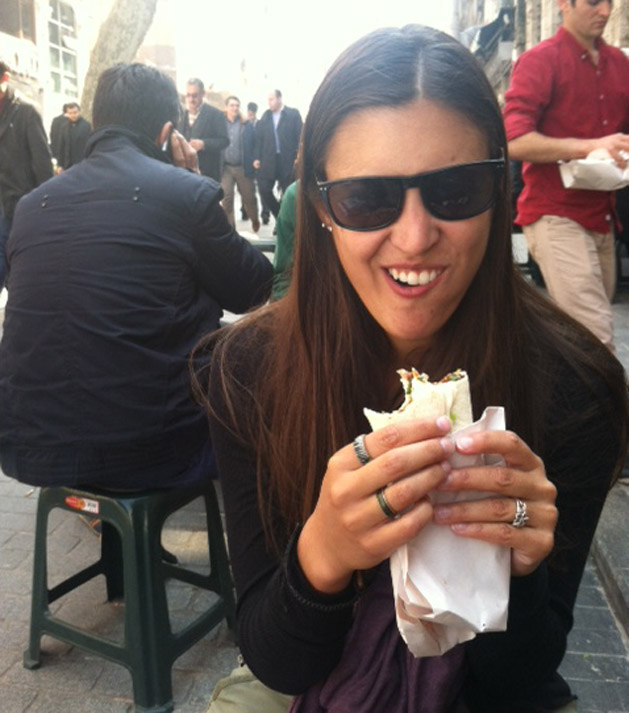 Sultanahmet Square
Since it's our first time in Turkey, we can't resist some of the typical tourist stops.  We start at Hagia Sofia, a 6th century church built on top of the ruins of a 3rd century church destroyed in war.  It was converted into a mosque when the Ottomans took over, and today it is a museum.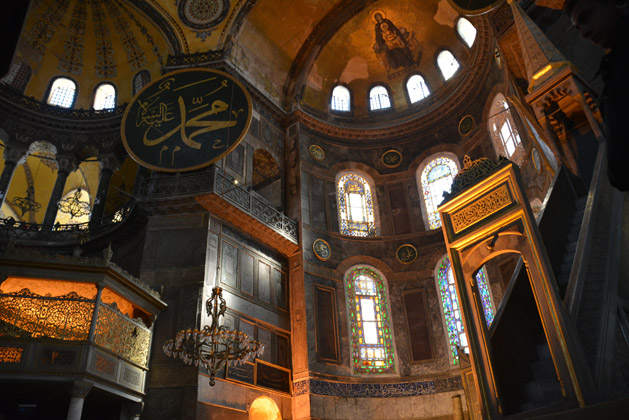 Nearby, our next destination is the Basilica Cistern. We've been excited to visit it ever since reading Dan Brown's book Inferno, in which it plays a role in the plot (I won't give away anything, it's a good book).  The 6th century cistern was built to supply the city, palace, and church with water, and is an impressive structure, even by today's standards. We got to see the 300+ eerie columns described in the book in person, and walk on the raised platforms to the famous Medusa columns.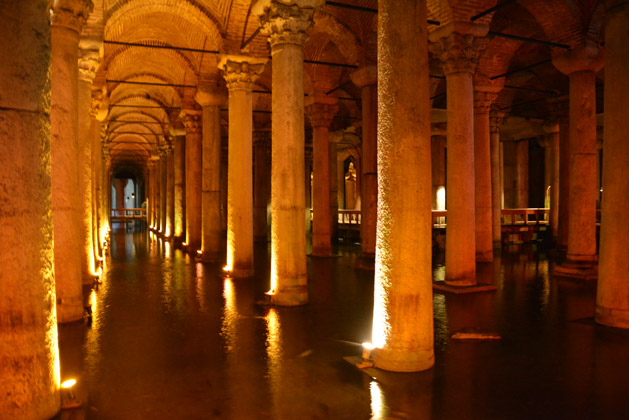 A visit to Turkey wouldn't be complete without a traditional Turkish bath, so when we found Çemberlitaş Hamami (bath) as we were exploring the area west of the museums, we decided to pay the entrance fee and spring for a body scrub.  We have to split into the separate male and female sections.  They seem to be used to confused tourists, so I am ushered to the changing rooms then to the hamam.  The beautiful all-marble room is warm with steam and a dozen or so other women are sitting around (not the women from the photo on the left).  My body scrub attendant looks so much like I was picturing that I have to try not to smile – dark hair and features, bushy eyebrows, and a few teeth sticking straight out of her friendly smile.  She gestures for me to lay on the marble and starts scrubbing me, first with rough exfoliating cloth then with a smoother one full of suds. It's nice, although I feel a bit awkward not knowing what to expect, and a bit exposed with a lady washing my whole body in only the underwear they provided.  Anyways, it was a worthwhile cultural experience, and my skin feels great!
For dinner, we explored Kutlugin street near our hostel, a cobblestone street lined with restaurants. Each one has a host outside, begging people to look at his menu, but they all look very similar. We pick one that looks popular and get the recommended dish – mixed grill and veggies cooked in a clay pot. Dan even gets to break the pot open himself, which feels a little staged but is still fun, and tasty.  After dinner, we hear another couple debating getting shisha, the traditional flavored tobacco smoked out of a big water pipe. We offer to share with them, since we want to try it too, and we are served an apple flavored blend. It was pretty tasty, since I was expecting something more like a cigar.