The Pure Beauty and Pure Adrenaline of Victoria Falls, Zimbabwe
At twice the height of North America's Niagara Falls, Africa's Victoria Falls spray can be seen from miles away.  Our Oasis Overland group spots the spray while onboard our truck, still a good 20 minutes from the falls.  We are heading towards the town of Victoria Falls, Zimbabwe, our soon-to-be home for the next four days.  Our initial plan for these four days wass to walk alongside the falls for one day, and then just relax for the other three.  That WAS our plan—until we met Joy from Backpackers Bazaar.
Originally we had been interested in doing only one activity.  It's called Devil's Pool (pictured on the right), but we found out that it isn't possible to do it in the wet season.  Our initial disappointment turned to intrigue when Joy showed our group all the other possible things we could do the next four days.  Scenic helicopter rides, whitewater rafting, micro flights, and zip lining over the Zambezi River.  Alissa immediately signs up for the rafting, but I have another activity that jumps out at me: Bungee jumping off the Victoria Falls Bridge.
I'm not what you would call an adrenaline junkie.  I used to own a BMX bike, but the coolest trick I could do was fall.  Oh, and my dad would be quick to tell you that the bike is still in his basement, so let me know if you want to buy it from him.  He'd probably pay you to take it off his hands.
To me, thanks to my mother's genes, it's scary enough just walking on the Victoria Falls Bridge.  It's 420 feet high and was built in like 1728.  So why in the world would I want to jump off of it?  Note: It was actually built in 1904, but you get the idea.  You can literally FEEL how old the bridge is when trucks drive over it.  The bridge bounces and sways as if it's trying to tell you it's old and sick.  At one point, it shakes so much that I actually would prefer to jump off of it.
The main reason I've decided to bungee jump is because it is one of the few activities that legitimately scare me.  Something about bungee jumping has always been terrifying to me—more so than even skydiving.  At least with skydiving, the tandem instructor would get a few minutes to fix a problem that goes wrong.  If something goes wrong with my bungee cord or equipment… well it's been a nice ride!  So I just want to do this once to prove to myself I can overcome the fear.  Then, never again will I jump off a bridge that isn't on fire or isn't full of people shooting at me.
However, before I jump and Alissa rafts down the river, we have decided to take a nice walk around the falls themselves to enjoy their beauty and splendor.
The Beauty of Victoria Falls
This afternoon Alissa and I took a walk through the Victoria Falls National Park on the Zimbabwean side of the falls.  The falls are actually on the border between Zimbabwe and Zambia, but other than crossing over into Zambia for a bit to bungee jump tomorrow, we will be spending all four days in Zimbabwe.  It's not that I don't want to see the falls from the Zambian side, it's that I don't want to pay for it.  Zambia charges $30 USD for a visa and another $20 or so to get into their national park, plus we would also need a multiple entry visa for Zimbabwe which would cost an additional $15.  After it's all said and done, it would have cost us an extra $130 between the both of us to see the falls from both sides.  No thanks.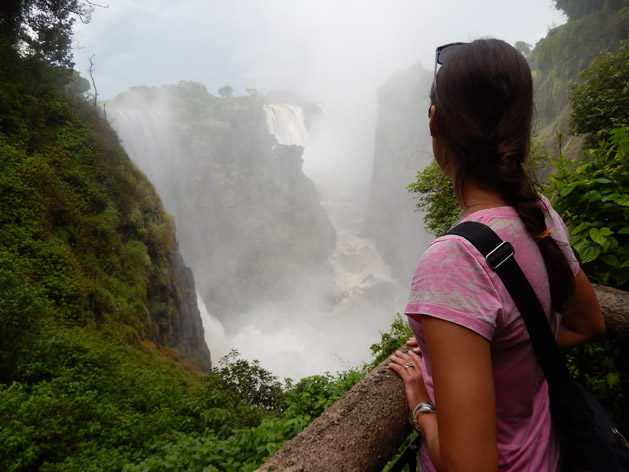 We soon realize we made the right decision.  The beauty and magnificence of these giant falls are simply incredible.  The National Park has a walking trail that allows us to walk alongside the rim for a couple of kilometers.  It starts out pretty dry as we view the falls from nice, safe distances.  However, the further we walk, the closer we get to the water, the more intense the sprat gets, and the wetter we get.  By the end of our hour-long walk we are both soaked.  All our pictures have to be taken from our waterproof iPhone since my DSLR is safely tucked away in my bag.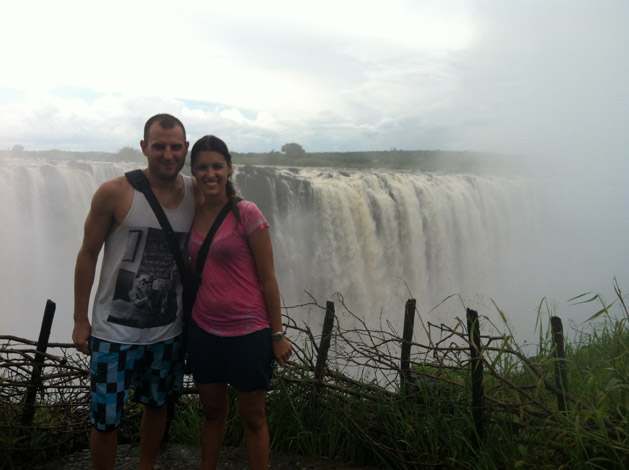 The best part of viewing the falls is how uncrowded it is.  The first 30 minutes of our walk go by without us seeing another person.  Our first view of another couple comes when we approach an area with so much spray that we can't even see the falls anymore (pictured below).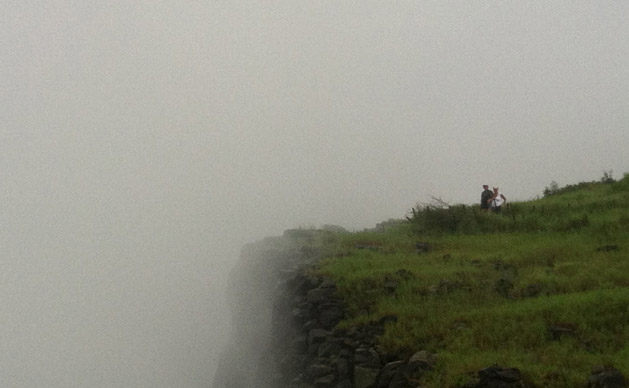 One of our fellow passengers opted for another way to view the falls: A helicopter ride.  Check out the photo he took below:
The Jump of a Lifetime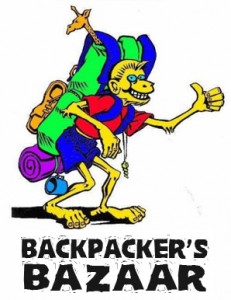 I didn't sleep last night.  I'm not sure exactly why.  I don't think it's fear, although there is plenty of that going on in my head.  I think it was more anticipation than fear that kept me awake, and at least not sleeping kept me from having nightmares of falling into the croc-infested Zambezi River.  Joy from Backpacker's Bazaar and her team pick me up from our campsite at 10am, and thanks to our nerves our five minute drive to the bridge feels more like five hours.
Once we arrive at the bridge, reality sets in.  We sign our lives away on a waiver, I give Alissa a nice big hug and tell her where I hid all my dirty magazines.  Then I head to the jumping platform.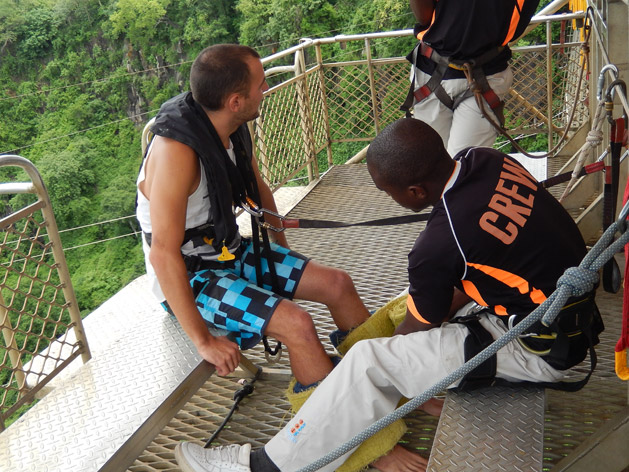 This is when the nerves really kick in.  I'm third in line to jump today, so I have to stand at the top and just try to not look down for about 15 minutes.  When it's my turn, I make the decision to not look down the entire time I'm on the platform getting equipped.  Even when I jump, I will not look down until gravity forces my head towards the river.  I notice the two people in front of me didn't really jump off the platform either.  They did more of a fall, or a sort of  "lean over the edge drop".  This inspires me to jump as gracefully as someone with no grace can jump.  The jump is 111 meters (364 feet), so I figure if I jump off the platform, I will actually get an extra meter of free fall.  Who am I kidding, more like a couple of extra inches.
The free fall is intense, and the wind rushing past my face gets my adrenaline pumping like nothing else I've ever done before.  The initial bounce back up isn't as bad as I thought, but the next three or four begin to make my ankles hurt.  Moments like these make me wish I was 19 again.  Eventually, I'm just hanging on the end of the rope, waiting for the guy to come get me, as my ankles feel like they are going to dislocate.  I may be exaggerating a bit, but I was pretty damn relieved and excited when I was finally pulled back up to safety.
Overall, the jump was a success.  I can now say I bungee jumped.  And although it isn't the highest bungee jump in the world, it was high enough for me.
Alissa's Class 5 Whitewater Rafting
As told by Alissa: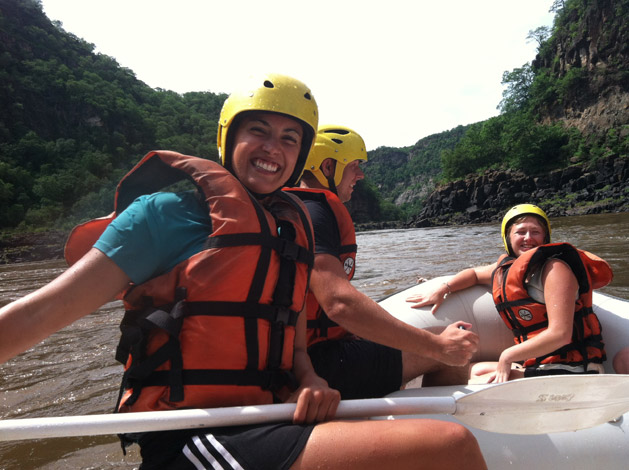 The Zambezi River is known for its amazing rafting.  In low water season there are over 20 class five rapids in a row.  For those non rapids experts, class five basically means you will probably fall out of the raft.  In high water season (now), there are 13 rapids ranging from class three to class five.  Since I've never rafted before, I'm quite happy to be starting in high water season.  We start with a safety briefing that includes the usual signing my life away and safety gear fitting.  I also learn from our guide that if one of us falls overboard and is sucked under in a whirlpool, to tuck into a ball and count to ten, and by then we should have popped back up.  Oh, and if we haven't, then we counted too fast.  Gulp.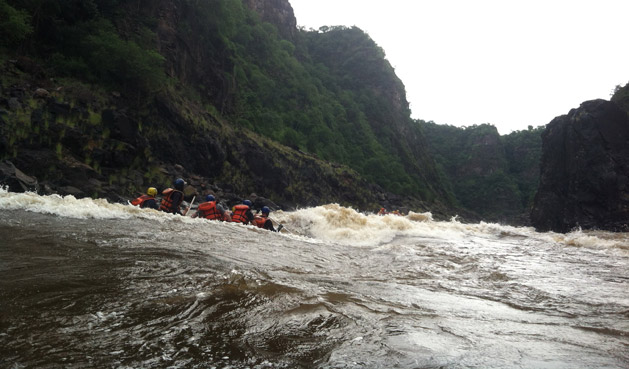 We head down the steep walls of the gorge to our rafts, and get directly onto the river. The first rapid we get to is called the "Overland Truck Eater".  It's also known as "Creamy White Buttocks", because it's where everyone learns their shorts aren't cinched tight enough.  We are all nervous as we pick up speed and are launched into the middle of a huge wave.  The right side of the raft lifts high enough to drop half of us onto the others, but we manage to stay right side up.  After some laughing and coughing up of water, we untangle and celebrate our victory by cheers-ing with our paddles overhead.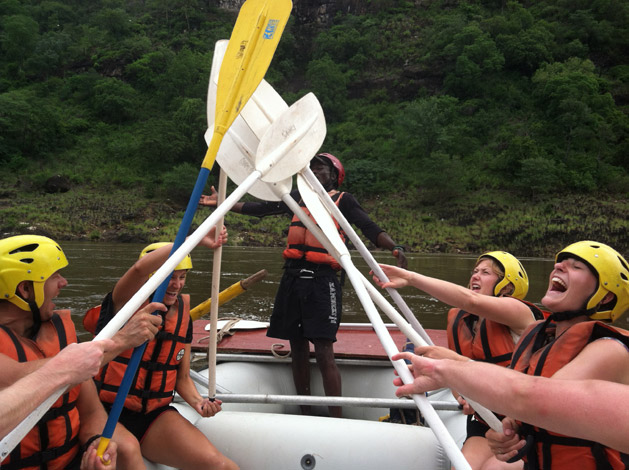 The rest of the rapids were more of the same: us paddling until the moment of panic, crouching into the boat, and swirling around into each other until we made it back to calm waters.  We only lost one member over the side, on rapid number 13, "Oblivion", the longest rapid and the one responsible for the most raft flips in the world (according to our guide).  I'm sure he's down hours of research to get that stat.
After 14 rapids and an exhausting hike back up the gorge, we were rewarded with lunch and some cold beers. Thanks again to Backpackers Bazaar, and especially Joy, for recommending and booking my trip with Shearwater Rafting!