Cruising Vietnam's Natural Wonder: Ha Long Bay
Alissa and I have been struggling with the decision of whether or not we will even be able to make it to Halong Bay this week.  There is a typhoon that is rolling across the Philippines and heading towards the bay, and we just don't know if we want to risk signing up for one of Halong Bay's organized tours.  When we woke up this morning, the weather info I found online said the typhoon is heading more towards China than towards Halong Bay, and that Halong City will most likely see nothing more than a lot of rain.  A typhoon is something we want to avoid, but rain is something we can handle.  Halong Bay is on the list of the New Seven Natural Wonders of the World, and Alissa and I have sort of an unofficial goal to see all seven.  We've already visited the Underground River in the Philippines, so Halong Bay will be our second wonder, and we aren't going to let rain ruin it for us.
We usually try to avoid organized, group tours whenever possible on our trip.  Something about getting carted around on a mini-van with a herd of other people with cameras doesn't appeal to us.  If there is something or some place that we want to see, we usually try everything in our power to get to it and tour it on our own, without the help of a tour operator.  In Vietnam especially, we are trying to avoid these tourist trap packages that promise everything from luxury cruise ships to amazing cooking classes to scenic bus rides.  Yeah, scenic bus ride.  The biggest euphemism I've heard so far on this trip.  A four-hour, crammed mini-van weaving in and out of chaotic traffic with a stop mid-way at a high-pressure shopping mall.  Scenic bus ride my ass.
We really had no choice but to see Halong Bay with a tour company, so we asked our Homestay host to arrange a good one for us.
Information Overload: Getting to Halong Bay
Just like we expected, the mini-van picks us and another 13 guests at our hotels and begins the four-hour journey to the coast.  Our tour guides name is Men, and he is a 20-something guy with a pretty annoying sense of humor, and an unnecessarily loud laugh that sounds like he is being waterboarded.  Something I can't stand about organized tours in Southeast Asia is that they all lack innovation.  Once one tour group finds what they think is the "formula for success", they all just copy it.  Even if that formula isn't the best way to do things.  Somewhere along the lines, some idiot decided that Westerner tourists need to know the detailed itinerary for these tours, and if we didn't know the itinerary we would be unhappy and upset.  Now every tour group in Vietnam trains their guides to never, ever, under any circumstance, take a Western tourist somewhere without first explaining exactly where their going, what is going to happen when they get there, what is going to happen after that, and where they will go afterwards.  This then repeats itself every single step of the way.
Once we get moving on the bus, it takes our guide three hours to go over our itinerary for the next two days.  He is so detailed with it that I am getting a headache trying to pay attention.  He takes 20 minutes to explain each part of the itinerary, and when he's done with each part, he repeats the entire part twice just to make sure we understand.  I don't know why these tour guides assume we don't understand.  Maybe we aren't nodding enough, or maybe they aren't confident in their English, but they repeat everything at least three times.  He is even getting into details like "there will then be 15 minutes between dinner when we will clear the table and allow you to rest a bit before getting after dinner drinks.  If you want to head to your cabin during this time, it is OK, otherwise you can stay around the bar and converse"  Oh, thank God, I was worried I wouldn't get a rest between dinner and drinks.
Our Boat: White is the new Pink
Something I learned as we arrived at the Halong harbor was that the Vietnam government has gone to some pretty creative lengths to keep the bay looking beautiful and picturesque.  They were smart enough to realize that if they let each tour company paint their boats however they'd like, that pictures of Halong Bay would be constantly filled with crazy color combinations, taking away from the beautiful green and black limestone cliffs and blue sky and water.  So they made a rule, every boat needs to be painted white.  This idea was brilliant, and it makes the bay so much more beautiful, and ironically makes it a little more communist too.
Our boat, which is white of course, is bigger than I expected, the restaurant/bar area is really nice, the sundeck is awesome, and our cabin is really spacious and comfortable.  I'm not sure how, but our cabin is also have the biggest on the boat.  The cabin has its own bathroom, shower, and we even have an extra twin bed to use as a couch.
The other people on our tour are really great as well.  It's a unique combination of people from all over the world.  Germany, Canada, U.S., Iran, and the U.K. are all represented.  Everyone is getting along well, and everyone seems to enjoy drinking. Perfect!
Day One – Titop Island
After eating lunch on the boat, we all climb onto a smaller motorboat and head to the nearby Titop Island (named after some Soviet Union hero).  The island is the most touristy of the islands in Halong Bay, and is the only one that really has a beach for swimming.  It also has a look-out platform built at the very top, and we decide to make the 400+ step climb up to the top to see the view for ourselves.  The fog from the misty-like rain adds a pretty awesome element to the view, and when you add that fog to the site of so many white boats in the water it creates one of the best views of the trip so far.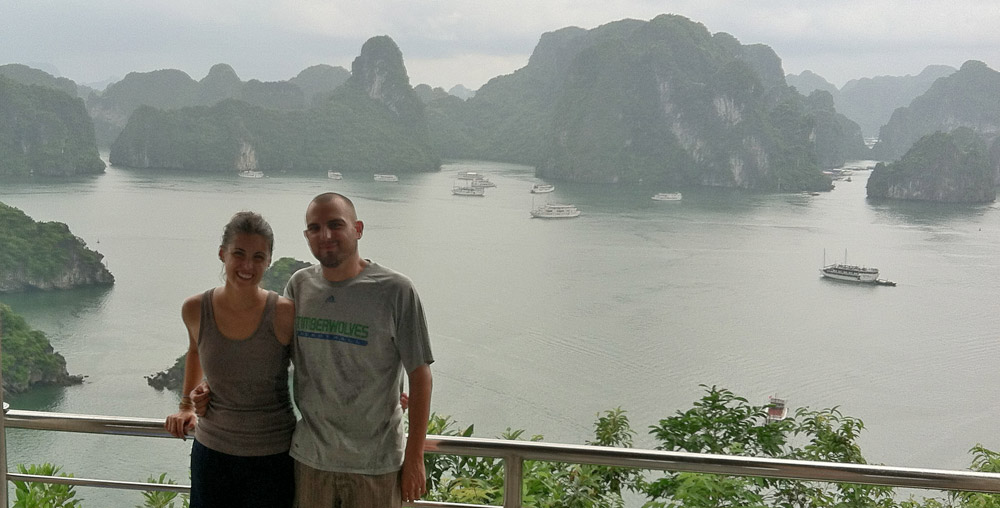 After our hike, we decide to swim a bit on the beach.  Although it's cloudy, the water is some of the warmest ocean water I've ever been in.  The air is a bit cold which of course only adds to how warm the water feels.  Halfway through our swim, it begins to rain… hard.  Swimming here in the pouring rain is one of the highlights of our time in Asia.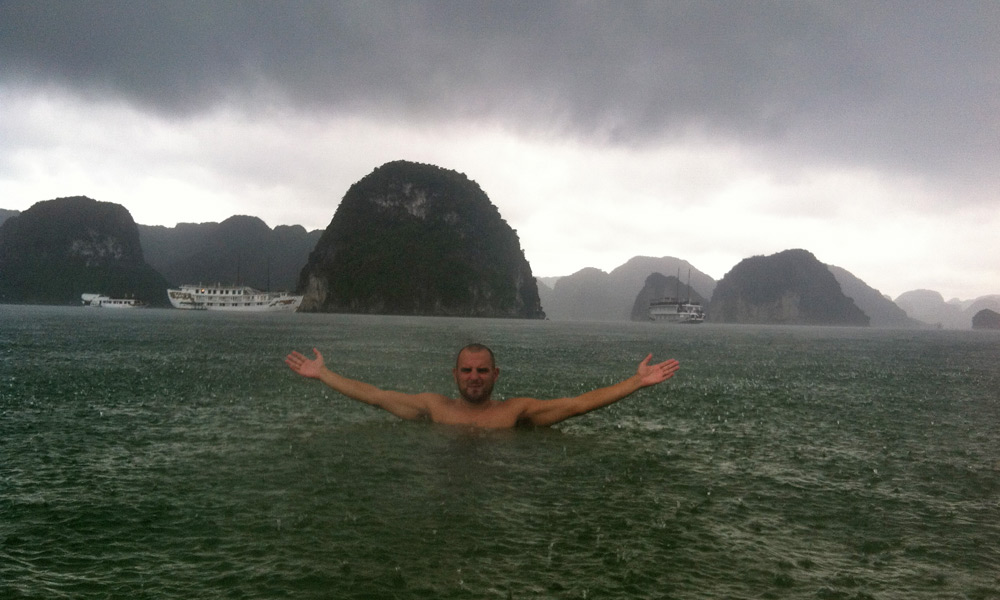 The moment comes to a sad, disgusting end though.  About an hour into our swim, Alissa notices something interesting float by.  Baby Ruth?  Snickers?  Butterfinger?  No, it's the real thing.  At first we think, "this can't be" and "maybe it's just a clump of dirt", but then we see another one, and this one couldn't be more clear that it's what we think it is.  One of the boats must be emptying the tanks, and Alissa and I head out of that water faster than Annie Gorman in the 200 meter freestyle.  Now I'm glad that our guide told me exactly where and when I can shower today.  Where is my hand sanitizer???  Rub it all over me!
Dinner on the boat and the worst cooking class in Vietnam
A couple of years ago, one of these 50+ tour companies began offering a cooking class to their cruise itinerary.  It soon became a hit, and now every single tour company features a "cooking class".  I'm sure the original company's cooking class was legit, but now they only have cooking classes just to say they have one.  Our cooking class features our clumsy guide trying to show us how to roll spring rolls.  If you can roll a burrito, a wrap, or heck, even a joint, then you can roll a spring roll.  Who needs a class for this?  And of course, we're all starving, but we have to sit through Men's 15 minute speech on spring rolls, as if there is some science to this.  I smile and nod as he painfully repeats each step three times, but here is what I want to scream: "We just climbed a mountain and swam in poop, just shut up and let us eat!"
After our table of eight demolishes the spring rolls, we are served a delicious dinner that features traditional Vietnamese cuisine, family style.  After the food is all laid out, Men begins trying to tell us what each dish is (three times each dish), however we are all ignoring him and piling the food onto our plates.  "Is this chicken or pork?  Don't care, it looks fine, put it on my plate."
The rain continues into the night, but because we're in a bay, there are zero waves.  The water is completely flat, other than the marks from the rain, and it when night falls the rain has a much more peaceful element to it.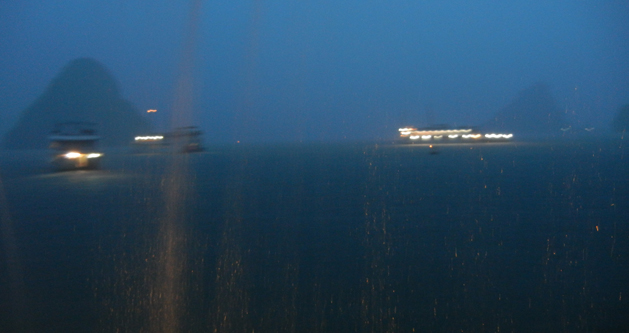 Day Two: Surprise!
We woke up this morning to a great breakfast, and the highlight of the cruise so far:  Free refills on coffee!  As an American, this is something I not only want, it is something I need.  Ordering a coffee at a restaurant in Southeast Asia does not give you the right to drink as much as possible like it does at an American diner, so having this ability on the boat is such a treat.
Our tourist stop for the day is at a cave that Men calls the Surprise Cave.  Not sure if that's its real name or some cute name given to it by tour guides, but it seems cool.  We get to the island that houses the cave, and as our group begins to try and walk into the entrance, our guide stops us, and does something unforgivable.  He pulls out a blue flag.  This is something Alissa and I have made an oath not to do.  We will not follow a tour guide holding a flag.  Every day in Southeast Asia we see masses of Chinese, Korean, and Japanese tour groups getting herded from one temple to the next, all with their own handheld Sony camcorder recording continuously, all following some guide with a flag.  It is the definition of annoying mass tourism, and here we are, tricked into breaking our oath!  We are one of three groups on the island… Is the flag really necessary?!?!?
Before we get to go into the cave, we have to sit through yet another itinerary update from Men.  He of course repeats everything three times, causing us all to regret ever getting off the boat.  Just look at the picture below and you can get a great sense for what kind emotions are going through our groups' minds as we listen to the same thing over and over.  "This cave is called surprise cave because it has surprises at every turn.  The locals named it surprise cave because when you walk in you are surprised.  This is why we call this cave surprise cave."  I want to jump into the water and swim back to Hanoi.
The cave itself is pretty spectacular.  Over millions of years, water has slowly created natural sculptures of rock, and the government has set up a great walking path through the caves.  They of course light it with many different bright colors, which adds a fake sense of awe to the caves, but we don't really mind.  It still looks amazing.  The natural sculptures all have names of course.  One looks like a lion, one looks like an eagle, etc.  What is really funny is that many have been named after icons of Buddhism.  There is a laughing Buddha, a Buddha holding a baby, a Buddha hugging a woman, even Buddha's penis (no joke).  What we find so interesting about this is that when we visited the Philippines Underground River, there were hundreds of natural sculptures just like this.  But because the Philippines is a Catholic nation, all the sculptures magically resembled things like the Virgin Mary, and The Nativity Scene.  How convenient and coincidental?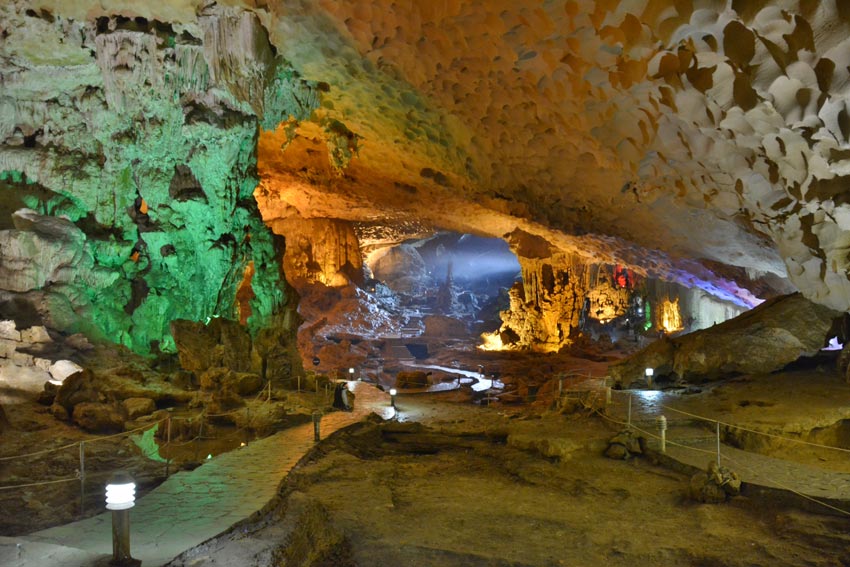 Final thoughts
Even though it rained most of the time, we still feel very lucky about the weather we had on the boat.  The fog that sat in the bay both days added an eeriness and natural feel to the views, and I don't know if I would want it to be sunny.  We never got to see any of the boats use their sails (there wasn't enough wind I assume), which is too bad, as the best pictures I've seen of Halong Bay always feature these boats' beautiful sails.  We are glad we came to Halong Bay, and although some things were frustrating, the people on the boat and the things we saw made the tour unforgettable and a highlight of our time in Vietnam.