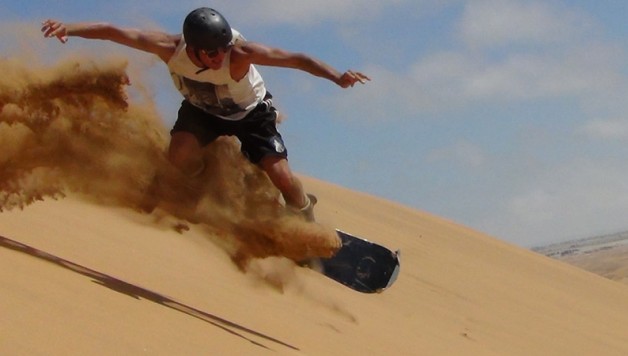 The Sandboards and Seals of Swakopmund, Namibia
Sandboarding on the dunes of Namibia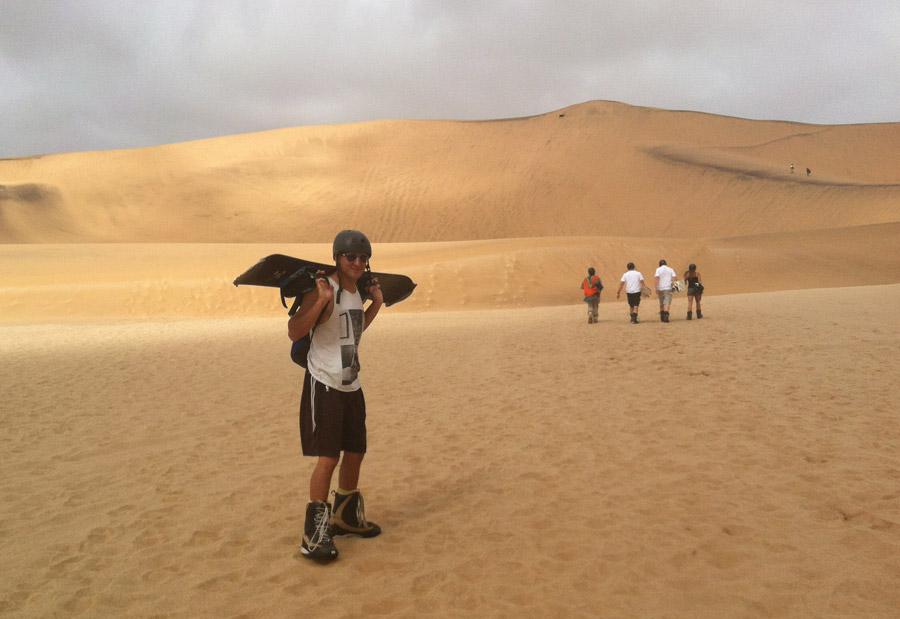 One of the main reasons that we chose the Oasis Overland Coast to Coast trip was because the tour stops in Namibia, and we knew we would be able to try sandboarding there.  I mean, the Namibian landscape and Namib desert walks were up there too, but as snowboarders who are not crazy about cold weather, this sounded perfect for us.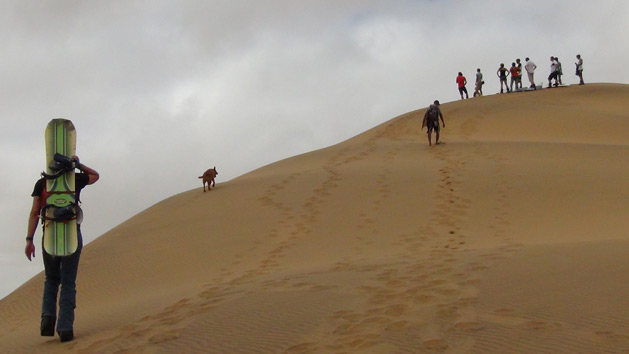 This morning we head out to the dune with our guides/instructors from Alter Action Sandboarding, get our boards and boots, and start climbing the sand "mountain".  Lifts or tow ropes aren't possible, not just because sand makes for a terrible fountain, but the peak of the dune is always shifting, sometimes overnight.  The walk is slow, and we're all pretty winded by the time we get to the top.  We admire the views while we catch our breath and get some instructions. Soon those of us with boarding experience hit the slope.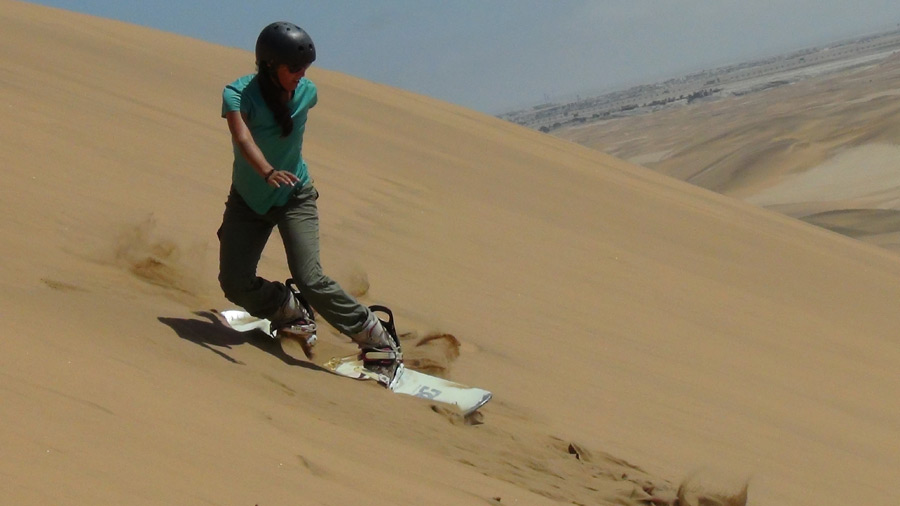 Compared to snow, the sand is slower; every carve brings me almost to a stop.  I practice turning without carving, but the first run is pretty lame. After a few more slow climbs up the hill and quick descents, Dan and I both start looking a bit better.  Good enough, in fact, for our instructor to convince us all to try the jump built into the top of the hill.  Dan goes first, and lands a bit sideways but gets some air.  I follow, with a pretty slow jump but land ok, only to fall a few meters later.  Dan's second and third attempts go much better: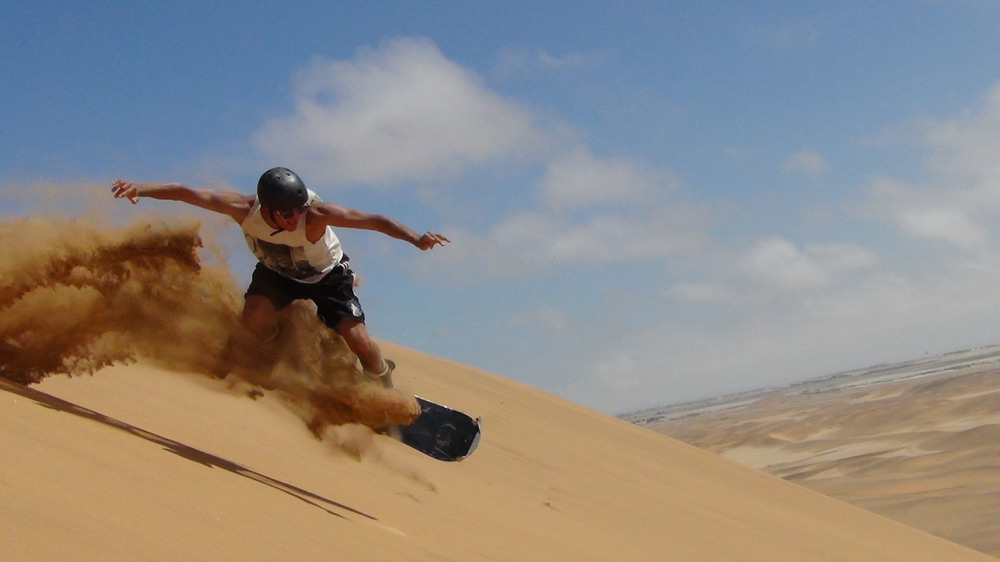 By the time we hike up again, it's time to try the other dune activity for the day: lay down boarding.  Each of us takes a turn laying on a piece of plywood coated with floor polish and flying down the other side of the hill. I mean flying.  There's a guy at the bottom with a speed gun, and he gets us at 76 kmph (47 mph).  It may not sound that fast, but I assure you that when your face is a couple of inches from the sand, it feels more like 150 kmph (80 mph).  Here is a shot of our friend Bill setting the fastest time of the day at 78 kmph: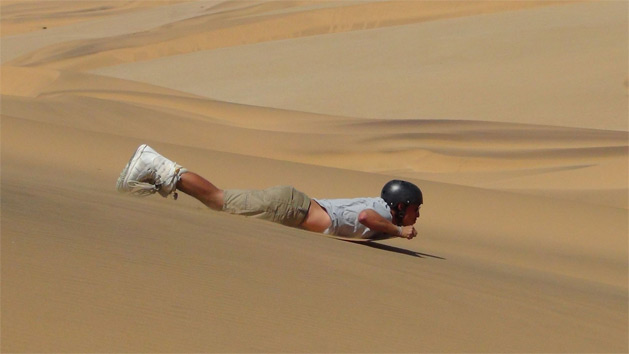 After the thrilling ride, we strap our boards back on for a few more shots at the jump. I have one bad landing, which really doesn't hurt at all on the sand (but my body and clothes are completely covered head to toe with sand now), and then, finally, a good jump that I can end the day on: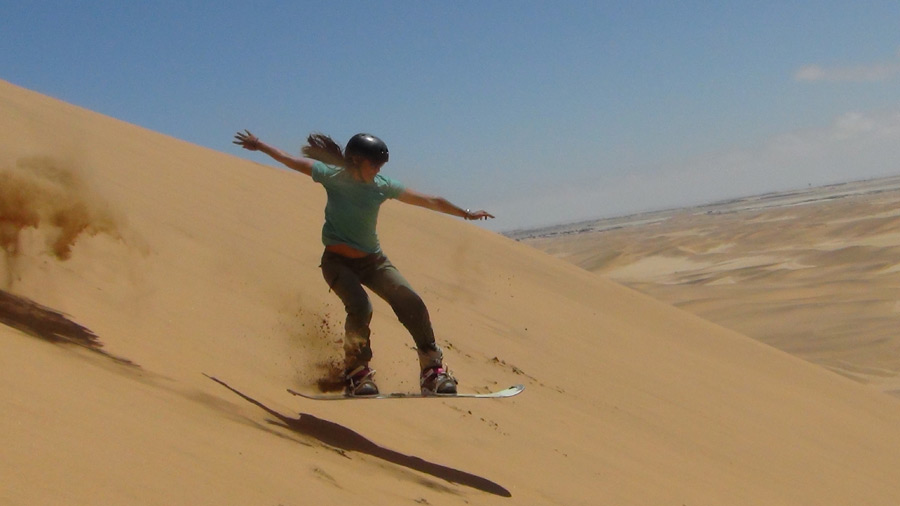 We had an awesome day on the dune, and an added bonus comes a few hours later when the photographer of the day sets up a viewing gives us all a free DVD.  Dan will make sure to include some of the clips in our Africa highlight video later this month.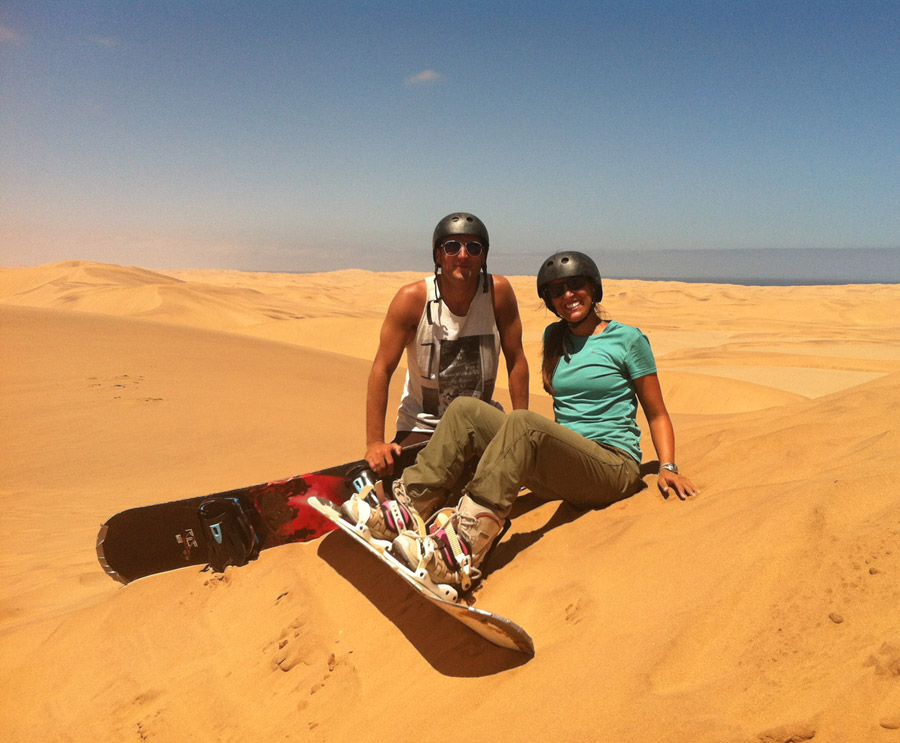 Walvis Bay Boat Cruise
I also signed up for another popular activity in the town of Swakopmund: a boat cruise with seal and dolphin watching.  About 20 of us board the boat in the morning at the nearby town of Walvis Bay.  We meet our captain (who's name I miss) and it's clear he knows his stuff.  He starts telling us about the bay and some of the animals we will hopefully see, when a seal jumps on board. Really. Within only five minutes of leaving the dock.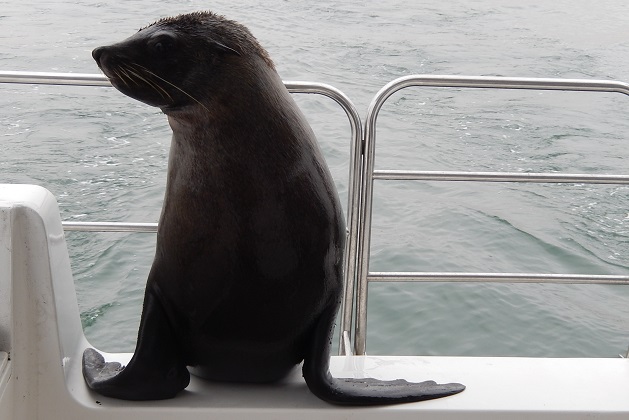 Turns out, his name is Splash, and he is a regular on this boat.  The captain has trained a few seals to eat dead fish (which most seals won't do) and perform a few tricks for passengers, such as a big splash on cue and surfing in the wake of the boat.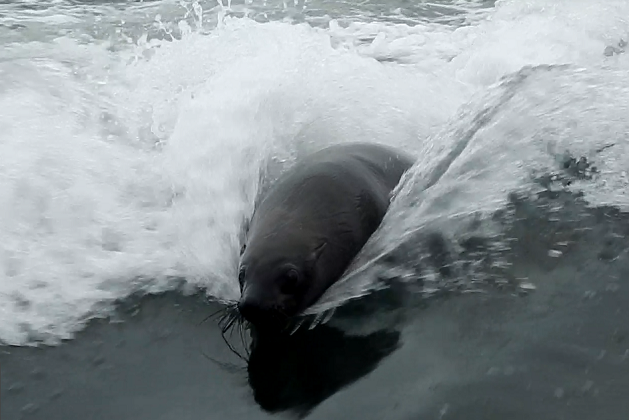 After Splash departed, we soon had another visitor.  A great white pelican, who was also buddies with our captain, but intent on pecking everyone else.  Definitely not my favorite part of the boat trip!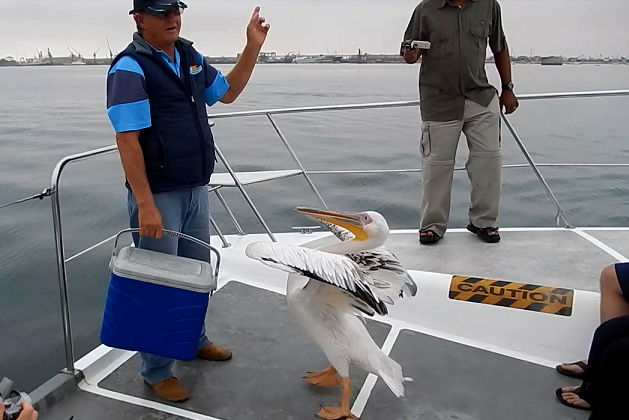 The rest of the relaxing cruise was spent spotting dolphins jumping (which are impossible to photograph, so I just left my camera off to enjoy the show).  We also visited a huge sand spit called Pelican Point.  We learned a sand spit is when a sand bar creates a natural bay.  Most of the sand is crowded with seals, jumping, playing, barking, and just generally entertaining boats like ours slowing cruising past.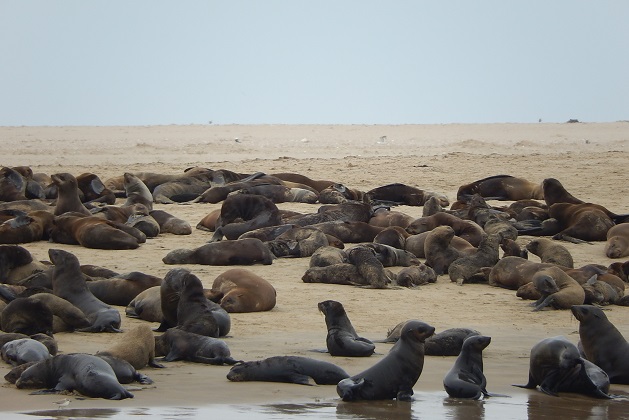 We finished the day in style with oysters and champagne, then said goodbye to Splash the seal as he jumped onto the boat on our way back to the dock.  The cruise ends up beating my expectations, and is something I recommend when visiting Swakopmund.