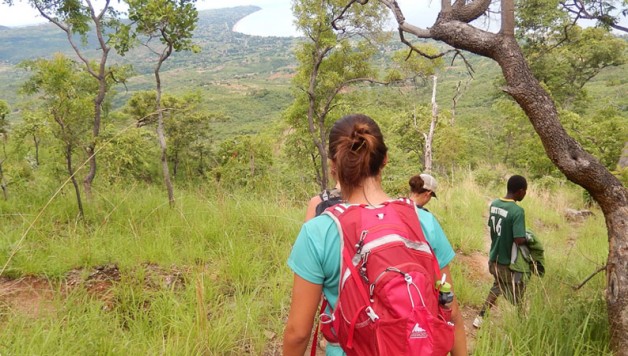 Driving Down the Coast of Lake Malawi
After the excitement of the Serengeti, Zanzibar, and villages near Kilimanjaro, Tanzania is hard to beat.  Our Oasis Overland group crosses over into Malawi, and after a long day on the road, we spend our first night at a bush camp. We finish setting up our tents just in time to admire an incredible sunset.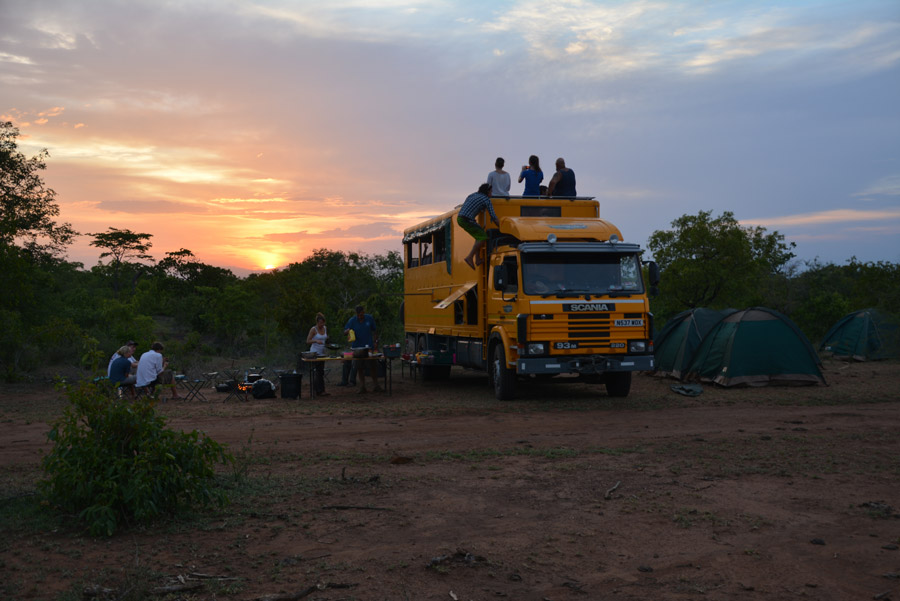 The next day is more driving and another bush camp, this one complete with a camping staple: roasted marshmallows!  We have a fun time explaining what s'mores are.  For those unfamiliar, a s'more is a roasted marshmallow inside of a graham cracker, Hershey bar sandwich.  Like this.
A short drive on the third day takes us to a small village on Lake Malawi.  At first glimpse of the lake, it looks big enough to be a sea.  Growing up around the Great Lakes in the U.S., big lakes aren't new to us.  However, the mountains of Malawi and Mozambique in the background are incredible.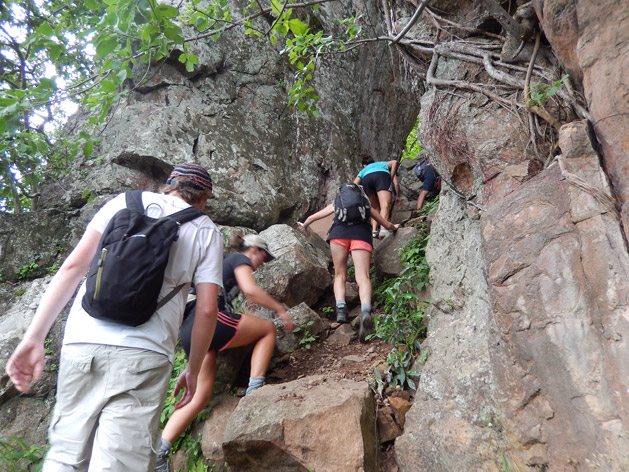 After two long days on the truck, we are ready for some physical activity and sign up for a 20km trek up to Nyika Plateau. The description of the hike mentions that participants be 'extremely fit and healthy' and they weren't kidding. The first 3 hours takes us up steep, rocky terrain, often through grasses up to our necks. Our guide, Dixon, leads us on barely visible paths. At the top, we are greeted with a spectacular view of Africa's third largest lake for a few minutes until a fog rolls in.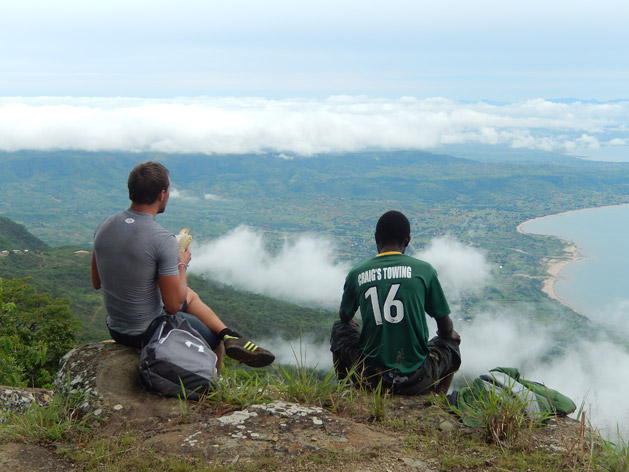 We hike for another 8 hours, with stops for a lunch at a "restaurant", AKA a villager's dirt-floor kitchen and one table, as well as a stop at a nearby waterfall.  Our terrain is not as difficult as the first climb, but we cross a few treacherous rocks, flimsy-looking bridges, and some steep downhill shortcuts.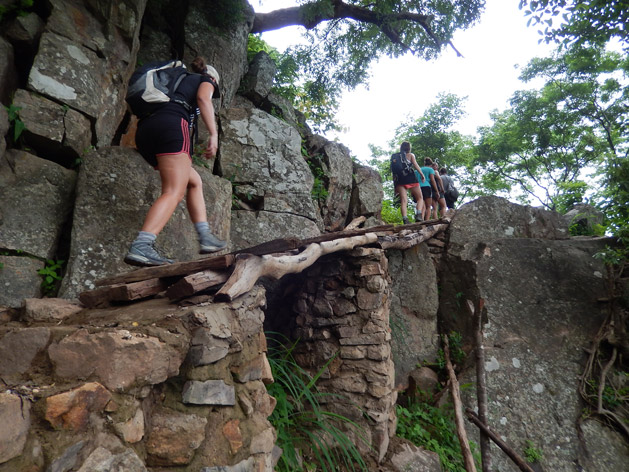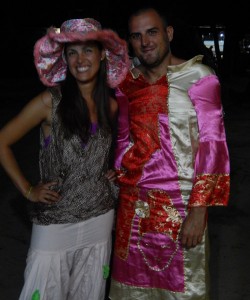 The next day, after an unforeseen 24-hour delay, we follow the lake shore south to Kande, a beach paradise on Lake Malawi. This camp is built by former overlanders, and it shows: hot showers, plenty of activities, well-stocked party bar.
They also arrange pig roasts, which in our group's style isn't complete without a boozy punch.  To spice things up even more, we exchange costumes we bought for each other earlier in the day with the theme of 'bad taste'.  I wear an Aladdin-looking outfit with a nice pink hat, but Dan has argueably one of the best outfits of the night.  It looks like some sort of Indian dress, maybe something an Indian lady would wear to a wedding.
Since we already look ridiculous, no one is shy when the dance party starts. An awesome night is followed by a lazy morning on the beach, although I did manage the energy later in the day for a mile swim to this island and back, which I was quite proud of.
That afternoon, a few of us ventured out for a fishing trip. To our surprise, we were shown to this boat, a traditional canoe made from a tree trunk.
The slit in the middle is just enough for my knees to squeeze through, as the three of us plus the guide rowing try to keep the boat steady. A few hours of casting a small bamboo pole off the rocks on the island yield two fish for me and three for each of the others. Check out this whopper.
Our quick week in Malawi was enough for me to love the place – the people, the scenery, and especially the lake were all beautiful surprises.