Four Days of African Island Paradise in Zanzibar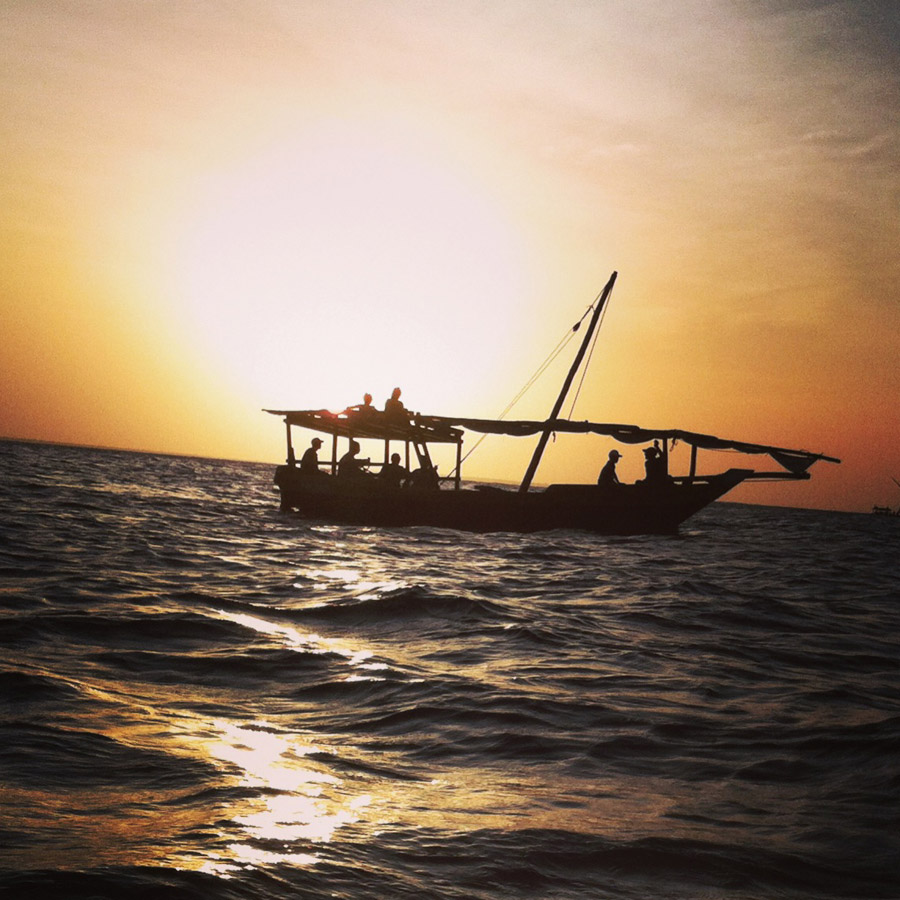 Alissa and I have some sort of unwritten rule to visit as many islands as possible on our trip.  During our route planning for Africa, I had one island paradise in particular on my list: Zanzibar.  A small island off the coast of Tanzania, Zanzibar is known for its historic European-like city named Stone Town, its numerous beautiful beaches, and its friendly locals.
Stone Town
We start off our time here with a day exploring Zanzibar City's historic area known as Stone Town.  It gets its name because the majority of the buildings in this area are built using coral stone, something that is extremely unique.  There is no other city in Africa like this one, and while walking the narrow alleys of Stone Town it is easy to forget you are in Tanzania.  Many of the buildings also feature beautiful old wooden doors, and we're told that if a building ever needs to be demolished, the owners will always salvage their door to use it on their new building.
Because of it's convenient location between Africa, India, and the Middle East, Zanzibar has long played an important role in world trade.  Tragically, like other ancient trade ports in Africa, the trading of slaves is part of the history here.  Alissa and I made a stop at Zanzibar's Anglican Cathedral of Christ Church which was built on the site of the former slave market.  In fact, the alter was purposely built on the exact spot of the former slave whipping post.  The country has preserved two of the former slave holding cells so that people will never forget the horror that occurred here.  A guide led us into the cell that once held women and children.  As the three of us cram into the room, he tells us that this tiny dungeon once held 75 people at a time.  It is impossible to even imagine 30 people fitting in this cell, and it is gut-wrenching to be standing in this room where so many innocent people suffered.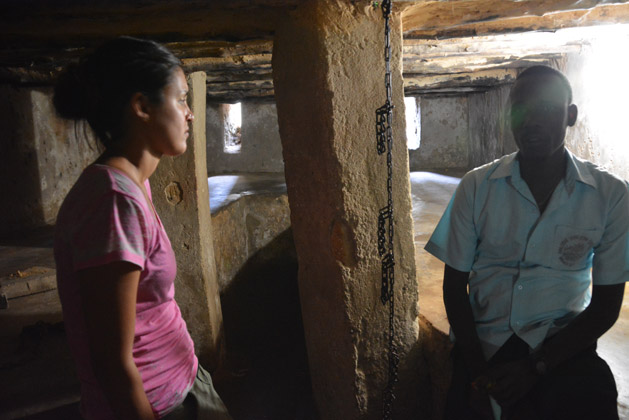 At night, we decide to eat at the local outdoor street-stall market.  The market is filled with the most pushy food salespeople I've ever encountered.  It normally doesn't bother me when hawkers try to persuade you to buy their food.  Something here is different than other hawker markets we've been to.  All the food here seems to be identical.  There are about 70 stalls, but only about three types of stalls.  So although the stalls do feature a good number of items, it is over-the-top annoying that everyone is trying to sell us the same items.  Our favorite item was Zanzibar's version of pizza, known as Zanzibar Pizza, which looks more like a taco than pizza, but is still delicious.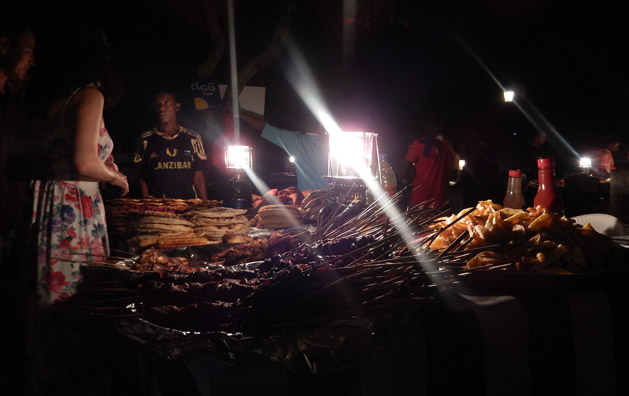 Nungwi Beach
Our next stop is a 1.5 hour taxi ride north to the tip of Zanzibar to spend three days in the beach town of Nungwi.  I had heard it was beautiful on Zanzibar, but I think everyone in our group was a little surprised by just how blue the water is and how white the sand is.  Alissa and I have seen some nice beaches on this trip, but Nungwi's beach is one of the best.  We've been to beaches that are beautiful but lack a good atmosphere, and we've been to beaches that have a great atmosphere but lack beauty.  It's always special when we end up on a beach that has both.  It also makes it very difficult to leave!
Today, we've rejoined our fellow 15 passengers from our Oasis Overland tour and will be we finishing off our time here with a sunset booze cruise.  Our boat looks like it was hand crafted at least 20 years ago, but it's so beautiful in its own way.  The sail is held up by a mast carved out of one large tree.  When the crew turns the motor off and we begin sailing, the beauty of this island just intensifies.  The rum and Coke in my hand helps too.  We also invited a band of five locals on board who are jamming out on their drums to some local music.  The trip starts out pretty laid back, and some of the girls even go snorkeling, but about two hours into the cruise, it really picks up.  Soon, there is dancing, louder talking, people doing backflips off the second deck, and rum.  Lots of rum.
The rest of our time on the island has consisted of mainly lounging around.  Six of the people in our group have spent each day here diving or getting certified to dive.  Alissa and I have avoided diving on the trip strictly for budget reasons, and it's hard to watch them leave in the morning without wanting to jump onboard last minute and go for a nice dive.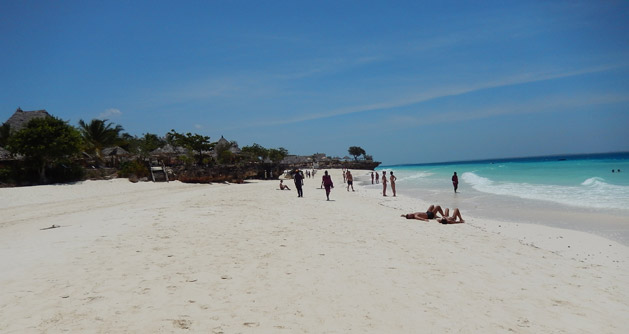 The seafood on Zanzibar is fresh and tastes as good as it looks.  We've tried a different restaurant for each meal here, and while the group cooking on our truck has been good, it's still nice to take a break from the overland routine.  The sunsets here are beautiful as well, and tonight there were some local break dancers getting some practice in on the beach.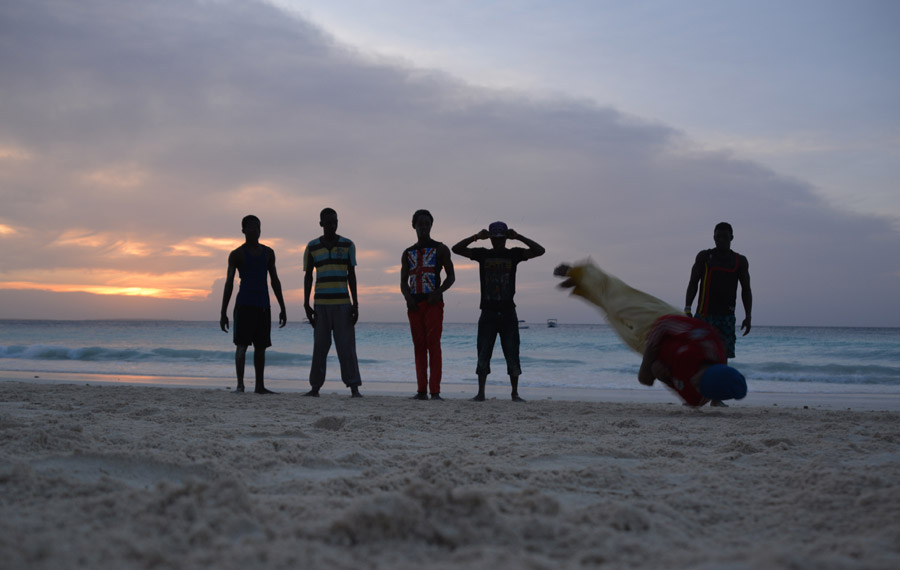 Our time here in Zanzibar went too fast, but we have decided to end it in style with a visit to Africa's Most Unique Restaurant, which happens to be just an hour taxi ride to the island's west coast.  Click the photo below to read our visit to the restaurant known as The Rock: