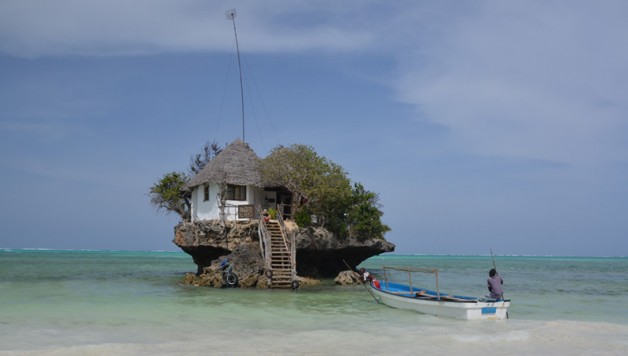 Africa's Most Unique Restaurant: The Rock
During my six years working at CBS I constantly changed the wallpaper on my computer's desktop.  It rotated between either a Milwaukee Brewers schedule or a favorite travel photo.  For some reason, I always kept the old wallpaper photos on my computer, and by the time I left my job I had about 20 photos in a folder that became some sort of mini bucket list.  When planning this trip, I even opened that folder of images to make sure I didn't miss anything.
One photo stood out in particular.  I don't even remember how or where I first saw the photo, but it is of a small restaurant located on an island that is just barely big enough to fit the building.  Upon seeing it, I immediately began searching online to try and find out where this restaurant is.  I determined it was called The Rock, and is located on the Tanzanian island of Zanzibar.  When researching overland trips for our time in Africa, I narrowed it down to companies that make a trip to Zanzibar (and at a reasonable rate).  The Oasis Overland trip that we ended up booking includes four days on Zanzibar, and Alissa and I immediately decided we had to visit this restaurant.  The photo above is actually a photo I took yesterday, but it looks very similar to my original wallpaper photo.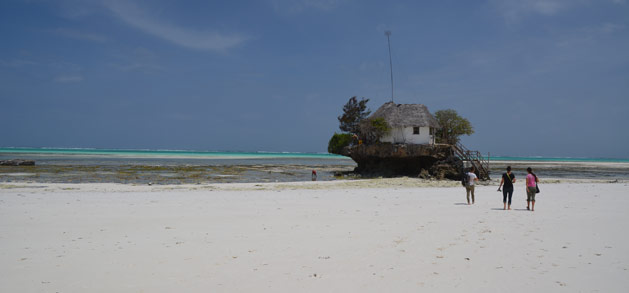 Today, we are also joined by a two great Australians, Danny and Anna, who are also the only other married couple on our tour.  We've arranged a driver to take us on the hour-long trip from our Stone Town hotel on Zanzibar's west coast across to the beautiful beaches of the island's east coast.  Upon arriving, I am surprised to see the restaurant is actually walkable.  The picture I saw made it seem we would need to take a boat to get to the restaurant.  I knew the tides would be changing during the day, but I had hoped we would get to see the restaurant in it's full island mode.  Maybe after lunch the tide will come in.
Before sitting down to eat, we decide to head out to the patio for some pre-meal drinks.  I had no idea they had a patio, and although the island is quite small, it is still bigger than I imagined.  The patio features a full panoramic view of all the local fishing boats working hard on the turquoise water.  By our standards back home, these drink prices ($5.50 USD a beer) would be a bargain for a view like this, but here on Zanzibar we have normally been paying more like $2 per beer.  We opt instead to share a bottle of chilled rose wine, a perfect choice on a hot day like today.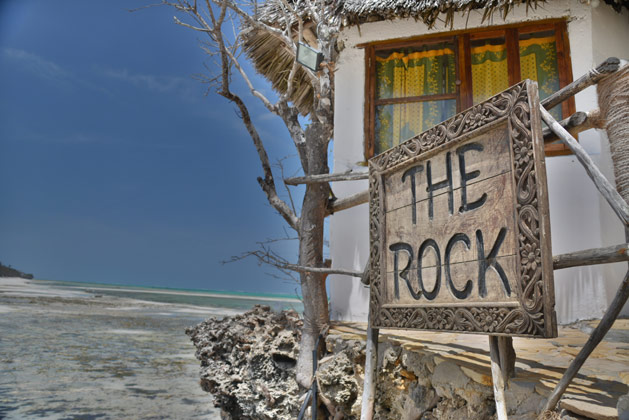 Part of me had hoped when seeing this picture that this restaurant would be a nice mom and pop type place.  A restaurant that would be mainly frequented by locals, with only the occasional tourist.  Instead, it seems to be the opposite.  It is more expensive than I expected ($16 – $35 per place), and there are only tourists eating here today.  It appears that the restaurant caters mainly to the guests of the nearby 3-4 luxury hotels since the majority of locals are unable to afford these prices.  I don't know the history of the place, and didn't get a chance to meet the owner, but I do wonder if it was once the restaurant I hoped it would be.  It is still an amazing place, but when comparing it to my original picture from four years ago, it seems to have received some upgrades in recent years.  It even has WIFI.  Who would need or want to use the internet while dining in a place this beautiful???
There are some benefits to the restaurant catering to this type of guest.  For one, the food is amazing.  Alissa and Danny ordered the catch of the day (tuna), and both Anna and I both opted for the lobster gnocchi.  I rarely talk about food and eating this blog.  Mostly because I am not a foodie.  I might not be able to tell the difference between thyme and rosemary, but I know a good meal when I've had it, and today we are feasting on one of the best meals of the trip.
After lunch, we are thrilled to see that the tide has come in and we get to ride the boat back to shore.  We bribe our boat driver with a couple of bucks to first give us a 360 degree tour of The Rock.  From this angle, it again looks bigger, mostly because it is much longer than it is wide.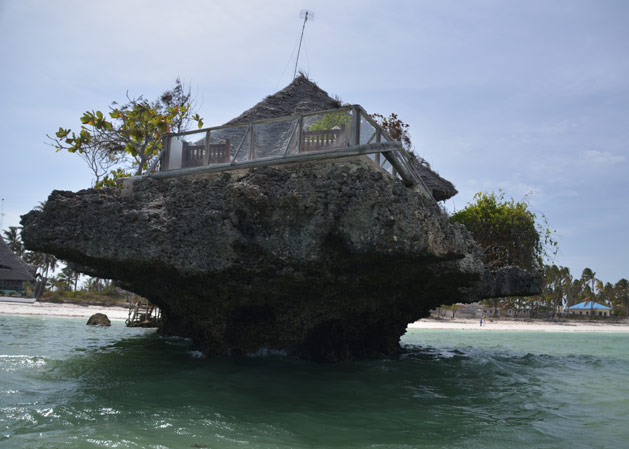 I still prefer the original angle from the photo I looked at every day for almost a year.  Before leaving, Alissa and I pose for a picture at a nearly identical angle of that photo, and I leave with the satisfaction of seeing another place on my "wallpaper bucket list".