8 Spectacular Beaches to Chill Out On
Alissa and I are always on the look-out for our next beach destination.  We put together a list of beaches that are either on our list of favorites or must-visits.  Let us know which beaches we should add to the list!
1. Lover's Beach – Cabo San Lucas, Mexico
One of Mexico's many beautiful beaches and one of the most unique in the country.   It's only accessible by boat from Cabo San Lucas, which hels keep the crowds down.  Be careful if you swim on the beach, as the currents on the Pacific side have been known to carry people away…literally.
 2. Matira Beach – Bora Bora, French Polynesia
Most pictures of Matira Beach look fake.  You've seen them before, they are the pictures that come as the default wallpaper on your Windows laptop.  Bora Bora is not cheap to get to and there isn't much of a nightlife, but for a scenery only, it's second to none.
3. Seven Mile Beach – Negril, Jamaica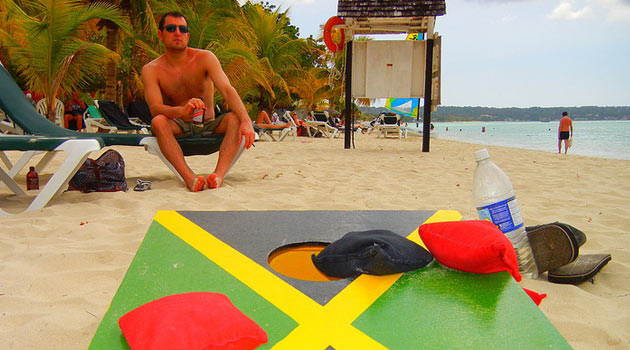 Seven Mile Beach is Jamaica's longest and one of its most beautiful.  The big resorts on the beach warn their guests not to leave their property due to safety, however this is nonsense.  Would it we wise to walk around alone at night?  No.  But there is just too much to be explored while walking up and down the beach to simply stay in one resort the entire trip.  If you are a pot-smoker or even enjoy the occasional joint, Negril is one of the easiest places in the world to find marijuana   Don't just start asking random Bob Marley look-a-likes for weed though, that will only get you ripped off or worse.  Just ask any young-looking bartender for help…
4. Las Salinas Beach – Ibiza Island, Spain
The major cities on Ibiza Island in Spain have long been known as prime party destinations, and Salinas Beach is where the partying goes from the clubs out to the sand.  If you're looking for peace and quiet, look elsewhere, as the loud music never stops.
5. Navagio Beach – Zante Zakynthos, Greece
Zakynthos rarely comes up on the list of Greek islands to visit.  Normally tourists stay on the east coast of Greece…Mykonos, Thira, etc.  However, the beaches tend to be much nicer on Greek's western islands(aka Ionian Islands).  Navagio Beach is the highlight of a trip to Zakynthos Island, and the view from the nearby monastery is one of the world's most over-photographed shot.  There isn't much else to do on this beach besides swimming and taking pictures… oh, and base-jumping.
6. Hot Water Beach – Coromandel Peninsula, New Zealand
This beach would be much better if it was always 6am.  Once the tide comes in, the beach isn't nearly as useful or fun.  To save time you can find nearby beach accommodations through Expedia. The idea is simple: Get there early, dig a hole, and relax for a few hours.
7. Vrulja Cove – Brela, Croatia
Located near the southern tip of Croatia, the beaches of Brela are some of the best in Europe.  Vrulja Cove is known as one of the most romantic beaches in the world and is still relatively undiscovered to tourists outside of Croatia.  The fact that there is no wikitravel page for Brela or Vrulja Cove is a good sign that there won't be too many crowds.
8. El Nido Beaches – Palawan Island, Philippines
Many people who travel to the Philippines for beaches head to Boracay.  We chose to avoid the crowds and the chain hotels and head to El Nido instead.  What we found was one of the best and most unique beach towns in the world.  Stay in one of the small family-run hotels and spend your days taking one of the four or five boat tours that visit the more remote, island beaches that surround the town.  El Nido is a town that travelers dream of finding, and it won't be unknown for much longer.