Chillin' Out In Negril, Jamaica
Alissa and I had been searching for a budget destination to get away to this Winter so that we wouldn't have to dip into our round-the-world trip savings account. We either needed to go somewhere cheap, or not go at all. Not going anywhere is a tough choice for people who love to travel, and we always feel like we just NEED to get away when it's below zero degrees outside. After some research, we decided to head somewhere that we've never been…Negril, Jamaica.

The first step in finding a cheap Caribbean vacation destination is making sure it's cheap to get to. Sun Country Airlines flies directly to Montego Bay from Minneapolis, so the cost of the flight was relatively cheap. Now we just needed somewhere to stay that was cheap. 9 times out of 10, you will be able to find a condo or private vacation rental at a fraction of the price of hotels. Sure, it won't be all inclusive, but you will many times have a full kitchen to cook with, saving hundreds on food and drink costs. In our case, being able to buy Red Stripes by the case vs. by the bottle saved us at least $100.
Accommodation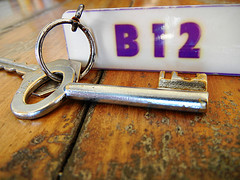 We've settled on the Negril Beach Club Resort. This is a time-share owned property that rents out their rooms via hotels.com and Expedia when time share owners can't use their given week. It's important to note that we tend to have pretty low minimum requirements on hotel room condition and cleanliness when booking hotels. Just look at the picture of our hotel room key to give you an idea (it's actually the key to the safe). If you are someone who needs a room to be spotless and luxurious, then this is not the place for you. We are always of the mindset that since we spend such little time in our room while on vacation, we shouldn't pay a lot for it. We did get lucky this time around, as we found out from some of the time share owners that many people who book this hotel end up getting sent to a different property far from the beach. Apparently they like to overbook this hotel and it seems to be an ongoing problem. I highly recommend emailing to confirm you have a room if booking with this hotel.
The Beach
The main beach in Negril is known as Seven Mile Beach. It is beautiful for about 6.95 miles…until you get to the southern most part of the beach, right by the main city hub, where the beach looks more brownish green from the sewage spilling into the ocean. This explains why the further north you go in Negril, the more expensive the hotels get. Alissa and I have spent most days walking up and down the beach, chatting with locals, eating jerk seasoned anything, and drinking the local Red Stripe beer.
Nightlife
The crowd in Negril tends to be older (35 – 65), so most of the "partying" happens in the daylight. In fact, Negril's nightlife feels more like an extension of the day…no dancing, no whistles or shots, just laid back conversations with some good tunes. The beach gets pretty dark at night, and there aren't very many clubs on the beach itself. We end up finding some small tiki-looking bars that seem to be populated with locals instead of tourists. This ends up being the best decision we make all week. The young locals in Jamaica are quite the crew, and they are happy to tell you what to do around their town. We've made some good friends down here, including one of the bartenders. Our favorite bar is a little beach tiki bar directly next to the large club Bourbon Beach (I think Bourbon Beach owns the little bar too). Every night here has ended with us sitting at that bar, chatting away with the locals.
Rick's Cafe
I call it the Times Square effect. It's when a tourist attraction of a certain area becomes so big that no one dares to go there without visiting it. "You went to New York and DIDN't visit Times Square?!?! Why not???". Rick's is exactly that. Now, I'm not saying don't go to Rick's. It's a cool place up in the cliffs with amazing views of the sunset. I'm sure back in the 80's, when it was still owned by the original RICK, that it was one of the most unique bars you could find. The problem is that the original Rick's was destroyed in a 2006 hurricane, and the new one is owned by foreigners who just want to exploit it for money. Sure, they still let you jump off the cliff(which I did), but the sunset is the same everywhere in Negril. So why travel 10 miles down the road to pay $10 for a beer and $25 for a meal at Rick's? I'd rather spend money in the locally owned establishments. Do what we did: walk there to say you saw it, jump off the cliff once, don't buy anything(we had one beer and regretted it), then walk down the street to a local restaurant and watch the sunset from there.
;
;