Jumping from the Trees in Vang Vieng's Blue Lagoon
After spending our first full day in Vang Vieng checking out the party ruins on the river, Alissa and I have decided to be a little less lazy today and explore the Laos countryside by bicycle.  Our destination will be a small lagoon about 30 minutes by mountain bike from Vang Vieng known to everyone here as the Blue Lagoon.
We've headed to a nearby bike shop at the recommendation of our guesthouse owner (Chris from Pan's Place).  Each bike cost us $3 USD, about twice what we usually pay for a bike in Laos, but these are not the ordinary one-speeds, these are 10 speeds!  We are hesitant at first to opt for the additional cost to upgrade to a mountain bike, but the shop owner insists that if we want to bike to the Blue Lagoon, we will want mountain bikes.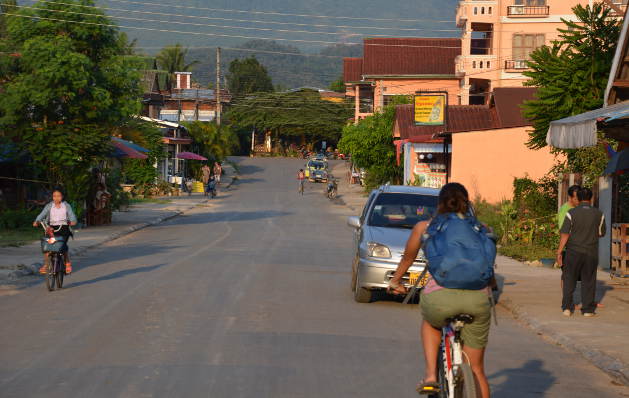 Biking to the Blue Lagoon
The ride out of town is nice for us since we haven't had a chance to explore the city yet.  It's a refreshing change from the claustrophobic feelings that we've been having after two weeks in Bangkok.  When we try to cross the first bridge, we are asked to pay a toll of $1.20 USD each.  This is common in Laos, and bridge tolls seem to be the only source of income for some rural families.  As much as we hate dishing out money just to cross a bridge, especially a bridge that looks like it's going to fail at any minute, we do it because we have no choice.
Once we cross the bridge, the rest of the ride to the lagoon is very hilly, and is completely over a rock road.  Not a dirt road, but a road made of rocks, ranging in size from a golf ball to a softball.  We are immediately thankful we opted for the mountain bikes, as we would really be struggling right now with 1-speed city bikes.  The 100 degree fahrenheit temperature is not helping either.  We keep it in perspective, as the same time we are riding these bikes, it is snowing in our hometown of Minneapolis.  In May.
The Blue Lagoon of Vang Vieng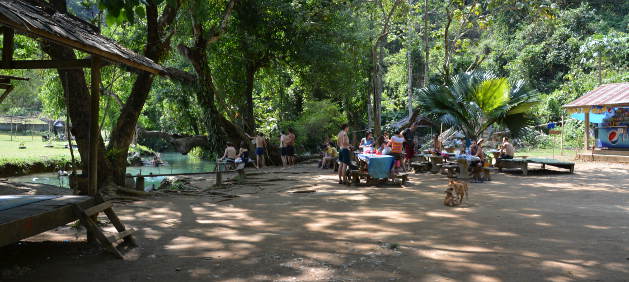 I mentioned in an earlier post that the party scene in Vang Vieng has been vastly transformed into a much more relaxed atmosphere.  When arriving at the Blue Lagoon, we are reminded of that change by the 50 or so backpackers lounging around and the "NO SMOKING WEED!!!" signs posted on the trees.  A lady in her 40's asks me to take a picture of her and her friend next to the signs.  She's a high school teacher and wants to show her students back home a picture of her and this sign.  Maybe to inspire them?  Who knows.
The lagoon itself is ice cold, and since it's in complete shade, the water feels even colder.  It's nice to cool off in, but after a few minutes it starts to remind me of Lake Michigan back home.  Down the river about 100 feet is a portion of the river that has sun shining on it and a few intertubes to lounge in.  It's also nice to see that here, just like everywhere in Laos, the 20 oz beers are only $1.50.
Tree Jumping and Rope Swinging
The lagoon is also very deep (at least 15 feet), and the locals have constructed two jumping platforms and a rope swing.  The rope swing and lower platforms are pretty tame, so I have decided to try those first.  No problem at all!  The rope swing is really well built, especially the handle, and some Israeli guys are really putting on a show.  I do my best to keep up with them, using the skills I learned from the dunk team back home.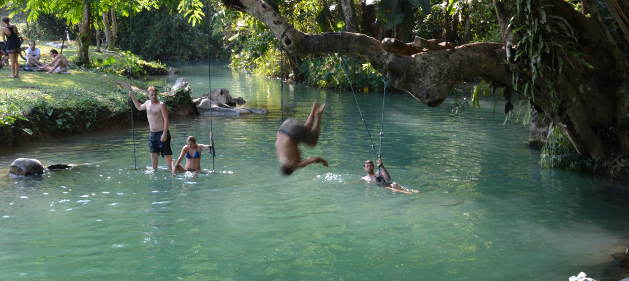 The higher platform is about 25 feet high, and the landing zone looks pretty big from below, but once I climb up the board-nailed-to-a-tree stairs using the bamboo-nailed-to-a-branch railing, the landing zone looks more like a children's pool.  A crowd has assembled below to watch idiots like me jump off this branch into the lagoon below.  That leaves me little time to think about my jump, as I don't want to appear scared.  I think back on the cliff jump at Rick's Cafe in Negril, Jamaica, which is at least 10 feet higher than this branch, and it calms my nerves enough to allow me to jump.  You can see a photo of the jump in the slideshow below, but here is a cool first-person video of another guy jumping:
 Biking back to Vang Vieng
The bike back is more eventful than the trip to the lagoon.  It seems to be there rush hour, and many people are heading from the city back to their villages after work and school.  It is fun to wave and smile at all the locals as we pass by on our bikes.
That's it for Vang Vieng, and tomorrow we head to Luang Prabang to see the hills of Laos!