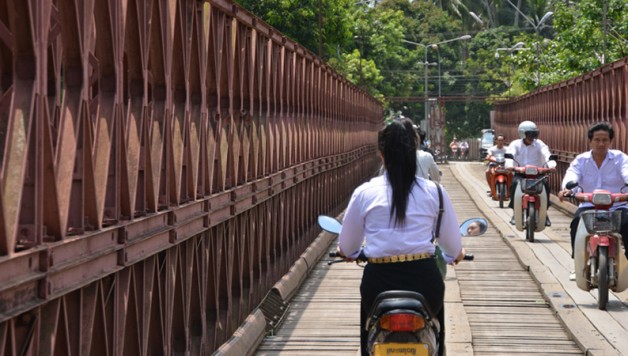 Our Seven Favorite Places to Rent a Motorbike
Published On December 12, 2013 |
Asia, Bali, India, Indonesia, Laos, Mexico, Philippines, Recent, Southeast Asia, Thailand, Top Lists, Travel Guides, Vietnam
When we look back on our travels and pick our favorite places we usually notice patterns or things that these places all have in common.  Cheap accommodation, friendly people, great weather, just to name a few.
After arriving in Goa two weeks ago, the first thing we did was rent a motorbike.  A week later, Goa was added as another one of our favorite places, and sure enough I found another common denominator of our favorite places: motorbikes.  Each of the backpacker destinations below have cheap motorbike rental shops, manageable traffic, and places to see, our three main criteria for renting a motorbike.  We've never gotten pulled over in these cities, but I've heard some stories of people who have and been asked for bribes.  So we always wear a helmet, carry a drivers license, and less than $10 cash in your wallet, just in case.
Here are our seven favorite places on Earth where having a motorbike increases our freedom and fun:
1. Ubud | Bali, Indonesia
Udud is not only a great backpacking town full of expats, but it is centrally located in Bali.  If you set up a home base in Ubud, like we did, you can explore most of the island within an hour or two's motorbike ride.  An afternoon on a motorbike can consist of visiting some of the province's most famous temples, while rice terraces line the road to create beautiful scenery on the way.
Ubud is also full of amazing food options, from local cuisine, to vegan specialties, to all kinds of great foreign options.  The motorbike allowed us to eat somewhere new every night for three weeks, and we still barely scratched the surface of all the great restaurants in the area.  Alissa also loves to practice yoga, so she would head off on the bike with some other guests in our villa each afternoon to some small, quiet yoga teacher's temple.
2. Hoi An, Vietnam
This popular, central Vietnam destination has two main tourist areas – old town and the beach, situated about a 15 minute motorbike ride apart.  We stayed in the town, and spent a few days at the beach, but we much preferred the town.  The beaches of Hoi An are just not our type of beach.  Crowded, noisy, over-priced restaurants, and overall just not that beautiful of a beach.  The town of Hoi An, however, is a great escape for backpackers who come from all over to feast on some of the best food Vietnam has to offer.  Our motorbike allowed us to not only see the town but also let us explore the less touristy areas outside of old town.  As Hoi An has grown in popularity, so has the number of tailor shops within the town.  They are getting so aggressive with tourists, and it's really starting to hurt their overall business.  An added bonus of a scooter – you can whiz by the hundreds of stall and store owners constantly hounding you to buy something.
3. Goa, India
The Goa that is referred to often in best-of travel lists is not a city but a state, with a collection of beautiful beaches spread out throughout the kilometers of western coastline.  Each beach and city or village has its own character and charm, and overpriced taxis.  A motorbike in Goa gives you something no resort can offer: FREEDOM.  Without a motorbike, you don't really have the ability to explore more than one area or beach.  A motorbike can give you the ability to take day trips to a different beach or city everyday.
The beaches in the north tend to be more crowded and lively, with a good night life.  The further south you go, the more beautiful and less-crowded the beaches get.  With such a great diversity in beach towns, it makes it even more fun to see as many as possible.  Our favorite so far in the north has been Anjuna, but we have also heard the beautiful white sands of the southern Palolem should not be missed.
4. Luang Prabang, Laos
This charming world heritage town can be explored on foot, but many of the restaurant areas are a bit spread out from the affordable guesthouses.  Most people just come to this town to stare and gawk at the monks, but the town features so much more than that.  We rented a bike to take us the 30km or so to the waterfalls, and ended up keeping it for a few days in order to see more of the outskirts of town.  The bike allowed us to visit a pool/bar  outside of town where we partied with a great group of Australians that ended up being our friends for the duration of our time in Luang Prabang.
Luang Prabang is also where I met two German guys who were on a month-long motorbike trip from the top of Laos(Luang Namtha) to the bottom (4,000 Islands).  A trip I had never heard of or thought of, but immediately put on my list.  Laos is one of my favorite countries in Asia, is full of welcoming people, and a month-long ride across the country would be amazing.  Who wants to come with me?
5. Chiang Mai, Thailand
Chiang Mai has no shortage of cheap tuk-tuks and mini pickups, but they come with the hassle of haggling and less freedom in this scooter-friendly town.  On our motorbike, we were able to venture outside of the touristy areas to play pick-up ultimate frisbee at a university, find a few expat-built yoga studios, and explore the surrounding markets on our own.  Like Ubud, Chiang Mai is packed with fantastic restaurants, including every type of organic/vegan/you-name-it type.  We only stayed seven days in Chiang Mai, but with a motorbike, we wanted to stay a month.
6. El Nido, Philippines
El Nido is not only my favorite destination on the planet, it's also a great area to rent a motor bike and get lost.  I've wrote a lot about El Nido's beaches and islands, but I haven't once talked about what the island's life is like once you go inland.  El Nido is home to some of the most friendly people we've ever met, and they seem to get friendlier the further you move inland.  Our first attempt to go inland wasn't on a bike, but just a simple attempt at a walk to a waterfall.  We of course got lost, but were saved by two little siblings who were riding their family ox down the same trail we were walking.  They politely pointed us in the correct direction.
Taking a motorbike around allows you to go even further into the local culture and expect to have conversations with almost everyone you come across.  A friend of mine(his wife is pictured above), was invited in for a meal by a local family when they happened to drive their motorbike past their rural home.  That doesn't happen in many places anymore!  Unlike the five destinations above, you won't need a motorbike for the length of your stay, but rather it is the perfect activity for one day in El Nido when you decide to take a break from island hopping.
7. Cozumel Island, Mexico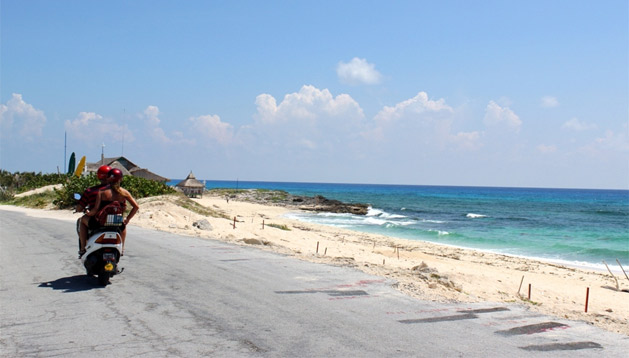 I've been to Cozumel twice.  Once with a motorbike and once without one.  Cozumel makes this list simply because having a motorbike there increases the fun and enjoyment of the island immensely.  Whether you have just a day on the island or a whole week, the motorbike gives you the freedom to get away from the crowds near the cruise ship terminal.  There are so many empty beaches spread out along the coast of Cozumel that having a motorbike is really the only option to see them.  We even packed our snorkel gear onto the bike and did some reef hopping.
Cozumel can be a great day trip if you are spending a week on the Riviera Maya mainland, and you can even negotiate a scooter rental right on the ferry boat ride over to the island.  Even better, if you are spending a week on Cozumel, you can rent the bike a whole week, then take a day trip on the ferry (with your bike) to the Riviera Maya mainland.  Cozumel even has a company that rents Harley Davidson's for the day or week!
.
What motorbike friendly places have we missed so far?
.
.