A Weekend in North Goa: Anjuna Beach
During our relaxation time in Goa, we based ourselves close to the middle of the main tourist track along the coast, with the intention of exploring a few other areas.
We decided to spend two nights in Anjuna, a beach about an hour away from our apartment by motorbike (Actually, it took us two hours to get there with a few accidental, scenic detours).  We were a little hesitant to drive a motorbike over an hour in India's crazy traffic, but it actually ended up being much easier than expected.  Although we technically took two wrong turns, we were easily able to get back on track both times without having to ask for directions.  An accomplishment in its own way!
We chose the area of Anjuna because it is north of Goa's really touristy beaches (Calangute and Baga), and it has a reputation of being developed but relaxed; with parties, but more hip and laid back than crazy.   On the way, we stopped at Calangute for lunch, to get of glimpse of the so-called "queen of beaches." What we found was exactly what we expected from its reputation: dozens of beach shacks crammed together as far as we could see from either direction from the main beach road, all full of umbrellas for hire, and swarming with hawkers selling use of the chairs, fruits, toys, towels, manicures, henna, and about anything else you could think of. We said no thanks to about 50 people during our hour-long lunch, took one picture of the craziness, and went on our way.
After arriving in Anjuna we headed directly to our hostel.  The hostel is called Prison Hostel and has a really unique prison theme to it.  When you check in, they take a mug shot of you with your home country listed, and they post all of them on Facebook.  Great social media marketing at work!
After our mug shots at the hostel, we checked out Anjuna Beach.  Here, we found beach shacks similar to the ones in Calangute, but much fewer of them, and all of them much less crowded. We easily got beach chairs (free, with the purchase of drinks), though we were still hassled to buy something pretty consistently. Laying under the umbrellas, we got to relax in true beach fashion – Bogmalo Beach restaurants near our apartment in the south have not caught on to the umbrella chair trend for some reason.
We spent the most time of the weekend at John and Janet's, a two-story restaurant on the beach that during the day bumps the house music typical of the Anjuna Beach crowd, and, at night, hosts various types of parties. The night we arrived we returned for some Indian/Goan singing and dancing by local musicians, who of course roped us foreigners in for a few dances.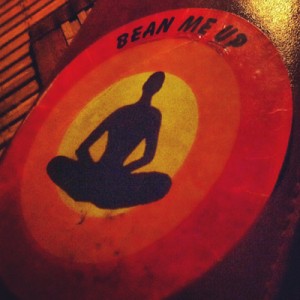 The next day, I try a yoga class at Bean Me Up, a guest house and vegan restaurant with a vibe similar to places we loved in Ubud, Bali. We check out the rest of the unique little town, and in the evening share some drinks and stories with the rest of the guests in our hostel. The night has some added excitement as we watch the final draw for the 2014 World Cup with football fans from England, Brazil, Belgium, and of course India.  We do have about 8 years on most of our companions though, and we go to bed when they leave for the clubs at 1:00 am.  Sigh.  The late night last night really took a lot out of us, and I guess one night per week is all we can handle these days.
Our last day we have lunch at other great cafe called German Bakery before we start the dusty, sweaty, drive back to our Bogmalo Beach apartment. I'd love to stay longer in Anjuna next time, and try out more of the great restaurants and of course, more yoga!