A Typical Day for Us in Goa, India
Our three weeks in Goa have gone by nice and slowly.  We came here for a full three weeks with the specific goal of having the time crawl for a while, and the pace of life in Goa has fit our needs perfectly.  The extended break of doing very little sight-seeing has caused our frequency of blog posts to temporarily drop (except for our new flight contest of course!), so I thought it would be fun to let all of you know what our typical day has been for the last three weeks.
We wake up every morning to the same sound.  It isn't an alarm clock or a rooster, but the annoying-ass horn of some salesman that rides his bike down our street every morning at 7:30am sharp.  The horn is like a Pee-wee Herman type horn, and you have to listen to this horn for yourself in order to fully appreciate the annoyance factor here.  I recorded just a few seconds of the horn, which you can listen to below.  I was worried if I tried recording more of the sound that my camera might try and take it's own life:
After 3 or 4 ladies from down the street finally come out to buy whatever he's selling (I think it's milk and some sort of pastry), the horn finally stops as the Indian Paul Reubens rides away to annoy the next neighborhood.  The good news is, once he's gone, we are left with only the sounds of local birds, which is fantastic.  Much better than traffic.
After a budget, homemade breakfast we both work in our apartment for 3-4 hours.  We have a few new web projects on BlackBeach and the timing of being here in Goa during these projects has been great.  We have also spent a lot of time in the mornings planning the next six months of our trip.  We have been hard at work planning a 10-day trip with my parents in Israel, a 10-day tour of Paris, Normandy, and Holland with Alissa's parents, and biggest of all we've been busy finishing the planning of our trip to Brazil for the World Cup!
After we decide we've had enough work for one day, we eat a quick lunch, then hop on our motorbike and head to the beach.  We always know it's time to go when someone nearby starts burning something.  It's one of the few things we don't like about Goa.  Every day we drive past people burning garbage or one of our neighbors decides to just light his entire field of bushes on fire, sending smoke right into our apartment.  I guess it's some way of killing diseased plants or something, but either way, it really ruins the view, and burning garbage smells terrible.  Then on the streets, we are constantly seeing people burn garbage, which smells terrible.
We either head to Bogmalo Beach, only 5 minutes down the road from us, or we head south for 30-40 minutes and hit a random number of beaches that seem to go on forever.  The beaches just seem to get nicer and nicer the further South we go.
We always choose a different beach shack to patronize, and spend the afternoon laying around, reading, snacking on fruit, drinking, sleeping, and eating plenty of cheesy garlic naan (India's version of a Topper's Triple Order).  As for books, Alissa is currently reading the Game of Thrones series and I'm just finishing up a great biography of Frank Sinatra.
After the beach we jump back on the motorbike and start the journey home, making a run to a local market on the way.  We are eating all vegetarian while in India, and the prices of fresh vegetables has allowed us to eat dinner each night at the cost of $2 or less.  Although we are only buying veggies and fruit, there are still a lot of great seafood and meat options in the markets, including the pictured live chickens.  I wonder if I have to kill the chicken myself.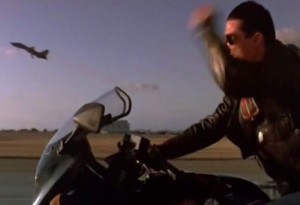 As we get closer to our place, we pass right by the airport here.  Not only is it a commercial airport, but it is also an airfield for the Indian Navy.  A few of the days we would be coming home at sunset as a plane comes flying low overhead as it's about to land.  Every time it happens, I put my fist in the air and give the pilot a Tom Cruise Top Gun motorcycle fist pump.  You can see an actual photo of me and one of the planes to the right.  Alissa doesn't quite understand why this is so awesome for me.  Just watch the first 30 seconds of this video to see what I mean:
Before dinner, I usually go for a run on the hill above our apartment while Alissa either joins me, goes on a walk, or does some sort of yoga.  Our dinners these past three weeks have included things like: Red beans and rice, eggplant lasagna, vegetarian pasta with garlic bread, mashed potato casserole, green peppers stuffed with refried beans, and more.  We love cooking for ourselves, and Goa has been one of our favorite places to do it.
After dinner, we usually head down to Bogmalo Beach and grab a few drinks at one of the local beach bars.  The crowd in Bogmalo is a little older than we are used to, but something about appreciating the pleasantries and quiet that come with an older crowd reminds me that I'm almost 30.  We've had some great late-nights on the beach having conversations with Indians and Brits, especially nights that soccer is playing on the bar TVs.
On more low-key nights, we watch a movie on our computer and make some popcorn on the stove.  One night we were even able to enjoy some birthday cake from the daughter of the woman on staff here.  Alissa was in heaven eating cake for the first time in weeks!
Our time in Goa has finished perfectly.  Today when debating over what we wanted to do for lunch, our host surprised us by randomly buying us a great lunch and delivering it right to our door.  It was delivered right as we were in the middle of the debate, and it came along with a big chocolate cake that had this written in frosting: "Thanks and Good Luck!"  What a great way to end our time here!