UPDATE:
Congratulations to Betsy K. for being our randomly chosen winner! 
Need to get away from the cold this Winter?
In honor of the holiday season and the colder than average temperatures across the globe, we have teamed up with eDreams.net to give away a flight voucher worth €375 (about $516 USD) to one of our readers!  The voucher is a no-hassle code that will allow the winner to book any flight they want on eDreams.net and simply subtract the $500 from the final cost.  If your flight or flights cost less than $500, then the flight is free!  It is as easy to use as cash, and there are no gimmicks or hidden fine print!
Introducing the: It's Cold Outside Flight Giveaway!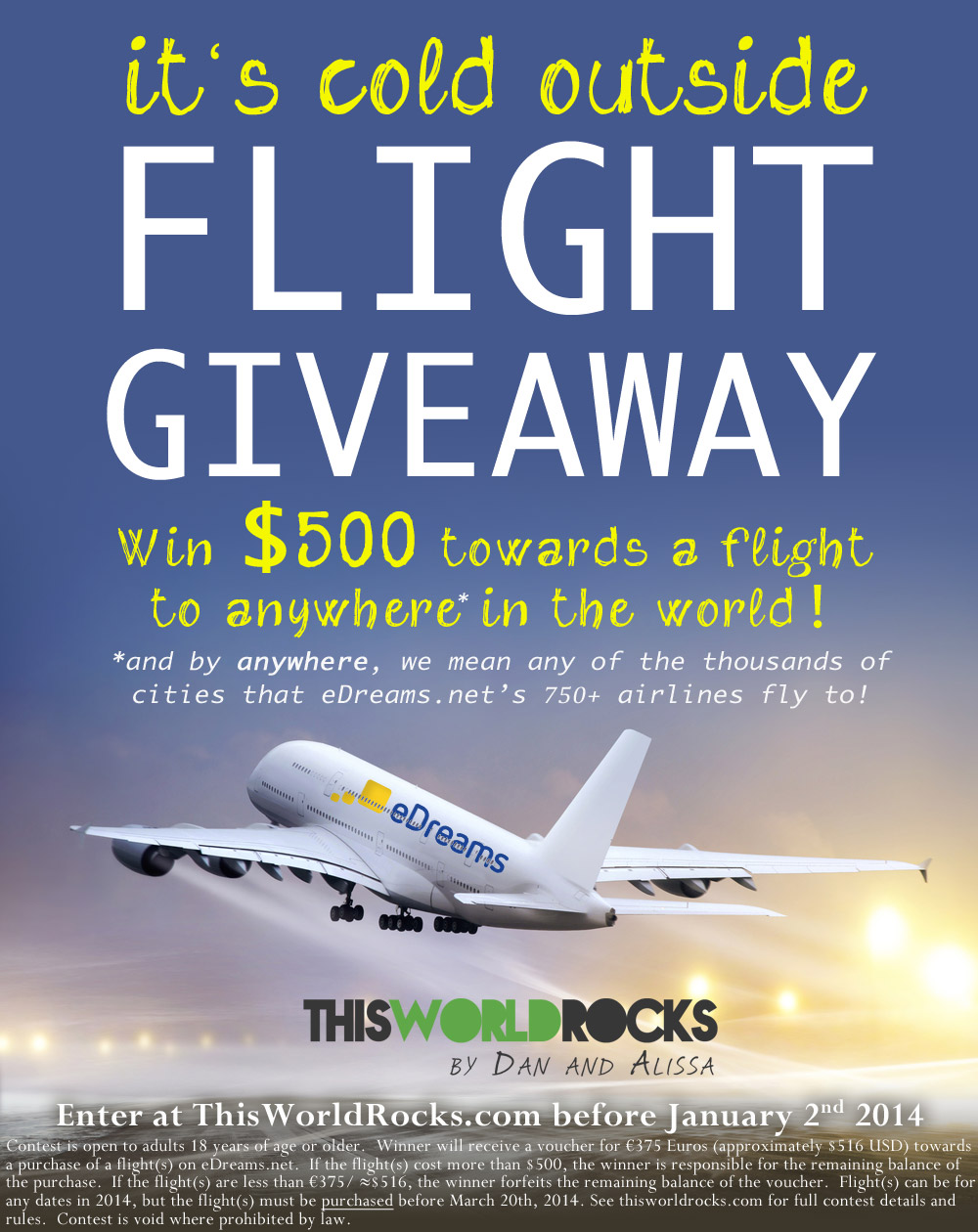 To enter the contest, just post a photo on our Facebook page or your own blog of where in the world you'd like to travel to in order to escape the cold.  Don't worry, if you win, you can always choose your destination later, or even use the voucher to buy a flight for someone else as a gift!  It's totally up to you.  To pick a destination, just go to eDreams.net and search for flights to see if they fly to your chosen destination (with over 750+ airlines, the chances of them flying to your destination is pretty damn good!).  You can also go to their eDreams.net airlines page and see all the airlines that you can choose from.
You can also earn bonus entries by tweeting or adding a Pinteret pin about this contest, and subscribing to our newsletter.  Each person can earn a maximum of 12 entries.  You can see the list of all possible entries below.  Get started by signing up for our email newsletter, then at the bottom of this post you can get your first entry confirmed.  If you are already a subscriber to our newsletter, just hit 'enter' in the newsletter entry line below.
The contest ends on January 2nd, 2014, at 11:59 a.m. Central Standard Time.  The winner will be chosen completely by random out of all the entries received.
We're excited to be able to offer such a great prize to one of our readers, so good luck to all of you!
Start entering the contest below:
Download contest rules here