I have been a huge fan of city biking ever since I started bike commuting in one of the most bike-friendly cities in the US. Bike tours are my favorite way to see a new city and have done one nearly everywhere we've visited so far, except for one place: Paris. Paris is one of the most scenic and bike-friendly cities in the world, yet we didn't make time to take this tour and its been bothering me.  We are planning to go back to explore Europe soon, so I've started researching tour companies, flights, and we might try an Accor hotel.
Fat Tire Bike Tours (formerly Mike's Bikes)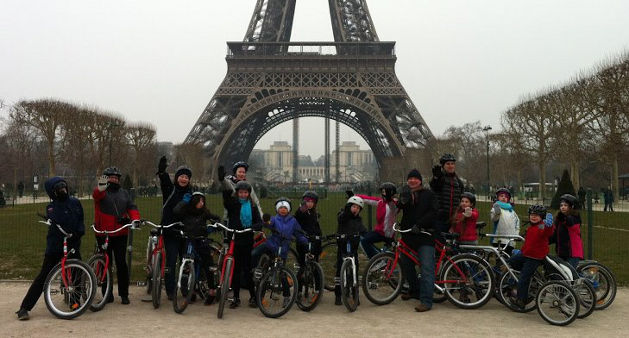 Fat Tire Bike Tours, with offices in many other European cities (we took the Amsterdam tour), knows how to show their guests a great time. The guide makes the trip, and these guides are superstars: often US or Aussie expats, this company hires for charisma. Offers day, night, Monet's Garden, and Versailles tours, with plenty of breaks for sightseeing, which include skipping the sometimes horrendous lines. Day or night tour: 4 hours, 30€, Monet's Garden: 8.5 hours, 75€, Versailles: 8 hours, 85€
.
Bike About Tours
A small operation with a local feel, Bike About is a great option for seeing the quaint back streets and parks of Paris, in addition to stops at interesting and historical sites. The groups tend to be small, which families with children might prefer, and private family tours are also available. Offers day and Versailles tours. Day tour: 3.5 hours, adult/student 30€/28€, Versailles: 8 hours, adult/student 80€/60€
.
Blue Bike Tours

Owned by an American and her Parisian husband, this company really knows what tourists like to see. Their guides like to get to know each guests, and small groups add to the personal touch.
Offers landmarks, hidden Paris, Versailles, and evening tours. Landmarks, hidden, and evening tours: 4 hours, adult/kid 29€/25€, Versailles: 8 hours, adults/kids/European students 79€/59€/59€
.
Paris Charms & Secrets Tours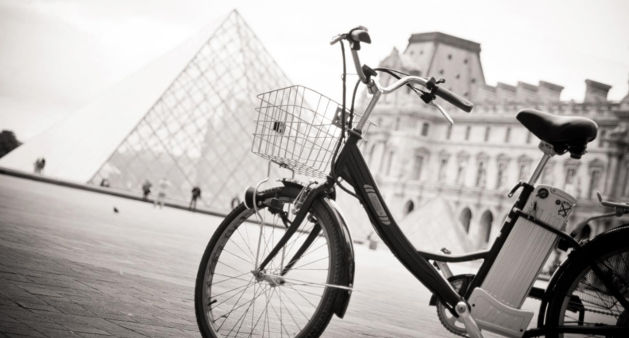 This company offers something a little different. Not only is the tour more off the beaten path, but the bikes are electric power-assisted, so you'll be pedaling half as much as other tours.  Here stories about streets and buildings that you might not have even noticed without a guide.  Tour: 4 hours, 49€
.
Paris Trikkes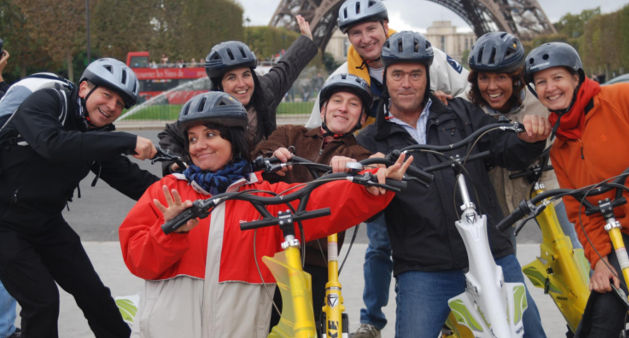 Another motorized option, Trikkes are a unique vehicle, and a fun way to zip around the city of lights. "A mix of scooter, ski, and skates" according to their website, this fun vehicle is easy to learn and fun for all ages.  Expect a few stares on your guided tour.  Tour: 2 hours, 59€