Back on a Bike in Vientiane, Laos
Even though it goes against my tourist instincts, we haven't actually visited a temple in Thailand. Shocking, I know. But with our one day in Vientiane, we have rented two bikes for about $2.50 USD and set out to see That Luang Stupa, the iconic temple that is on every guidebook and postcard of Laos.
The ride is less than 2 miles, but we've worked up a sweat on our one-speeds on the gradual incline, not to mention it is about 80 degrees already at 9 am.
The golden temple is just as beautiful as the photos, and we wander around the quiet grounds for a bit watching monks working and people worshiping. We are the first tourists here today, so I'd recommend the early visit! A guy holding an armful of birds in little cages approaches us, and says something we don't understand. We must look so confused, why would we want to buy a bird? He explains that releasing the birds is an act that will bring us good luck and good karma, so we buy one cage, because who doesn't want that?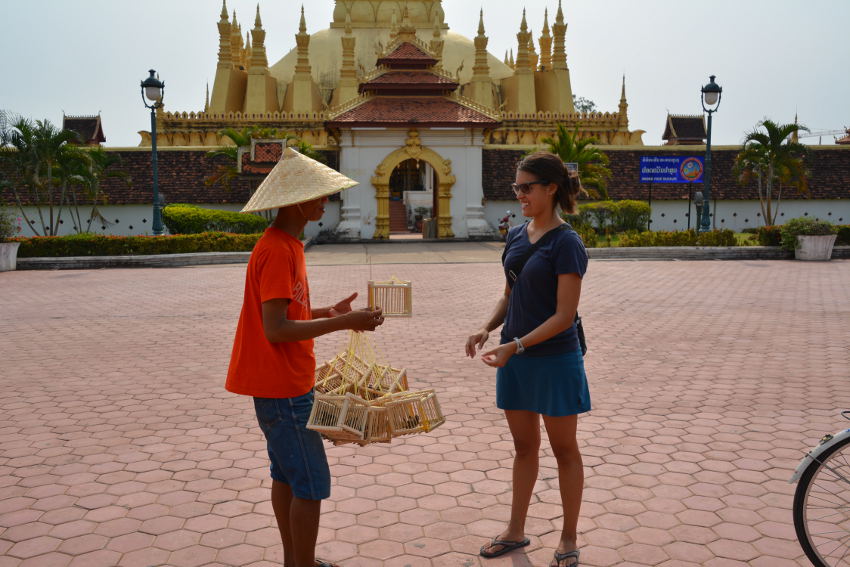 After I made a wish and released the birds, I ask him if he caught the birds himself. He laughs at my ridiculous question and calmy assures me that he bought them.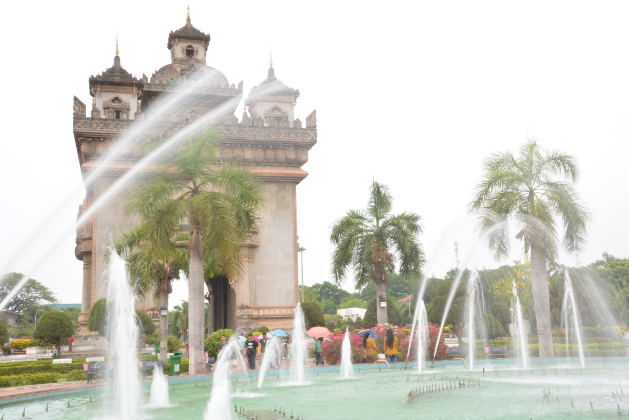 On the way back to town, we stopped at Patuxai, or the Victory Monument, a large arch structure similar to Paris's Arc de Triomphe.  Originally dedicated to Laotian soldiers who died during WWII and the independence from France, it was renamed after the communist takeover in 1975.  Ironically, it was built using American funds that were meant to be used to build an airport.  Because of this, some Laotians call the monument the "vertical runway".