Traveling from Bangkok to Vientiane: Laos First Impressions
We survived our second sleeper train of the trip and arrived in Vientiane, the capital of Laos early Saturday morning.
Crossing the Border from Bangkok to Vientiane
Our experience was a little different than other articles and guides, so I wanted to include the process for those planning a trip that includes this route.
We were dropped off of our sleeper train at a railway station in the Thai town of Nong Khai. We bought tickets for another train that crossed the Friendship Bridge to Laos. This ticket cost 4300 baht ($10 USD). We had read to take a tuk tuk for much cheaper, but railway employees were insisting this was the way to get to Vientiane. We followed the crowd but were sure we were getting ripped off. This fear was even more justified after we showed our passport and departure card at Thai border patrol desk, got on the train, then realized tickets in our hands that said the cost was 20 baht ($0.90 USD). It was too late to complain and it probably wouldn't have mattered anyway.
We took the 5 minute train ride across the border, departed, and went through Laos immigration, where we filled out the standard paperwork and paid the fee of $35 USD. If you don't have dollars, you have to pay the equivalent of $50 USD in Thai baht.
We we got our stamps, we exiting the train station and looked again to our guide that said we could take a public bus for about 40 cents or a tuk tuk for about $5. Neither of those vehicles were around, but there was a fleet of minivans waiting around. We were told to wait for others to fill up the first van. We warily asked the price, and were happy to learn that the 300 baht we paid covered the price of this leg of the trip too.  Amazing.  So we didn't feel AS ripped off as we previously did, plus we ended up chatting with another couple and made dinner plans.
Exploring Vientiane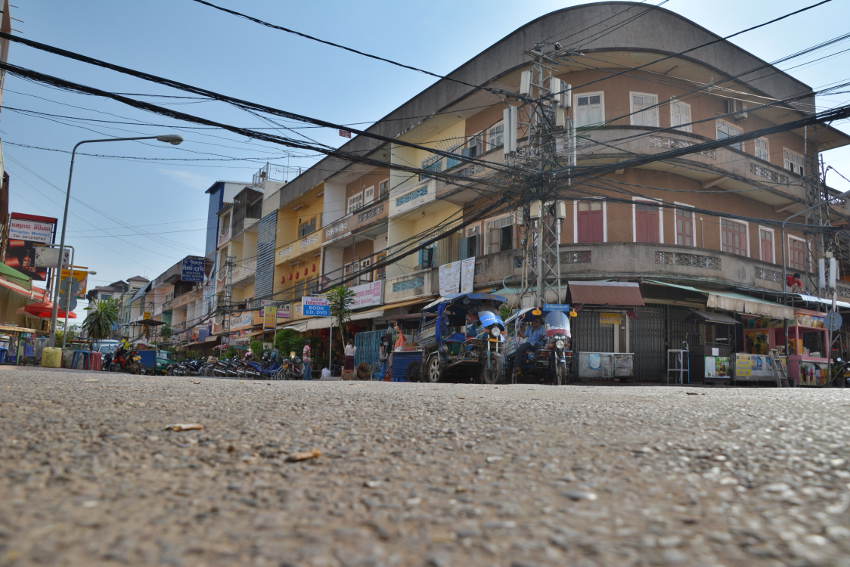 Vientiane is a quiet town, which is nice after the noisy Bangkok. We can cross the street wherever we need to, unlike our Silom stay, and escape the constant requests for massages, tuk tuks, souvenir browsing, and ping pong shows. (We plan on staying outside of the touristy areas next time, now that we know our way around a bit.)
First, of course, we find food. There are a surprising number of French cares and other pricing touristy restaurants. We soon find a menu sign in all in Lao and know it must be more in our budget. We ordered Lao noodle soup with thick noodles and friend rice, and our first Beerlao, the local beer. A large is about 20 oz (640 ml) and costs about $1.25 USD. Woo hoo! Every country we've visited on this trip so far has been cheaper than the last.
We find the guesthouse that I had scoped out beforehand, settle in, rest a little and plan out the rest of our Laos time. We had a delicious dinner with our new friends from the mini van, and learn that Lao spicy is hotter than Thai spicy.
One thing that is the same between the two cities is the heat. The sun is brutal, and it feels even more humid than Bangkok, which I didn't think was possible. At night, it's much cooler and the streets are more lively.
We have a few days planned for some relaxation, maybe a museum or two, and a visit to the most famous temple in Laos, That Luang Stupa, then a few days in the town Vang Vieng. Check back for more Laos posts soon!