Myanmar's Golden Rock: A Beautiful Pilgrimage to Disappointmentment
Nearing the end of of our 3 weeks in Myanmar, we are a bit burnt out on temples and pagodas, but are curious enough about this one to stopover in Kinpun for a night on our way to Mawlamyine. The Golden Rock is literally a rock painted in gold flakes, and is amazingly perched on the top of Kyaiktiyo Mountain (allegedly being held up by a strand of Buddha's hair).
Traveling to the Rock
From Nyaung Shwe, we take an 11-hour overnight bus to Yangon, a one-hour local bus to the central train station, a two-hour train to Bago, then hire a car for the five-hour trip to Kinpun, stopping at the Sittang Bridge historical site.  Whoa.  It's a lot of travel, and we are feeling pretty beat by the time we check into our Kinpun guest house.  There's not much to see in Kinpun besides the Golden Rock, plus the power is out, so we go to bed early and plan a trip up Kyaiktiyo Mountain in the morning.
Steep Climbing
By 8:00 am we are at the truck station, where a big diesel pickup will drive us up the mountain to the first bus stop for about $1.50, and we'll walk the rest of the way, about 45 minutes.  We board the truck, which has six or so benches about six inches apart.  We're told the truck will leave when its full, which takes about an hour since its the slow season and already starting to rain a little.  A big group of monks and then another of nuns arrive and pack in beside us. We finally hit the road and power up the impossibly steep curves.  We stop a few times unknown reasons, and soon get to a stop and  where we are told to get off.  Some locals have paid more to go all the way to the top, but our new monk friends also get off, and are laughing and waving at us to walk with them.  They are apparently also too cheap to pay the full fare to the top!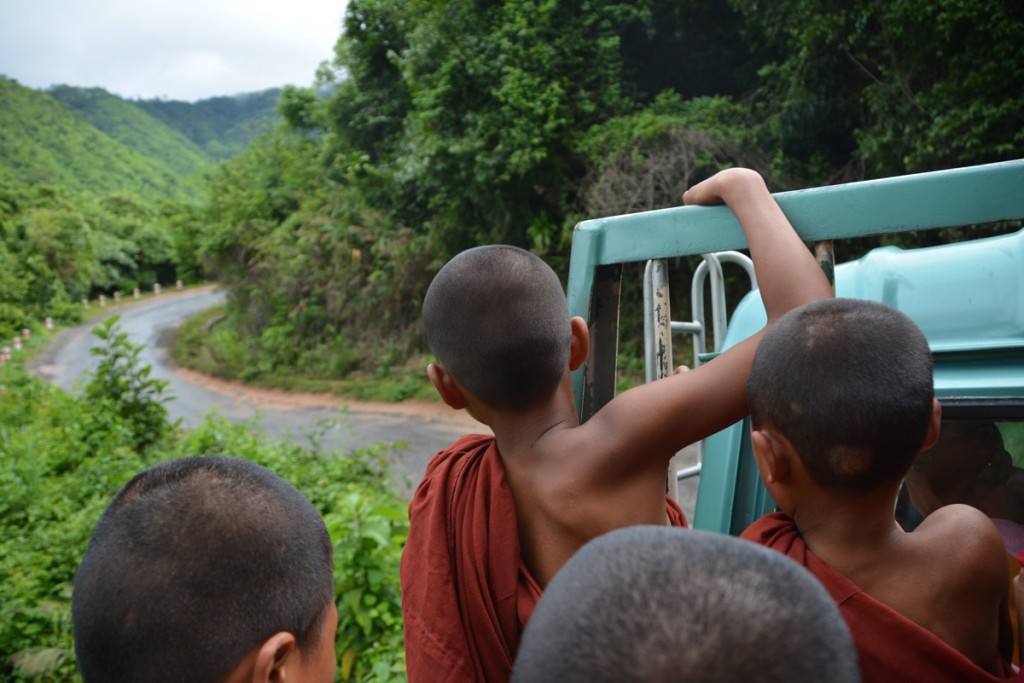 Walking into the Clouds
At this elevation, the light rain is accompanied by a dense fog that is eerily beautiful. As we start our hike, the fog gets more and more dense and feels like clouds surrounding us.  Walking into the clouds with a dozen monks, ages 7 to maybe 70, is a surreal and amazing experience.  We keep pace with the older monks, joking around in our limited knowledge of each others' languages, while the kids sprint ahead, stop and wait, then sprint ahead again.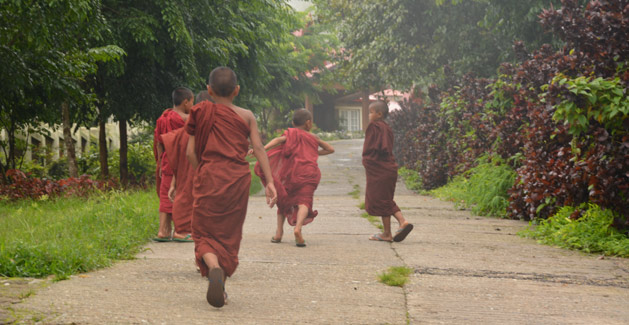 When the light rain turns to a downpour, we duck into a roadside stall covered in tarps and drink green tea and instant coffee with the group.  There's a lot of smiling and laughing, seemingly at us, and we just laugh along and chime in with a few poorly pronounced Myanmar words here and there.
We set off again up and up into the clouds, and finally get to the wide, flat path that leads to the Golden Rock and surrounding temple.  We are still awestruck with the crazy weather and these friendly monks, when tourists reality sets back in and we are approached by vendor after vendor asking to look at their trinkets.  A government official stops us in front of the entrance to pay the "foreigner fee" of $6 USD each.  The monks continue onto the temple, and we shell out the now-familiar fee that towns and attractions all over Myanmar have imposed.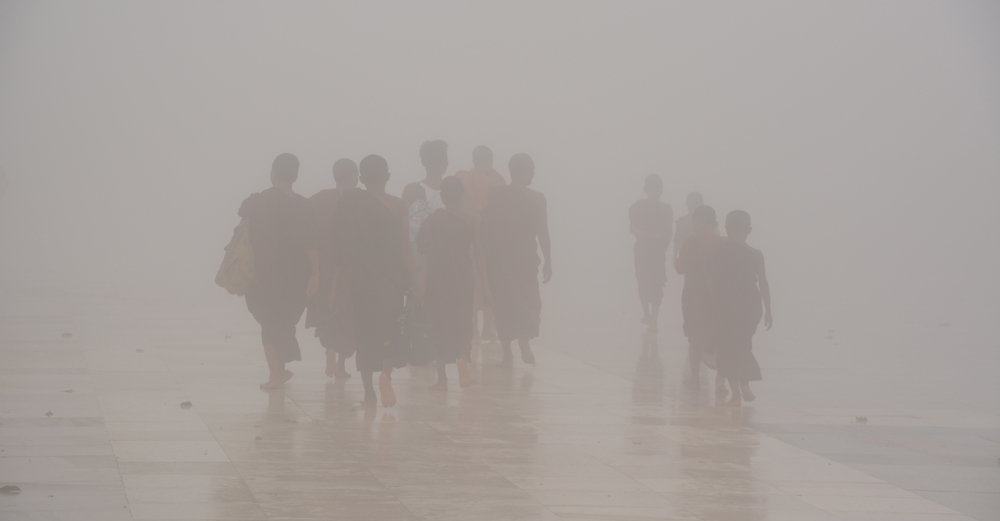 No Ladies Allowed
We walk another five minutes, after removing our shoes at the entrance, and finally get to the rock.  It really does look like it is teetering on the edge of another rock, and I can see why Buddhists all over the world long to see this holy place.  The sparse crowd is praying at various points around the rock and other Buddha statues, while our group of monks gathers at the rock to take photos and touch the holy object.  We follow suit and leave our bags and hats at the entrance gate to step on the rock, when a guard informs me that ladies are not allowed.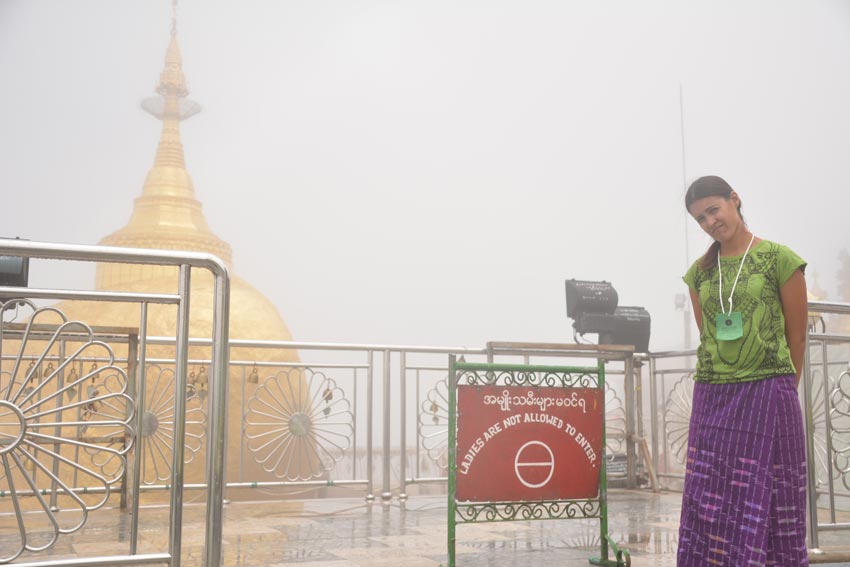 What?! I just hiked this mountain and paid a surprise fee just to be denied the actual rock?  I didn't bother asking for an explanation, but I'm still curious – why would ladies not be allow to touch the rock, but allowed almost everywhere in the equally-holy Shwedagon Pagoda or ancient temples of Bagan?  Buddhism so far has seemed pretty inclusive, but this rock apparently is on another level.  Oh well.  I stand at a safe distance and watch Dan take photos with the monks next to the rock.  I notice a few other platforms have "no ladies" signs, including those with the best views of the rock and the view down the mountain.  Strange…
We spend another 15 minutes or so wandering around, and feel satisfied with our sightseeing. For me, the walk up with the monks has been the highlight of the day.  I wouldn't call the Golden Rock or Kyaikiyo a "must-see" like most of the guidebooks and travel agencies do, but if I suppose if I were Buddhist the destination would hold more significance.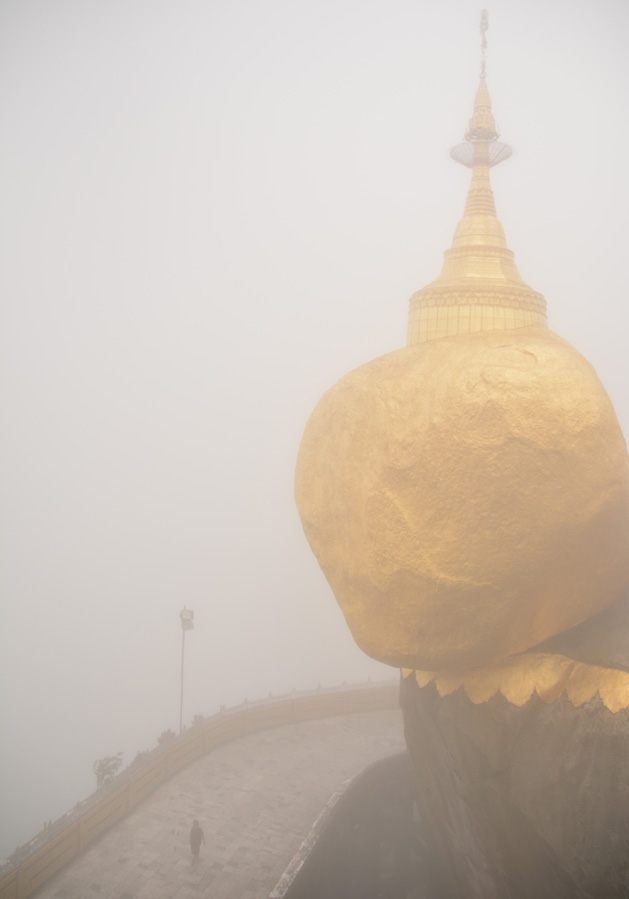 What Goes Up…
We have a 3:00pm bus booked to our next destination, so we head to take the pick-up truck down the mountain from the top, rather than walking to the stop we got off before.  We again board a mostly-empty bus and wait for it to fill up so we can leave, but this time spend almost two hours waiting.  All the Myanmar people are used to waiting, so we try our best to look as calm as they do and not like the impatient Americans that we are.  It's not easy.
Eventually, we make it back down the steep curves with a white-knuckle grip on the truck's benches, and get to our guesthouse to pick up our luggage.  We've lost the time for showers and lunch, so we load into yet another pick-up truck to get a ride to the bus station, about 10 km away, and head to our next and final stop in Myanmar, the city of Mawlamyine.