Bagan: Myanmar's Temple-Filled City To Visit Even If You Don't Like Temples
Bagan, Myanmar has one of the most unique landscapes in the world – over 2,000 ancient temples, pagodas, and shrines scattered over an area of 16 square miles. Built in the 11th and 12th centuries, they are in various conditions – some nearly crumbled to the ground, some amazingly still standing solid (some have been repaired or restored, and we saw a few of active construction sites).  Our hotel boasts the only temple-view rooftop terrace, and we've spent the first few hours here just marveling in the view.  The locals are used to the scenery, and it's fun to watch them go normally about their day around such beauty.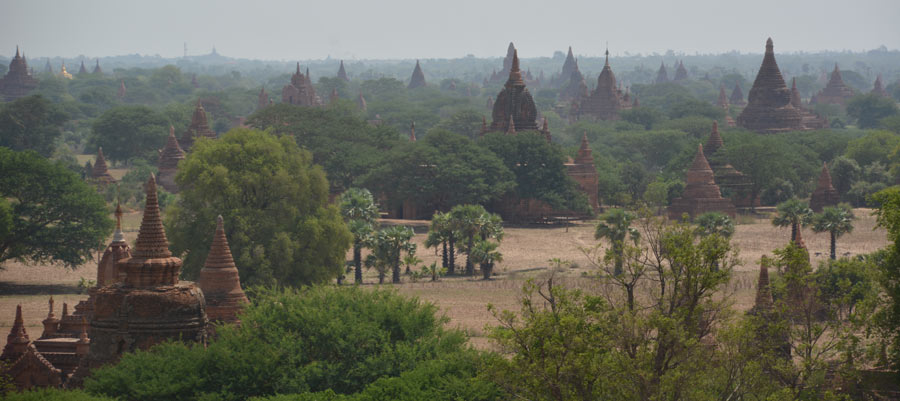 We took our first two days in Bagan to just explore the temples.  We rented bikes for $2.50 each, and trekked around the dirt and gravel paths, stopping at a few of the smaller temples, waving to villagers, and of course taking hundreds of photos.  Everywhere we turn there is another photo opportunity.  It's overwhelming!
We eventually made our way to some of the larger temples, including the famous Shwesandaw Temple.  We climbed the steep, narrow stairways to the top and took in the 360 degree view of the entire area. The temple is nicknamed the sunset temple because of the incredible views around that time, so we thought we should come back later in the day to enjoy them. When we found a taxi driver, he said it gets crowded during sunset, so we arranged a sunrise visit instead.
We biked to the next temple, the Dhammayangyi Temple.  It's the largest one in Bagan, and has many interesting rooms to discover.  A dozen or so locals lined the entrance and followed us around asking to buy their postcards, buddha statues, and souvenir paintings.  When they realized we weren't going to buy anything, they left us alone to explore.  One of the local shop owners offered to fix the flat tire that appeared on Dan's bike for one US Dollar, so we ended up sticking around at this temple for over an hour.  As we rested with cold drinks, a few of them invited us over to share their lunch.  We tried some new Myanmar dishes, ones that they don't offer in restaurants.  They were really interesting and delicious, and when we complemented the food, one of the guys invited us over to his house for dinner that night to have some more of his mom's cooking. We learned his name, Tun, and made arrangements to meet up later.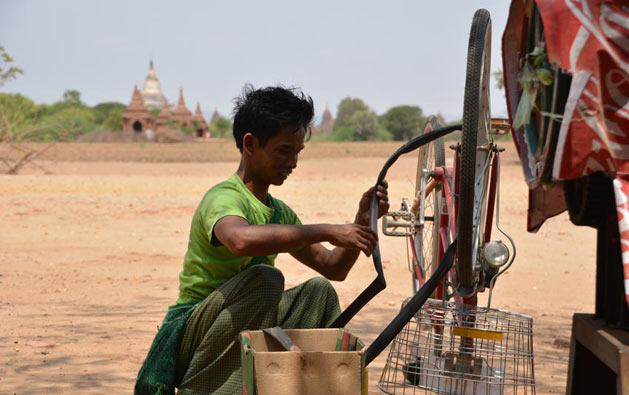 We visited a few other temples, including Anada Temple, which is supposed to be the most amazing but we couldn't go in because of restoration work, and Thatbyinnyu Temple, which is the tallest temple in the area, and had the most pushy vendors of them all.
Sweaty and exhausted, we stopped at a river view restaurant for some fresh lime juice and Myanmar beer, then bike the 15 minutes back to our place, which was more uphill than not. We rested in the air conditioning of our hotel after some well-deserved showers, and prepared for our next adventure: dinner with Tun and his family.  Being invited to dinner with locals is an amazing travel experience anywhere, but here in this relatively lesser-traveled-to country, we are extremely lucky and thankful for the opportunity.  Nothing is more intimate to a culture than food traditions.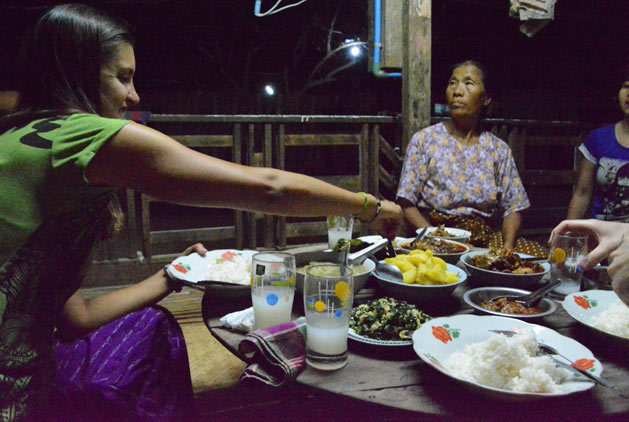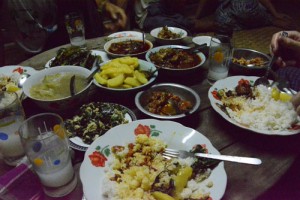 We meet Tun and follow him to his home. Through a bamboo fence, we see his hut, made out of the same materials as the rest of the village dwellings – bamboo for the supports and flooring, and woven palm leaves for the walls and roof. A few steps lead to a deck-like space with a few bamboo mats on the floor and a round table in the middle. Windows and doorways are uncovered open spaces, so I can see the general layout of the rest of the home: a large living area, maybe 15 feet wide and 5 feet long, two attached bedrooms, and behind the main hut, a smaller one with two more rooms. The toilet is in a small stall on the side of the hut, and the sink and shower are both directly attached to the well in the front yard. Tun shares this home with his mother, two sisters, two married brothers with their wives and children  and one unmarried brother. In total, 15 people shared this space. We got to meet many of them, and though they knew only a few words of English, they sat with us all night, laughing at nearly everything we did and answering our questions via Tun's translation.
We spent three hours enjoying local palm wine (made from fermented sap from palms trees), way too much food, some tanaka makeup tips, and lots of stories. We mostly talked about life in Bagan, but at some point the conversation turned to the US, and we discovered that they had never heard of McDonalds. Where else on earth is that possible!? Tun even sent us home with some of his paintings as a souvenir, a treasure of a great night.
Our time in Bagan took a twist this morning when Dan woke up with the flu.  We are glad we were able to get in a full day of temple viewing yesterday when he was feeling good, and today we'll still try to see a few things in the morning.  It is nice that we are here during non-peak season because our hotel is nearly completely empty.  We had been in a small basic room with no A/C, so when Dan got sick it was really easy to upgrade to a nicer, bigger room, equipped with A/C and a nice hot shower.  We even have HBO now!  The only thing missing that would make this room a five star is a heated bathroom floor and towel warmers.

Our memorable, and late, night is quickly behind us, as we wake up the next morning at 4:30 am to wait for our taxi back to Shwesandaw Temple for sunrise. When it doesn't come for 20 minutes, we grab our bikes and ride the two miles trip instead, not wanted to miss the first light after getting up so early. We are the first ones there (beating crowd of at least 20 on the small ledge at the time of sunrise), and the light is beautiful. Some haze and clouds block the actual sun rising over the horizon, but its still a breathtaking sight.
When we get back on our bikes around 6:30 am, its already hot, the morning sun adding to the 90 degree heat. We do as the many of the locals do and stay in the shade during the day, moving as little as possible.
The atmosphere around here in the evenings my favorite, one of relaxation and fun. With the beating sun finally letting up, we see many people gathering to drink tea, play games, swim in the river, or worship at temples. To top off our temple-packed trip, we went to Lawkananda Temple for sunset, a golden stupa right on the Irrawaddy River. We get a front row seat on a bench near the high banks of the river, and set up for some great photos.