The Case of the $600 Million Dollar Spoon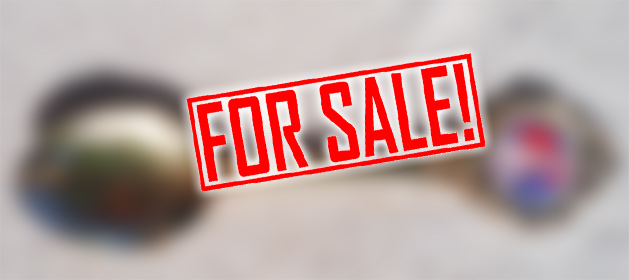 FOR SALE:

 Spoon.  Good condition.  Asking price: $600,000,000 USD.

No, this is not a joke.  This is a true story, a developing story, and I need your help to figure out what to do next:
Story Background
Exactly four months ago today, in mid-February, Alissa and I were in Port Vila, Vanuatu, staying at a nice family guesthouse owned by who I am going to call AK (I am removing his name to protect his identity).  AK and his wife were amazing hosts, authentic people, and showed a genuine passion for running the guesthouse that supports their three children AND both of AK's grandparents, all of whom lived together on the property.
We stayed with AK for five nights, and we left Vanuatu truly feeling like a member of his family.  A week after our visit, he emailed me some ideas he had for a guided tour that he wanted to offer to tourists in Port Vila.  I offered my advice about his tour and suggested he make a brochure.  It was a fun conversation, and I enjoyed helping him in his efforts to increase his tourist business.
Strange Email #1:
Fast forward to May 22nd, while Alissa and I were cruising around the temples of Bagon, I received an email from AK that seemed out of character.  At first I thought it was one of those SPAM emails from some prince in Africa who needs to give his fortune to someone in America ASAP, and if you Western Union him $1,000 of transfer fees, he will transfer back to you $50 million dollars.  Familiar with those emails?  It's one of the internet's most popular and sadly, most successful scams.
But when I looked closer at the email, it was clear he had written it.  For one, he mentions my wife's name, and although he spelt it incorrectly, he had never seen her name in print previous to this, and when we were there he did sound like he was calling Alissa, Lisa.  It is also written in his level of English, and he had both his and his cousin's name/emails inside the email.  SPAM messages that get auto-generated don't have to capability to see either my wife's name, or insert random contact info into the email.  This email WAS from AK, and here is what it said word for word (minus the names and contact info):

May 22, 2013
Hi Dan Monfre,
I hope you and Lisa are fine. I just want you to do me a favor. It's just to fly my tender advertisement which I will advertise below.
Advertisement :
INVITATION TO TENDER
A PRIVATE CONSULTANT, VANUATU ( NEW HEBRIDES ) SOUTH PACIFIC invites bids for for QUEEN ELIZABETH Treasure Golden Spoon. The QUEEN ELIZABETH Treasure Golden Spoon will be be sold AS IS/WHERE to the Highest bidder. The Highest Will Be US$600 Million Dollar But Negotiable.
Enquiries may directed to EDITED. Mobile Phone EDITED
The tender close on the 30th of June 2013. Interested bidders are requested to submit their application in a sealed envelope or By E-mail: EDITED and Marked Queen "Elizabeth Treasure Golden Spoon" to the following address: EDITED
Therefore I want you to help me and my cousin fly our tender advertisement in the website that you can create and fly it globally.
Thanks for your assistance.
We look forward to hearing from you once the tender has been advertise globally.
Yours faithfully,
AK.
Click below to see full email screenshot: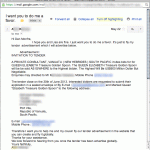 Your reaction reading this email is probably similar to how I felt at the time.  $600 Million Dollars!?!  Is he joking?  Where did he get this so-called "Treasure Golden Spoon" and where does he expect me to "fly his advertisement globally"?
I didn't respond for four days, as the email through me such a curveball that I just didn't know how to respond.  Instead of emailing him a big response, I decided to just simply write back "Do you have a picture you can send me of this spoon?"

I honestly thought that emailing him asking for pictures of the spoon would be the end of it.  I didn't think they actually had a spoon, but I didn't want to call my friend AK a liar, especially since this is not something he would do.  AK did not fit the personality of a con-artist, so I didn't think he was necessarily scamming me.  My theory centered around his cousin, who's name I also edited out of the email above.  We never met his so-called cousin when we were there, and I think maybe this is just a case of AK's con-artist friend pressuring him to email me, his "American friend", about a mythical spoon.  Asking for a photo of the spoon is my passive-aggressive way of saying "You don't have a spoon."
.
Strange Email #2: Pictures of the Treasure Spoon
I was wrong.  They have a spoon.  Only two days after I tried to call their bluff, I received an email with three pictures of the spoon.

May 28, 2013
Hi Dan,
Thanks for your replyment. We attached three valuable spoon photos which you required. The three valuable photos will be included in the tender advertisement which we already send.
Thank you for your understanding and cooperation in advance.
We look forward to hearing from you as soon as you fly the tender advertisement globally.
From AK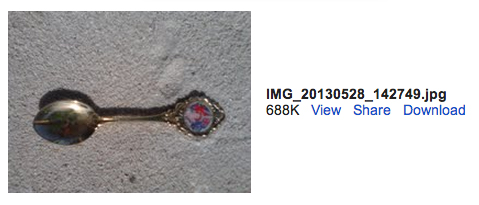 Click below to see full email screenshot: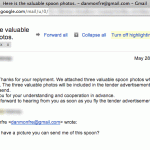 Below is a bigger photo of the spoon.  The other two pictures were identical, except with the spoon vertical instead of horizontal.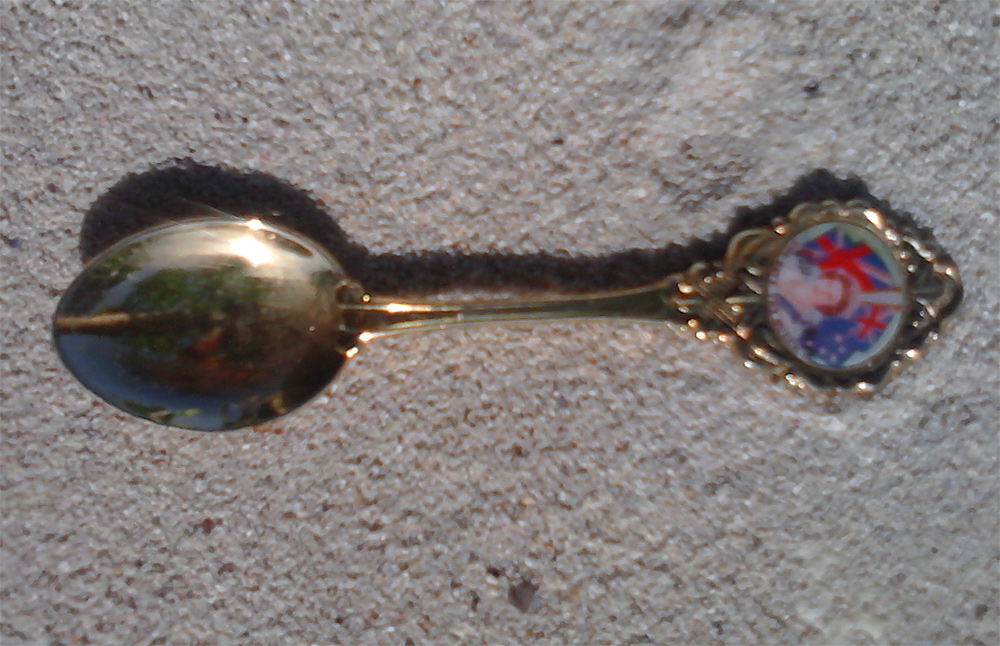 I again didn't know how to reply.  They again ended their email asking me to "fly the tender advertisement globally".  I believe the cell-phone pictures they sent are authentic, so I do think they have an actual spoon, spoon, but do they really think it's worth $600 million?  This time in my response, I am going to attack the asking price and question the spoons authenticity to  see if I can learn more:

.
Strange Email #3
Their response again puts me at a loss for words, and leaves more uncertainty about what to do next.

May 30, 2013
Thanks for your email. Your message is well understand. Please I want you to fly the tender advertisement concerning the price.The price is a proposal and not constant but negotiable.
Thanks for your understanding and cooperation in advance.
AK

To which I replied the only thing I could think of.  An ultimatum.  Either tell me more about the spoon and its supposed worth, or I will not be able to help you:

Click below to see full email screenshot: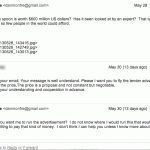 .
Strange Email #4
My ultimatum had seemed to scare off his cousin, as I didn't hear from AK for nearly two weeks.  He emailed me again on June 11th, this time with a new subject line: "Reconsidering the golden spoon price".

June 11, 2013
Hi Dan,
We've made another recommendation in reconsidering the value of the golden treasure spoon price.Therefore it's a free global open market so we ask your assistance to fly the tender advertisement.
We will give your a commission once any interested buyer purchase the golden treasure spoon.
Thanks for your understanding and cooperation.
Yours Faithfully,
AK
Click below to see full email screenshot: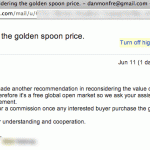 .
 Now What Do I Do?
And here we are today.  I still have not replied to AK.  Here is a summary of the facts, and what I think my options are.
FACTS:
AK is a genuine man, and does not fit the personality of a scammer.  His intelligence was hard to judge, but he doesn't seem to be any type of rare antique expert.

His cousin, whom I've never met, is also involved, but has not directly contacted me.
They do have a spoon, and it is the same color of gold.  I reverse imaged searched the photos they sent, and no matches came up.  Meaning the photos aren't stolen from the internet.  They also match the quality of cell-phone photos AK has sent me in the past.
They want me to advertise the spoon for sale across the globe and will pay me a commission too.
OPTIONS FOR MY NEXT ACTION:
Post it on Facebook (done)

Reply back asking for more information on the spoon (already did this once)

Post the spoon on Craigslist in a couple of cities and see what happens.
Reply back that I'm not interested
Other??? (suggest it in the comments below)