Interview: Dave and Vicky from A Couple Travelers
Today's interview is Dave and Vicky from ACoupleTravelers.com.  They come from a very similar background and are traveling a near identical route to ours, so we were thrilled to be able to pick their brain about places like China and Burma:

Thanks for chatting with us today!  When did you guys leave home to travel long-term?
After preparing for months, Vicky and I left home September 15th 2012. We just recently celebrated our 6 month anniversary as bloggers. We're planning on doing a full 2 years so there's still a lot in store!
Right now you are in Burma, a country full of the unknown… How has your experience been so far there?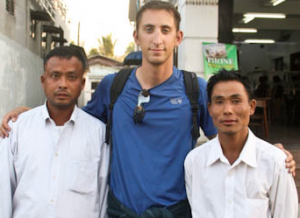 Burma is an interesting country, perhaps the most interesting we've been to in South East Asia. It is surrounded by giants like India, China, and Thailand, as well as a tiny bit of Lao, all of which have had significant influence on the culture. It's probably the most diverse culture we've ever seen. Some people look ethnically South East Asian, others Indian, it's a real mix bag.
The Burmese are very friendly and as we walk around everyone is always saying hi and waving to us, adults and children alike. It's nice to go to a place that is relatively untouched by tourism. There aren't too many of those places left, certainly in Asia.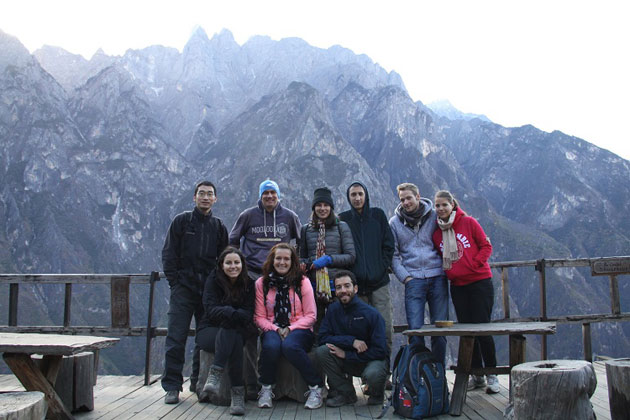 Since you've started traveling, what destination has been the most surprising, and which has been the most disappointing?
Vietnam was the most surprising. This is in part because so many other bloggers we read/talked to really disliked it. They talked about getting cheated all the time and unfriendly people. This was so not our experience, we loved Vietnam. It was wonderful interacting with the people, many of which we spent days with, and we weren't cheated – not even once!
China was the most disappointing. We had really high hopes because it's such a rich culture and history but when we got there, well, it was almost like it was all gone. The people conducted themselves somewhat uncivilized (loud talking, spitting, nose picking), and it's becoming so industrialized that there just isn't much traditional culture left, at least in the major cities. Still, I kind of recommend it, because, well, it's China!
You guys recently spent over 50 days in China, would you recommend that length of time for other travelers headed to China?
In some ways we wouldn't recommend much less. Now, that's not entirely true, but in our opinion China is not a place to go to for a week. It's a large country with a lot to offer but you have to get out there, see more than just Beijing and Shanghai. Go out west, visit the small towns, do some hiking, go to Yunnan province. I think if you can do this you will have a better time in China and a better feel for the culture and people.
Could you tell us ONE thing to SEE, DO, and EAT in China?
While these are maybe not the top top (i.e The Great Wall), I'm recommending them as slightly off the beaten path things: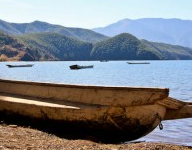 See – Lugu Lake. Granted, it is very out of the way and for everyone may not be worth it. We really liked it for two reasons though. The first is that the lake is gorgeous and you can bike around and see the surrounding local life of an ethnic group that is not the Han Chinese. The first is that there were no other Westerners the entire two days we were there.
Do – Hike The Tiger Leaping Gorge. One of our all time favorite hikes. Great view, almost like you're up close to the mountain itself. It's very different from most of the hikes we do which, frankly, we often walking up stairs.
Eat – Peking Duck. This is a classic Chinese dish and very tasty. They serve it multiple ways combining the skin and meat. We went to a restaurant with our Couchsurfer, who took us to a very nontouristy place for a reasonable price. Definitely don't go to just any restaurant, as there are many and I'm sure the quality varies.

What would your biggest piece of advice be for navigating the public transportation in China?
Write everything down in Chinese. People, generally, don't speak or read English. They do read Chinese though. You have to latch on to the one person who speaks English and say "write down 'How do I get to the bus station'" and then just carry this around and show it to everyone you can until they finally point you in the right direction. It's a much more difficult country to backpack in and very little is set up to make a backpacker's life easier.
One of our biggest worries about heading to China later this year is their lack of high-speed internet. How did you handle that while being there for so long? No Facebook either!?!?!
Yes, the internet in China is generally awful – what can I say? It was a very difficult country to blog in, probably the MOST difficult we've encountered. Eventually, however, you will come across decent internet and even facebook (VPNs). When you do, prepare ahead. Don't just get the information you need now, get the information you need for the next few days or even a week. If you haven't gotten the message yet, in China you need to be prepared. You need to make the most of the good times to weather the storm when there is no internet and no English.
Lastly, what music do you guys listen to?
I like alternative rock, Incubus for example.
Vicky likes Russian Pop.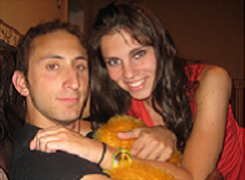 Bio: Dave and Vicky are the authors of Travel and Food blogs A Couple Travelers, TravelingThroughFood, and AvocadoPesto. Having spent 2 years in the working world, they exchanged their briefcases for backpacks, dress shoes for sandals, and beds for sleeping bags. In September 2012 they embarked on a 2 year journey across Asia and Europe. Follow us on Twitter and Facebook!