Snorkeling with a Turtle and Spectacular Whitehaven Beach
With one day in Airlie beach, we looked for a cruise to famous Whithaven Beach.. After some research, we booked a day trip with Big Fury, a boat that claims to be the fasted in the area which equates to more snorkel and beach time. We were picked up at 10, after a quick stop in town for a small cooler and some beer for the trip, and headed to the marina.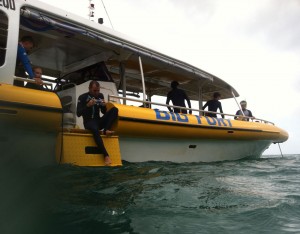 We boarded Big Fury with about 30 other people, and filed into seats that felt like bus seats. It wasn't the sun deck or benches I had experienced on other boats, and it was soon clear why this boat was different. I don't know how fast we were sailing along, but the ride felt more like a roller coaster than a boat. It was fun for me, but the occasional bumps and jerks from the waves lead to some annoyed groans from Dan. The ride was less fun in the sporadic rain and splashes soaking us passengers  but it was only about an hour until we pulled into a bay to snorkel.
We slid on our stinger suits, a necessity to protect again the smaller, clear jellyfish that were apparently abundant this time of year, and jumped into water that was cloudy from the recent rains. Dan and I swam around a bit, disappointed with the less than five feet of visibility and lack of fish sightings, when we spotted something on the surface about 15 feet from us. We simultaneously realized it was a turtle, and swam over as I attempted to get my iPhone in its waterproof case on camera mode. I snapped a few photos just in time as it swam away. By the way, I love my Lifeproof case and lifejacket (and they are not paying me to say that).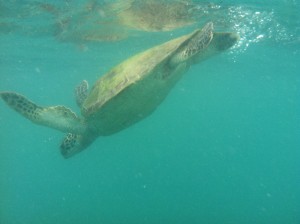 So cool! This little guy made the cruise worth it, and we hadn't even seen the beach yet. We swam back to the boat, and waited to climb up as two women both wearing life jackets and clutching foam noodles panicked near the ladder for no reason.
We jetted over to Whithaven beach, which was much longer and much more purely white than I had imagined. We were served lunch and spent a few hours walking the shore and laying in the sand. The beach was spectacular, as promised.