The Most 'Wonder'ful Attraction in Australia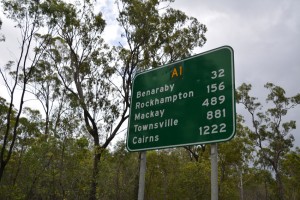 We've arrived in Cairns after six days of watching the kilometers on the road signs slowly get smaller and smaller.
We had 2 nights and only 1 full day until our flight from Cairns to Perth, so we of course booked a day trip to the Great Barrier Reef. The booking process is overwhelming: litteraly every third shop in the city of Cairns is trying to sell cruises, many of them by talking to you on the street as you walk by. The flyers for the cruises all look the beautiful, but almost identical: big white boats, clear beautiful water, someone snorkeling or diving near a cool fish. We talked to a few places, determined that many of the booking agencies offer a 10% discount over buying direct from the cruise company, and picked one that looked like a solid mid-size boat. We didn't want one that was too small to handle the waves of this typhoon season, and too big that it would be packed with people. We chose Silverswift, a medium size boat run by a reputable company that included 3 snorkeling spots, lunch and 2 snack times.
We set out at 8:30 am with a 2 hour or so cruise to the reef. I heard many people in our hotel talking about how choppy the waves were ("lumpy" to Aussies) so I took some motion sickness pills and was glad I did. After arriving at our first spot, we got a safety overview and a reef talk, where a guide pointed out where reef was good for swimming and what to look for in different points. He repeated this intro for each spot we stopped at, and it was helpful.
We rented stinger suits again, because I am not spending a week of my time in Australia in the hospital because of a jellyfish. We jumped in, armed with my iPhone and waterproof case, and set out to discover the reef.
It is every bit as amazing as I expected. The fish are in huge schools, just swimming along ignoring snorkelers. The coral was beautiful, and I usually don't care that much about the coral compared to the fish. We didn't see a turtle this time, but we found a reef shark, some giant clams (the largest concentration of them in the world are in the Great Barrier Reef where they are protected from commercial fishing), and plenty of colorful tropical fish, including clown fish and angelfish. The largest species we swam with was a Maori Wrasse who follows the boat to all 3 snorkel sites and was named Nigil by the crew.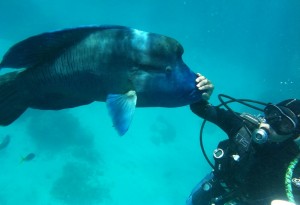 I'd of course recommend seeing the Great Barrier Reef via a day cruise like this.  Shop around, as they are all similar but have different sites and amenities. We debated diving as well, since the boat offered introductory or certified dives, but I'm glad we didn't pay the extra fee. If you want to dive the Great Barrier Reef, I'd recommend going with a boat that only has divers. Since our boat had snorkelers as well, the divers didn't go anywhere that was that much deeper than where the snorkelers were. Ask someone who dives I guess, but I didn't feel like we were missing much, since we could see the divers right below us looking at about the same things.
One of the 7 Natural Wonders of the World checked off our bucket list!