St. Paddy's Weekend in Perth, Australia
After soaking up the sun and experiencing the beautiful Great Barrier Reef in Cairns, we were a little sad to leave so quickly.  But on to the next adventure, we boarded a 4.5 hour flight to Perth.  We were lucky enough to find a Couchsurfing host, Brad, who not only agreed to let us stay 3 nights at his place for free, but picked us up from the airport on Saturday night – holding a handmade sign with our names next to an American flag, no less.
We headed to Brad's suburb while he told us about his community cricket league and their championship game, which had just wrapped up day one.  We got to his nice apartment villa, learned a little more about where we were, and made plans to explore the city the next day, St. Patrick's Day.  Aussie celebrate St. Patrick's day much like Americans do, which is nothing like Irish do – wearing green and getting drunk all day.
Sunday we find the bus to the central business district, CBD, and wander around the pedestrian malls and shops.  The city is clean and friendly, with lots of trees lining the streets.  The weather is hot but with no humidity, and the streets are busy with shoppers and celebrators.  Its the perfect day to wander around.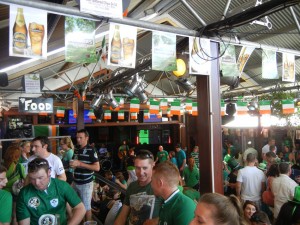 We walk toward Leederville, a nearby suburb where we hear there is a parade wrapping up and a party at a football stadium.  We don't make very far, because on the way we walked through Northbridge, which seemed to be the heart of the St. Patrick's Day party.  Several Irish pubs with blasting speakers from live bands have crowds overflowing into the street, and look way too fun to pass up.  We entered The Shed, with its huge outdoor patio and stage.  On the way in, my bag is searched and Dan gets a breathalyzer, for no reason that we can understand, except maybe that he is a guy, or that he is carrying a waterbottle (that contains water, but I'm sure they've seen everything).
We drink a round of Guinness and one of Magners Irish Cider.  The staff organizes a game of Wellie Toss and we get in line, with no idea what Wellie means.  When we get to the front, we learn its a rain boot, and we are tossing it through a hole in a board in the shape of a four-leaf clover.  I throw the boot way too low, but of course Dan sails it through the middle and collects a prize of cheap green accessories and junk food.  We leave the bar, eating our free lunch of potato chips and candy bars.
We made to Leederville, and not wanted to spend any more money for now, enjoy the free entertainment – a live band and a high school game that must be Gaelic football.  We piece together the rules, but not enough to know who's winning.
We wander through Leederville and back to Northbridge, stopping for coffee and browsing a few shops.  In Northbridge, we grab some kebabs for dinner from one of the dozens of takeaway places selling them for cheap and eat them in a nearby park (with free wifi)!  We grab the last bus back to Brad's house, since the bars are closing shortly at 10pm, a law in Perth on Sundays.  We learn from Brad that there are all kinds of crazy rules about when places stay open, and it was only recently that any shops including big grocery stores could stay open past 6pm on weekdays or open on Sundays at all.
Monday Brad is free so he takes us around his city.  We explore Cottesloe Beach where a temporary art exhibit displays sculptures up and down the beach.  The beach, water, and rock jetty is beautiful, and offers views of Freemantle, a popular nearby beach city that we would explore if we had more time.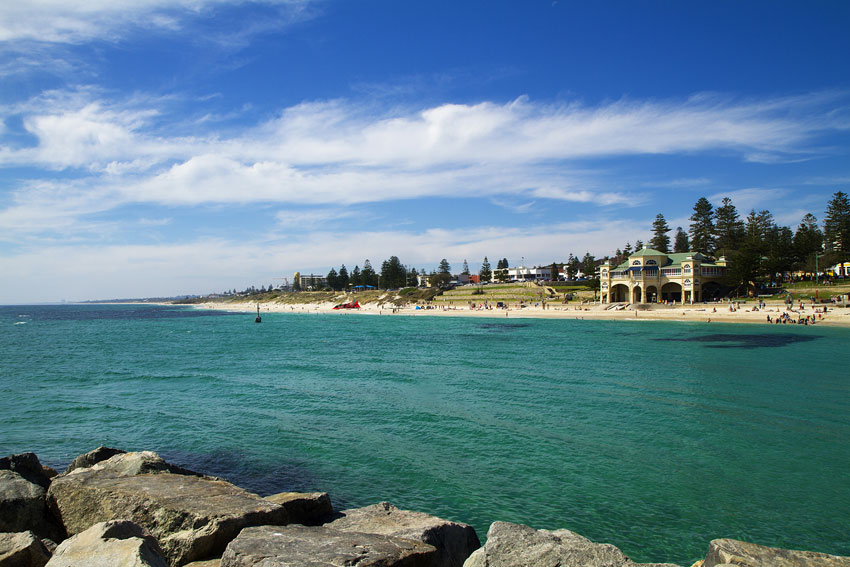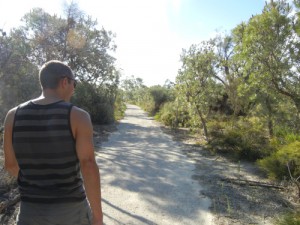 On the way back, we drive through Kings Park, Perth's own version of Central Park, and check out a protected bush area that is Brad's "fail-proof" place to see kangaroos.  We still haven't seen one, despite the warnings from the campervan company (and subsequent recommendation of deluxe insurance) and stories from other travelers.  In fact, we don't see one in Perth either, and  have to give up our search.
Brad makes us a homecooked meal of roast chicken and vegetables with gravy.  Its so much better than the restaurant food or our campervan instant noodles, and we are extremely grateful. We book our taxi for the insanely time of 3 am, and wrap up our whirlwind tour of Perth!  Next stop? Bali!