Bali, Indonesia: First Impressions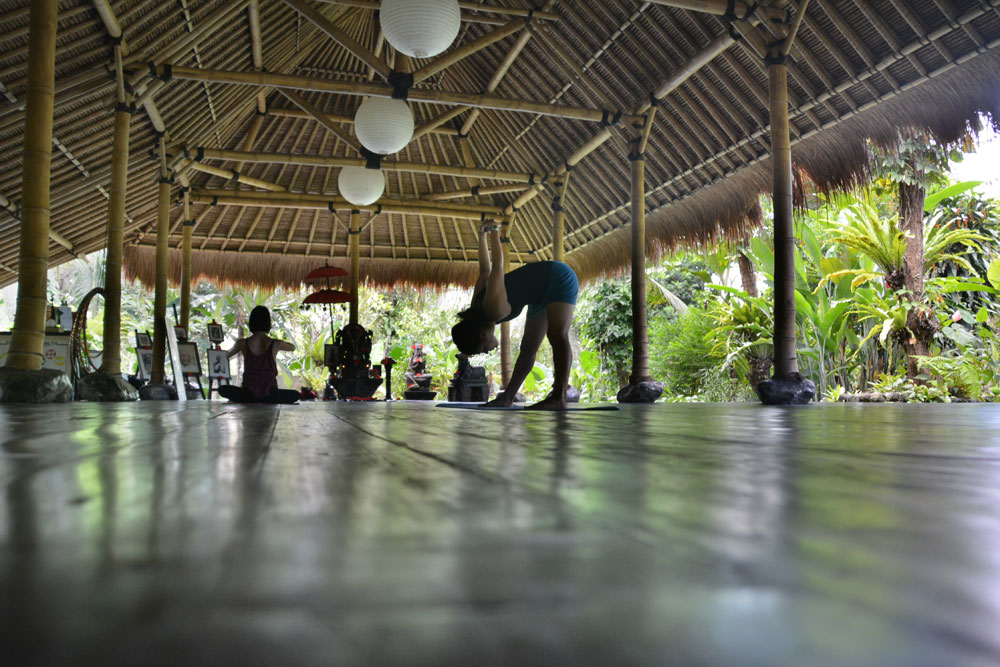 We arrived in Bali yesterday morning after catching a 4:50am flight from Perth, Australia.  We've arranged a to stay in a villa in Ubud, Bali with some fellow working travelers.  The villa has about 6 rooms, and we've been welcomed into this awesome community of about 10 people.  Two of the girls in the villa are here for the annual Bali Spirit Festival going on this week.  It is a gathering of yogis and yoga instructors from all over the world, sharing ideas and techniques for practicing Yoga.  We spent our first day getting familiar with the town via our rented motorbike, and we spent our first full morning at a yoga studio in Ubud's monkey forest (picture above).
First thoughts on Bali:
We love it here!
The traffic during the hour-long ride from the airport to Ubud was pretty crazy.  The roads are not wide enough for the traffic flow, and the motor bikes seem to do whatever they want (like most SE Asian countries).

The area around the airport is pretty run-down, and it is obvious that the beautiful parts of Bali are nowhere near Kuta or the airport. (Kuta is the main party city in Bali.  Think Cancun for Australians…)
Ubud is beautiful.  Everywhere we turn there is another temple or walkway leading to some amazing cave, rice field, or river.  It's overwhelming at first, and we want to stop and look in each temple, but there just isn't enough time to do it all in the first day!

Motorbikes are the best way to get around this island.  They are pretty efficient on fuel, and it makes getting around a breeze.  It helps me a lot that I used to own a scooter, as it is a little nerve-wracking driving around in the chaotic traffic where no one seems to follow the lanes or dividing lines in the road, and scooters are even allowed to go the wrong way on one-way streets.  Don't worry moms, we're sharing one helmet, so at least one of us will always be safe (we're getting a second helmet tomorrow)
Everything is so cheap here!  After five weeks in Australia, we have gotten used to paying a premium for everything from accommodation to food.  We were over budget there, and it was refreshing to buy a beer for under $2.00 and buy a plate of fried rice for $1.80!  There is also a spa next to our villa that has 80 minute massages for $10 and mani/pedicures for $7.
Ubud is somewhat of an art mecca.  Every other building is either an art studio, art shop, or art museum.  There are paintings, statues, exotic furniture, wood carvings, you name it!  And it's all beautiful.  If only we had room in the suit case!  Our favorite art so far is a gallery whose artist paints on canvas made of old newspaper.  The canvases are about 6 feet tall too, which makes it even cooler.  These only go for $600!