Motorbike Trip to the Rice Terraces of Tegalalang
Filling the tank in Bali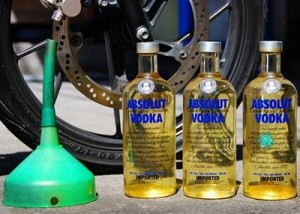 We've pulled over our near-empty-tank motorbike at a roadside stand on Bali's main street that features a hand-written 'PETROL' sign in front.  I don't see any gas pumps, or people, but I am assuming someone will come out with a gas can after they hear me pull up.  Within a few seconds, a lady in her 60's walks out to see what I'm looking for.
"Do you have petrol here?"
"Yes, one moment please."
She disappears into the back and reemerges with a funnel and three bottles of gold-colored Absolut Vodka, which of course isn't vodka at all, it's the gas my bike needs.  Total price tag on the three liters of petrol: $1.50 U.S.  Not bad!
 Road to the Terraces
Although we looked at a Google Map before leaving our villa in Ubud, we are still only about 80% sure where we're going.  The map always looks so easy on Google… "Oh yeah, one long road here, a curve there, and one turn. Easy."  Except once you're on the road, there seems to be more turns and roads than Google shows, causing the never-ending "Is this the street we turn on, or is it the next one?" discussion.  The fact that none of the streets have signs does not help either.
The drive itself is absolutely beautiful.  We pass temple after temple, and rice field after rice field.  It is hard not to stop at each one of these awesome sites, as they all seem to warrant a stop and some exploration.  I can imagine how people can spend so much time in Bali, given the vast amounts places to see.  The weather is also perfect, and the wind from traveling at 70 kph keeps us nice and cool. After about 40 minutes of driving and turning around only once, we emerge in the city of Tegalalang, home to some of the most beautiful rice terraces in the world.
Rice Terraces of Tegalalang
The area seems to be the most touristy of the places we've seen so far here in Bali.  Busload after busload is arriving of fanny-packers from all over the world… Australian, Chinese, Indonesian, you name it.  But the crowd doesn't take anything away from the view itself.  We are both thirsty after the long bike ride, so we stop in one of the many cafes over-looking the terraces.  We soak in the view as we sip on our iced teas and contemplate how long it would take us to walk all the way down the terraces and all the way up the other side.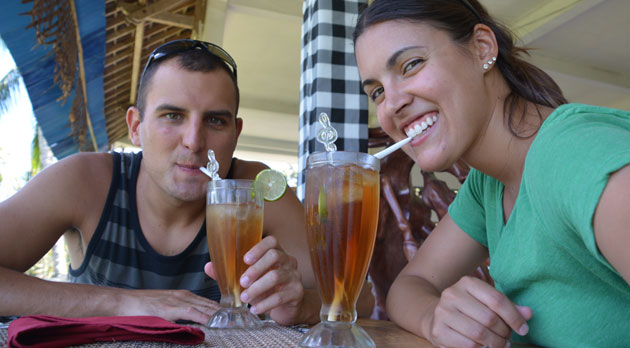 We purposely picked the cafe at the farthest end of the road so that we could do one long walk along the main overpass road.  We can't help but stop every 40 steps to take a picture or talk to a local trying to sell something.  One local allows me to try on his hat and carry his basket for a bit (seemed pretty staged, and required a donation, but still cool!).  After about an hour of doing nothing but staring at beauty, we get back on the bike and head home to Ubud.  The ride back is again beautiful  and we are able to catch 15 minutes or so of a youth soccer(football) game going on in a nearby village.  It's amazing how good they are!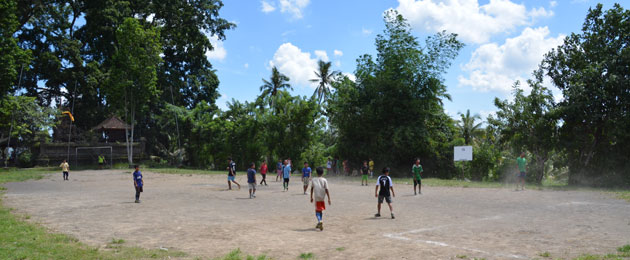 Heading to Bali soon?  Rice fields and terraces are everywhere, and they are all beautiful, but we have found Tegalalang's to be the best eye-candy of all of them, and a great photo opportunity.  Worth putting up with the large crowds for a few hours.