Ubud the Expat Way: 5 Awesome Experiences Without a Tour Bus
In our first stop in Indonesia, we spent 2 weeks in Ubud, the cultural center of Bali. Surrounded by lush green forests, rice terraces, and temples, Ubud is miles away from the beaches Bali is famous for.  Although, with the amount of things to do, you won't miss the water.  This laid-back town and its surrounding villages are a home away from home for many expats from all over the world, and we were lucky to stay with nine of them in our villa.  Tourist stalls advertising half-day and full-day tours to various points around the island are everywhere on the main city streets.  In other places, we've taken advantages of tours like these and some are worth it.  In Ubud however, I wouldn't recommend them, and here's why:
The road to the destination is half the attraction; a tour bus won't stop for you if you see a cool view or photo opportunity.
The Balinese streets are not designed for buses.  Expect delays while someone stops traffic or moves parked scooter to make room for the bus to pass.
The peace of the forest, waterfalls, temples, and rice fields is disrupted by dozens of chattering tourists around you snapping photos or whining about the heat.
Tour buses don't give you a local experience!
(I might make an exception for Mt. Batur, the active volcano in the northern part of the island. We didn't go there, but the local guides apparently are protective of their volcano and don't approve of people climbing without paying them, so you might want to go with a tour.) So, here are some non-tour bus activities and experiences, compiled by taking cues from the expats we stayed with.
1. Rent a Motorbike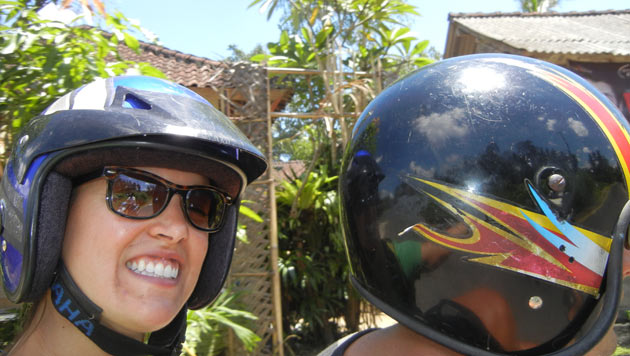 Motorbikes and scooters are everywhere, and for good reason: the roads are narrow, traffic can be slow, and parking is extremely limited.  If you are staying near the center of the city, you'll want one to explore the outer villages.  If you are staying a outside of the city center (where there are many cool home-stays  villas, and resorts, depending on your budget), you'll need one to get to the action at night. Another huge bonus: you can rent them everywhere, usually for around $4 USD per day, negotiable for weekly and monthly rates. Save money on cabs! A full tank of gas is only about $1.30 and will last a few full days of biking around. (Obviously motorbikes can be dangerous, so wear your helmet and only drive if you are comfortable.)
2. Visit Temples on Your Own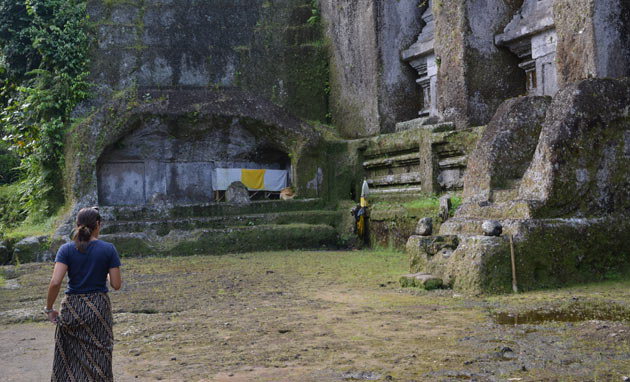 Now that you are cruising like a local on your motorbike, get out of the city and check out some sights.  We visited three temples: Goa Gajah (Elephant Cave), Gunung Kawi, and Tirta Empul. The wikitravel map was the most helpful in planning and navigating to these temples.  Even with the map we had to ask for directions as the street names are not always well marked, but the locals were more then helpful. The temples are beautiful.  Goa Gajah was easy to find and close to the city, with lots of wooded paths to explore. My favorite was Gunung Kawi, which we reached by climbing down 371 steps (according to wikitravel) and the views are spectacular. Tirta Empul was interesting as well; people offer sacrifices of food and flowers to bath in the holy water.  We went around the holiday of Galungan, and lines formed to enter the fountains.
3. Eat Organic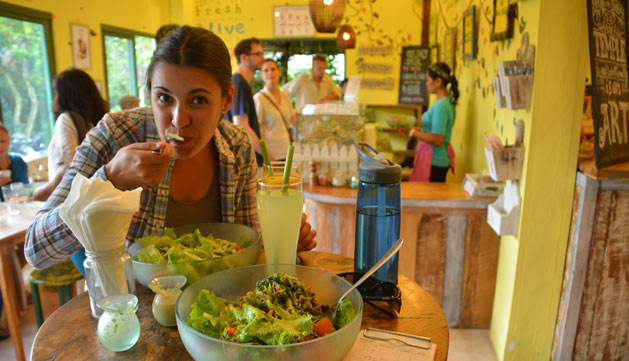 Ubud has no shortage of organic, vegetarian, vegan, raw and otherwise deliciously healthy cafes.  And they are cheap!  To really dine like an expat, insist on organic and enjoy a meal at Dayu's Cafe, Alchemy, Sari Organik, Bali Buddha, or one of the dozens of other popular restaurants boasting healthy fare.  It really is delicious, and even the standard nasi goreng gets a healthy kick with local chicken and brown rice.
4. Practice Yoga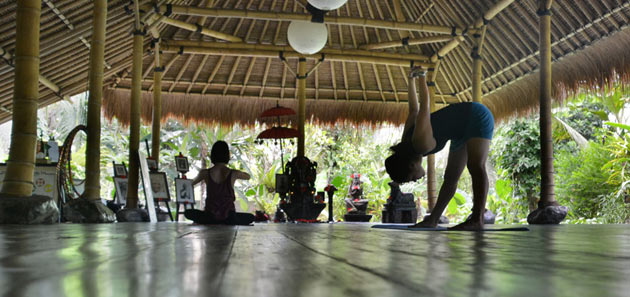 Speaking of treating your body well, a yoga class is a great way to spend an hour or two during your time in Ubud.  Balinese primary practice Hinduism, where yoga originated from.  Yoga is a spiritual activity for many around Ubud, and they encourage new people to learn and share their practice with them. No need to be an expert, just be open to trying it and you will have a good time.  Yoga Barn has good classes but Western prices ($10 per class, discounts for multi-class packages).  We went to Taman Hati, Garden of Heart, Yoga and Meditation Center and paid $5 for a two hour class with an amazing instructor reminding us that yoga is about happiness and helping us modify challenging poses.
5. Watch Live Music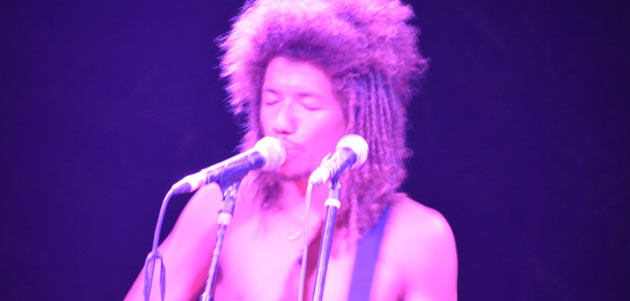 With the awesome Ubud cafe and bar scene comes many live music shows everyday.  A few popular ones – Laughing Buddha, Case Luna, The Betel Nut – host a variety of local and international groups.  On our trip, we were introduced to Dustin Thomas, saw some fun reggae, and heard Balinese cover band rock Goyte. Bonus: For international music fans or dedicated yogis and , visit during the Bali Spirit Festival, a "annual celebration of yoga, dance, and music" that according to some of our new friends can bring on divine, transcendental experiences.
Have you been to Ubud? Have any other opinions or recommendations?