Our Australian Campervan Road Trip
Day 1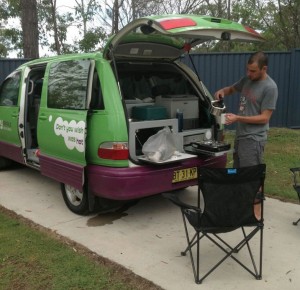 We booked our Jucy campervan in January and have been looking forward to driving it from Brisbane to Cairns ever since. Saturday, we took the train from Gold Coast to Brisbane and then walked to the Jucy office to pick up our ride.  After checking in, we got a quick tour of our van: mini fridge, gas burner, sink, dishes, table, foldout bed, and lawn chairs. All the comforts of home!
That afternoon, we picked up some groceries from a local supermarket and hit the road. Our first destination was Hervey Bay, an easy 3.5 hours away. We took a few scenic detours in our excitement, and got to our first destination about 7pm that night. We planned to check a few campervan parks to find one for less than $20, and soon found out this wouldn't be very easy, since most of them closed at or before 7pm. The first one we tried was too expensive, and the second closed. The third appeared to be closed but the caretaker (owner maybe?) heard our vehicle and came over to the reception area to sell us a spot for a reasonable rate. Our new plan and tip for anyone else making this journey is to start driving early in the morning and get a camp site well before dinnertime. We made our first meal in the Jucy van, figured out the bedding, and tucked in out for our first night. The bed was OK for a fold out in a van, although we wouldn't recommend it for anyone taller than Dan (5' 8"), as he barely fit.
Day 2
Hervey Bay is famous for it whale watching, and we have been emailing with Peter Lynch from Blue Dolphin Marine Tours, who said he would meet with us but that he wouldn't recommended taking out the boat because it wasn't whale season and even the dolphins were hard to spot because of the rainy conditions and floods earlier this season. We learned a lot from Peter the next day, and definitely want to come back some time when the whales are migrating through the channel, one of the only places in the world where the whales are in a calm enough waters to stop the boat and let them swim right up to investigate, a frequent occurrence on Peter's cruises.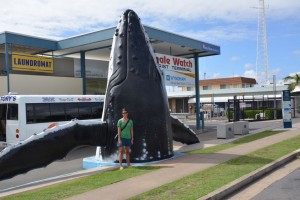 I was disappointed we wouldn't see any whales, but on the bright side we were on the road earlier than expected. We started driving with the plan of camping in either Rockhampton or Mackay, or somewhere in between, knowing today would be the longest driving day of the trip.
We got to Rockhampton around 4pm, and looked for wifi to make a plan for Airlie Beach, the next town we wanted to stop in. We decided we could drive farther tonight to get within 2 hours of Airlie Beach in order to get to a Whitsundays cruise by 10, giving us a little more flexibility for sightseeing later on in the trip.
Because of our ambitious driving plan, we were well past camp site closing time by the time we got to Mackay. The highway we were on has rest stops every 30 to 60 miles, so we decided to keep going until we hit the next one, and pull over for the night. When we hit the next rest stop, we found a well lit parking lot with toliets that seemed like a good place to camp for free, except for the "no overnight stays" sign at the entrance. After some debate, we risked it, since it was already after 9 and we planned to leave by 7 to give us time time to park in Airlie Beach. It was a restless night for both of us: not only was there the highway noise and paranoia of every car that passed coming to give us a camping fine, but I swear the birds squawking in the tree above us was some kind of pterodactyl.
Day 3
Somehow we survived without anyone or anything bothering us, and we hit the road before 6:30am. We got to Airlie Beach with plenty of time to find a campervan park with a good deal for Jucy van customers, check email and Facebook, and get to our Whithaven Beach Cruise. Airlie Beach is a cool backpacker town, and we wandered around a few bars and watched some crappy karaoke before heading to bed.
Day 4
We set off on the morning of our fourth day with the van with a plan to stay in Milla Milla, a small town in an area west of Cairns known as the Tablelands, an area that has a lot of natural (and free) attractions that has great review on Trip Advisor.  Milla Milla is near some spetacular waterfalls, but even so, its not a very touristy town (apparently most people only visit as a day trip from Cairns), so we enjoyed a peaceful night a little off the beaten path.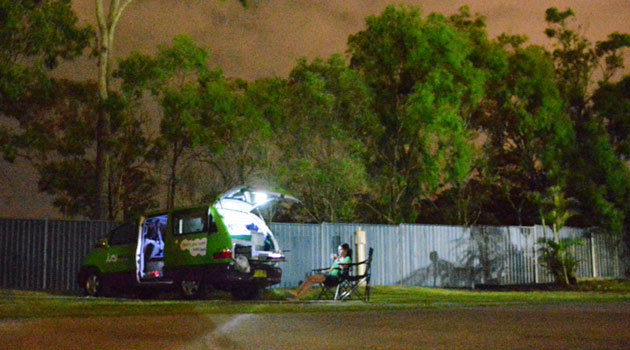 Day 5
After a fun-filled day around the Tablelands, we looked for a place to spend our last night in the van, but not without first stopping at the drive-thru bottleshop for some more cheap Australian wine.  After driving through a few towns, we find some signs pointing the way to a campgroung called Granite Gorge.  We decided to follow the signs to the campground solely because of its cool name. We were not disappointed, as they led us to a unique area with wildlife walks and wonderful views.  We settle in for the night and decide to spend the next morning exploring all the gorge has to offer.
Day 6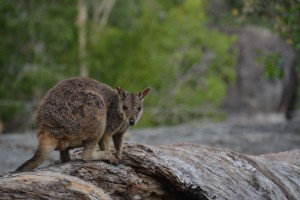 Our exploration of Granite Gorge included some up-close encounters with wallabies and a walk around a rocky trail with amazing view of the area. These photos don't do it justice!  As we headed to Cairns to turns in our van, we made a couple of spontaneous spots at a coffee plantation and Barron Falls, the largest waterfall in the area, which included a rainforest walkway.  After that, we literally coasted to Cairns, as we decended all of the elevation we climbed in the past 3 days in about 30 minutes.