Six Budget Travel Destinations to Consider in 2014
Published On September 15, 2013 |
Bolivia, Cambodia, Destinations, Europe, Lithuania, Nicaragua, Popular, Portugal, Top Lists, Travel Guides, Travel Planning, U.S. Virgin Islands
2014 is right around the corner, and travel addicts everywhere are beginning to plan out where they are going to explore in the new year.  When Alissa and I were 9 to 5'ers in the U.S., we would many times plan our next destination up to six months in advance, meaning now is when we would begin planning on where to go at the end of this year and in 2014.  Below is a list of seven budget-friendly destinations to consider visiting for a 10-14 day international trip.
Top Budget Travel Destinations for 2014:
1. Nicaragua
Why go? Definitely not the best destination for the casual traveler, but for those who crave adventure and even danger.  Nicaragua requires experienced travelers who use common sense and who keep constant eye in the back of their head to stay safe.  With much of the country's citizens in desperate poverty, this is not the country to get drunk and forget where you are.  However, when done right, Nicaragua can be one of the most unique and beautiful places you can visit in Central America.  It is the cheapest country for tourists in all of Central America, and a traveler from the U.S. can do a 10-day trip for about the same price as the average week-long all-inclusive Mexico trip.  The city of San Juan del Sur is the upcoming surfing and party destination that is a must for any backpacking itinerary, just don't expect to get any sleep there, as the parties and the loud music go all night.
Flight cost estimate:  A round-trip from the U.S. to Managua, Nicaragua (MGA) will be around $600.  However, Spirit Airlines flies direct to Managua from Miami and Ft. Lauderdale for as low as $200 round-trip.  If you flight-hack this fare by buying both a round-trip ticket to Florida, then a round-trip ticket to Managua, you could get there for as low as $400.
Our recommendation: The best way to enjoy Nicaragua is to get a group of 4-6 people together, head to San Juan del Sur during low season, and rent one of the condo units at Hotel Villa Isabella.  You will be rewarded with a great pool and a killer location.  The owner, Mike, is the perfect resource for everything you need to know in the area, including how to stay safe.  $175 – $300 per night.
2. Cambodia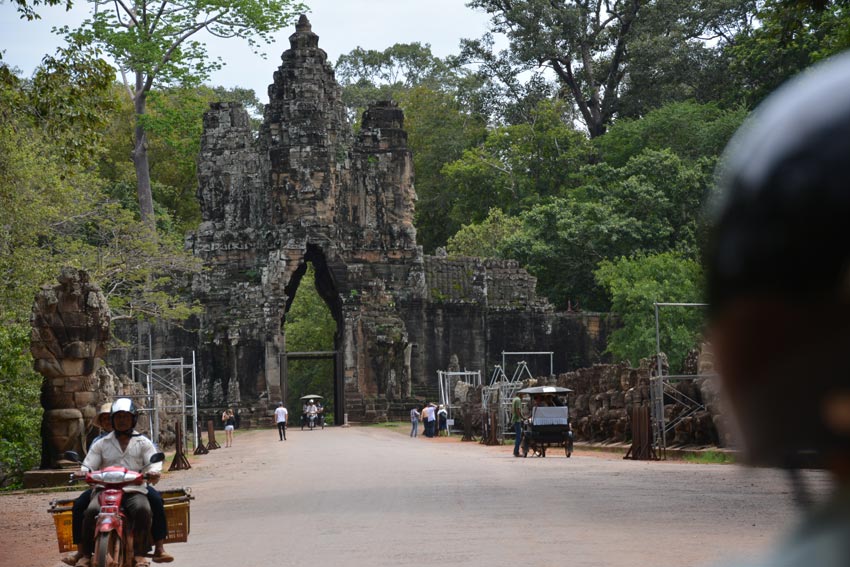 Why Go? For a country still not fully recovered from its rough past, Cambodia actually delivers one of the friendliest atmospheres in all of Asia.  They also boast one of the easiest languages to learn for English speakers.  The sounds and tones are easy to pick up on, and the phrases easy to memorize.  Two weeks in Cambodia can end with you speaking Khmer with the gate agent on your way out!  There are three cities to put on your itinerary in Cambodia:  The temple-filled city of Angkor in Siem Reap, the history lessons in Phnom Penh, and the beach parties in Sihanoukville.
Flight cost estimate:  It is sometimes possible to find good fares to Siem Reap, but often time the cheapest way to get to Cambodia is to fly into either Bangkok or Ho Chi Minh, and then bus over the border.  Estimated to be about $1,200-1,400 for the flights and $100 for buses.
Our recommendation:  The trade off for the expensive cost of getting to Cambodia is just how cheap everything is once you get there.  A good two-week route would be: Fly to Bangkok, bus to Siem Reap, bus to Sihanoukville with a stop for a day in Phnom Penh, bus to Ho Chi Minh to fly home.  Note:  One of the best hostels in the world, Garden Village Guesthouse, can be found in Siem Reap, complete with a rooftop bar serving 50 cent beers. $2 – $25 per night
3. U.S. Virgin Islands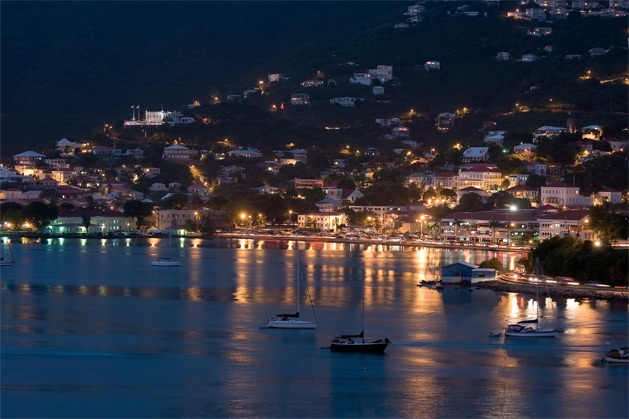 Why go? For those American travelers without a passport, or not enough time to get one before your trip, the U.S. Virgin Islands are perfect.  They are remote and exotic enough to feel like you've gotten away, but close enough to keep the flight time bearable.  The three islands to choose from are Saint Thomas, Saint John, and Saint Croix, all of which offer something a little different and unique.
Flight cost estimate:  You should be able to find a round-trip flight to the St. Thomas Airport (STT) for around $500.  If you have more time, finding a round-trip ticket from your home to Miami of Ft. Lauderdale, then heading to STT from there on a separate ticket might be your best bet.  Low-cost carrier Spirit Airlines flies directly to STT from both of those cities for less than $250.
Our recommendation: The resorts on all three islands are anything but budget.  In my opinion, the only way to stay in the Virgin Islands on the cheap is to use private vacation rental services like AirBnB.com and Homeaway.com.  The prices of everything from food to beer is inflated, so having your own kitchen is key to saving hundreds of dollars.  Here is our recommendation on where to stay in Saint Thomas: Sunset Gardens AirBnB Guesthouse $100 – $130 per night.
4. Portugal
Why go? Portugal is arguably one of the best budget-friendly options in Western Europe right now, and although geographically small, the country features an amazing diversity of climate and landscapes.  With the mountains in the North, the metropolis of Lisbon in the center, and the desert-like beach atmosphere in the South, Portugal can satisfy any travelers desire for variety.  When you order wine at most restaurants in Portugal, it's assumed you want a bottle or carafe, not just a glass, and they bring you a bottle for about 3 Euros.  What's not to love about that!
Flight cost estimate:  YA round trip from the U.S. to either Lisbon or Porto will run around $950.  However, you can save money by looking for round-trip fare sales to European hub cities like Amsterdam, London, Paris or Frankfurt, and from there you can find round-trips to Portugal for under $100.
Our recommendation: With the popularity of tourism in both Spain and Portugal rising, the prices are slowly starting to climb, however deals are easy to find throughout the country.  A fun way to see Portugal would be to rent a car.  Fly into Porto in the north, drive to Lisbon with a quick stop in Aveiro, then head south to the beach town of Albufeira before driving back to Lisbon for your flight home.  Instead of staying in Albufeira, drive a few miles east and stay in Quarteira.  It's a smaller, quieter beach town, and you can stay at this AirBnB gem for as low as $12 a night: Forte Novo.
5. Bolivia
Why go?  One of the most popular trips for U.S. backpackers in 2013 has been the Peru and Bolivia combo.  However, if you're on a budget, doing both countries can be tough on your wallet.  Machu Picchu in Peru and Salar de Uyuni in Bolivia are two of the most amazing sites in the world, and 10-14 days is plenty of time to see both sites and experience what both countries have to offer, but the cost to fly one-way into Lima or La Paz, and one-way back home from the other city is almost twice as expensive.  Bolivia is about $10 cheaper per day, and Machu Picchu excluded, has just as many great sites, towns, and people to see and interact with.  NeverEndingVoyage.com have a great write-up on the cost differences between Peru and Bolivia.
Flight cost estimate: A round-trip to La Paz will cost you about $800.  South America flights are the most challenging fares to find deals and flight hack with.  If you have the patience and time, you can find ways to hop around and save hundreds of dollars by flying into neighboring countries and taking the bus into Bolivia.  Expect it to add multiple travel days onto your trip though.
Our recommendation: Spend a few days in La Paz, bus to Lake Titicaca and spend a few nights in Copacabana, then if you have the guts, head back to La Paz to take a mountain bike tour of the most dangerous road in the world!  End your trip with at least three days to get from La Paz to Salar de Uyuni and back.
6. Lithuania
Why go? Eastern Europe as a whole has been seeing a boom of tourism, and Lithuania is one of the countries leading the way.  Although Lithuania has always seen tourists flowing from neighboring countries, recently they have began seeing a bigger influx of visitors from all over the world.  Lithuania features the architectural enthusiast's dream city of Vilnius, great natural parks and wonders, a nice coastal scene, as well as many culturally rich countryside towns.  Lithuania was the last European nation to accept Christianity, so there are some really interesting pagan history to view as well as hundreds of historical war sites from WWI, WWII, and even Cold War sites.
Flight cost estimate: Flights to Vilnius will set you back about $850 (cheaper from the East Coast).  Like Portugal above, if you can find a good deal to a European hub city you will have an easy time finding a cheap fare to Vilnius.  For example, if you can find a fare sale to London for $650, you can get a roundtrip from London to Vilnius for around $80.
Our recommendation: Visiting Vilnius is a most, as it truly is one of the most underrated cities in all of Europe, maybe the entire world.  Any city that has launched a bike-sharing program is OK with us!  From there, the best bet it to make a circle route from Vilnius up the north to see forests and lakes, then head west to the Palanga to see the coast.  Lithuania's youth basketball is ranked second in the world (behind the U.S.), so if you're a basketball player, Lithuania is a world-class place to visit and play some pick-up hoops.  When you're in Vilnius stay with Živilė of AirBnB.com for as little as $24 a night:
Are you a traveler from the UK?  No problem, just ignore the flight cost estimates from the U.S., and the list is still a great guide for you, otherwise here are some more cheap holiday ideas for 2014.