A Vegas pool for every occasion
During my extended travels, I have a few rules that I set with one goal in mind: SAVE MONEY.  One of those rules is that I don't gamble.  When I had a full-time job, I headed to Las Vegas three or four times a year and gambled a lot… but that was with a steady income.  Now, with the exception of small wagers like fantasy football or the NCAA tournament, I simply don't gamble at all, and avoid casinos completely.  It's not easy either, as I'm constantly in towns where the city centers seem to be built around a casino… Singapore, Cairns, etc.  But no city is more intimating for non-gamblers than Las Vegas, Nevada…  As Vegas veterans, I know there are plenty of things to do in Vegas other than gambling, but my favorite is hanging out by the pool.  In order to experience as much of Vegas as possible, I tend to stay in a different hotel each time we go.
Here is a guide of Las Vegas pools for various types of trips to my favorite desert city:
Best Overall Pool
Mandalay Beach at Mandalay Bay
It's not easy to pick Las Vegas's best pool, and although some pools are better in other areas, Mandalay Beach is the only pool that has a little bit of everything.  The location isn't the best, but its gigantic size and variety of different pool types make it the pool that everyone can enjoy.  The wave pool has real sand and waves big enough to surf in, the lazy river is long enough to take numerous naps on, and there is live music to give it a club feel as well.
Best Bachelor Party Pool
Sapphire Pool and Day Club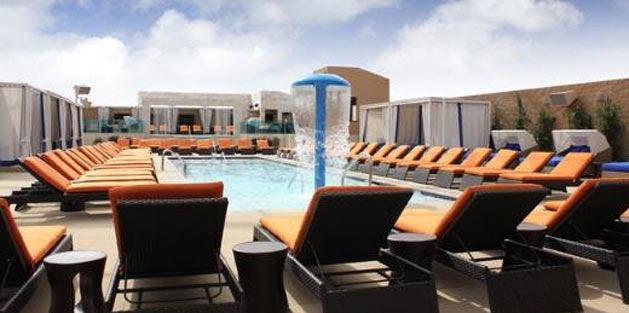 Vegas's only strip-club pool is also one of its newest, and is on the itineraries of bachelors from all over the world who descend on Vegas for their last weekend of freedom.
Best Bachelorette Party Pool
Tao Beach at The Venetian
Vegas has always been a top bachelorette destination, and if your group of girls wants to splurge, the Tao Beach club is second to no pool when it comes to bachelorette fun.  It's like taking your entire group and transporting them to Bali for the weekend.  The men from the Thunder Down Under male strip show are known to frequent this pool on the weekends, another reason to make Tao your base to unleash.
Best VIP Experience Pool
Bacchus Pool at Caesars Palace
The Bacchus pool cabanas are some of the most exclusive in Vegas, and are priced accordingly.  There are only a few cabanas available at this private pool, so coughing up the money to rent one of them gives you a good chance of sharing some paradise real estate with a celeb or two.  The Bacchus cabanas over-look the Neptune pool, which means you'll get to enjoy the party at Neptune with the ability to sneak away up the stairs to your quieter pad anytime you like.
Best Topless Pool
Bare Pool at The Mirage
Don't set your expectations too high here.  You won't be descending onto a pool of topless beauties ready to mingle.  However, topless sunbathing is completely OK here, and many of the ladies laying around during the day opt for this European way of catching some sun.  The partying in the pool requires either a beautiful body or a $40 admission fee.
Best Music and DJ Line-Up
Marquee Day Club at The Cosmopolitan
It's easy to imagine you are at a concert or rave and not standing in a pool during some of Marquee's parties.  They boast Las Vegas's best poolside DJ line-up and it has set them apart from other party pools.  If you have energy to burn and want to rave like you're 18 years old again, Marquee will not disappoint.
Best Pool Food
The Pool Café at The Bellagio
If you value awesome food over parties and noise, than the pools at The Bellagio are just what you need.  The Pool Café features everything from Pizza to Sushi to Oysters.  Don't call it quits in the afternoon without first getting an order  of Lollipop Wings to pass around.
Best Family Pool
The Tank at The Golden Nugget
It has a water slide that goes through a shark tank.  What else needs to be said.  The 10 year old me wants to go down that slide soooo bad.
Best Spa Pool
Azure Luxury Pool at The Palazzo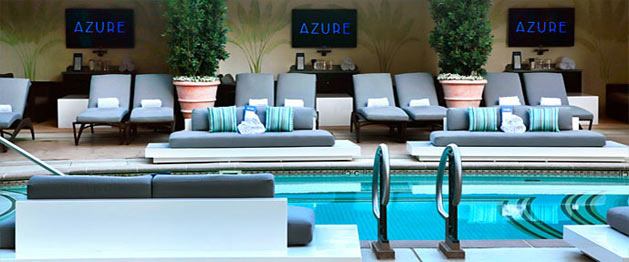 Need to be pampered?  Azure is the place to go to have someone else be responsible for your comfort.  They even have free endless frozen grapes to snack on.
Best Pool View
Rooftop pool at the Veer Towers
You will need to know somebody in order to access this pool.  It's closed only to the residents of the Veer Towers condominiums.  Maybe if you're a group of cute girls, you can hang by the entrance until a guy invites you up.
Most Exclusive Pool
Hugh Hefner Sky Villa Pool at The Palms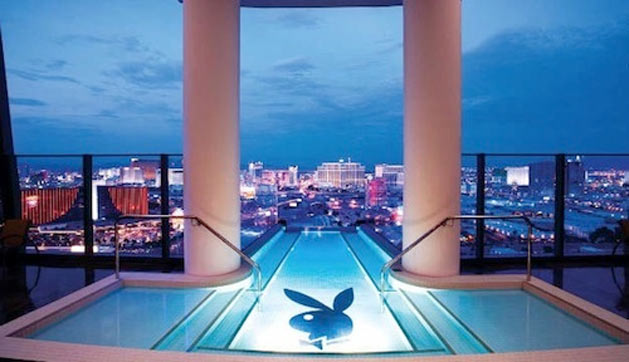 This pool can be all yours for the low price of $35,000 per night.