Living the Dream on Gili Trawangan Island
It's snowing right now in our hometown of Minneapolis… in April.  And tomorrow the forecast is freezing rain.  There are hundreds of people all over that city saying things like "Why do we live here?  Let's move to an island somewhere and open a business."  So many people say this, but so few ever actually do it.  It's so fun to find people in this world who actually follow through with a statement like that.
When we run across people who have done something similar to us, we always enjoy the conversation that ensues.  Why are they traveling? Where are they from?  Where are they headed?  etc. etc. etc…  When met Mark and Lol from the Gili T and B Homestay near Bali, we knew right away it would be a conversation and experience to remember.  Like us, they made the decision to leave home (in their case, the UK), sell what they own, and try a new lifestyle somewhere else.
Lol had become intrigued by an article she read in The Guardian about a small island near Bali called Gili Trawangan (Gili T for short).  The island had everything they were looking for: beautiful scenery, constant sunshine, turquoise waters, friendly people, and a laid back vibe.  They spent six months saving money, left their home in the UK, arrived on the island in December of 2012, and by February 2013 they were the proud owners of a brand new hotel right in the middle of Gili T.  Alissa and I were thrilled to stay with them so soon into their new venture!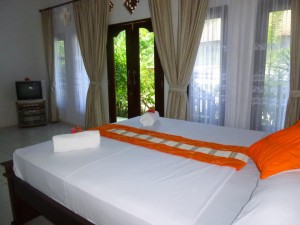 The Gili T and B homestay is a short walk from the island dock, although Alissa and I opted to take a horse and carriage ride instead (no motorized vehicles are allowed on Gili T Island!).  On our carriage ride, we saw countless run-down guesthouses with homestay signs, and we were really unsure what to expect when we got to our destination.  When we arrived at their guesthouse, we were immediately impressed by the condition it was in, and extremely pleased to see they had WIFI, a must for us when traveling.  Lol showed us our room right away, which was large, very clean, and had a kitchen equipped with a refrigerator and stove.  They even stocked our fridge with beer, water, and soda.  $.50 Waters, $1 Cokes and $2 Beers?  Not bad!
Mark helped us get set-up with some rental bikes, and the island is small enough to bike completely around in 45 minutes.  They also gave us a bunch of tips on what to do on the island and where to go site-seeing.  Each day begins with a nice breakfast at the homestay, and ends late at night by watching a movie from the hundreds Mark has on his hard drive.   We fill the time in the middle surfing, snorkeling, biking, trekking to the nearby WWII site, and eating sunset dinners on the beach or at the local night market.  Suddenly we wished we were staying more than five nights.
We have had such a great time here with Mark and his family and we are already trying to figure out when we can come back.  These guys have successfully done what so many people talk about doing: Move far away to a  beautiful island and open a bed and breakfast.  And in the process, they have created a beautiful homestay to house guests from all over the world who come to visit this awesome island.  We miss it already, and can't wait to go back!
If you're heading to Gili T in the near future, you can inquire about staying at the Gili T and B Homestay and see pictures of all their rooms on their website here: http://www.gilitandb.com