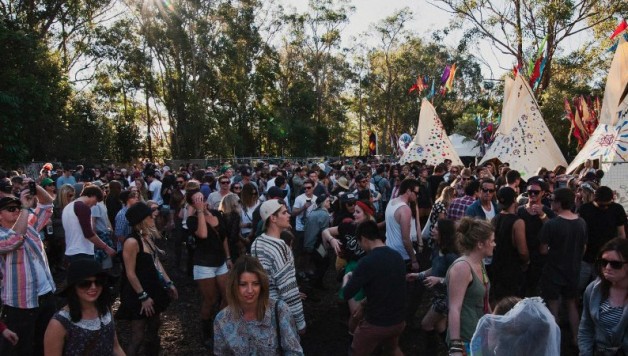 Five Australian Music Festivals to Put on Your Bucket List
Australian music festivals are a summer tradition, though recently they are changing from big rock extravaganzas that tour the country, to festivals that attract visitors into a particular region or town for a unique experience on a long weekend. Keep in mind the best festivals are booked out months in advance, so don't expect to just turn up. You'll need to have your ticket and accommodation booked well ahead of time. The Big Ticket Shop can get you set with the ticket and the festival website will guide you with information about transport and lodging. Here's a look at some festivals with something for every taste.
Soundwave
Soundwave tours the five mainland states (Brisbane Showground, Sydney's Olympic Park, Melbourne's Flemington Racecourse, Adelaide and  Perth Showgrounds) in February and March each year, and is the last surviving mega-touring festival from the 1990s (recently the Big Day Out and Homebake were cancelled for 2014). Soundwave made its name at the peak of grunge rock and Australian 90s rock, putting iconic rock bands into one line up.  These days Soundwaves imports older rock bands and is a lot about 1990s nostalgia. In 2014 Soundwave will feature Green Day, Avenged Sevenfold, Stone Temple Pilots, Alice In Chains, Placebo and Korn amongst more than 30 artists.
Splendour in the Grass
Splendour in the Grass takes place in Byron Bay in July so technically it's not a summer festival but considered the coolest festival among young Australians with djs, hip-hop and alternative rock all showcased equally. It also gives the young and hip from the Southern cities an excuse to head north to the warmth and camping grounds tend to be crammed. In 2013 guests international guests included Mumford and Sons, Frank Ocean, along with local Empire of the Son and the Presets, and lots of tents with smaller stages. This is the festival to discover the new Goyte playing in some scrummy tent down the back.
Bluesfest
Bluesfest also takes place in Byron Bay and is Australia's premier blues, or rather 'blue grass', music festival. It has been running in Byron Bay for almost 25 years and goes from strength to strength focusing on singer/songer writers and acoustic music. In 2014 it will feature Jack Johnson (a festival regular), Aaron Neville, Elvis Costello and John Mayer as well as locals such the John Butler Trio and Kasey Chambers. It is held at Tyagarah Tea Tree farm near Byron Bay during Easter holiday weekend.
Tamworth Country Music Festival
Tamworth Country Music Festival in January is an Australian institution, held in the town of its same name which is kind of like the Nashville of Australia (about five hours' drive North of Sydney). This is perhaps the only music festival in Australia which is 100% Australian music because Australian country music is more folksy and about a relationship to the land and country lifestyle  (quite different from than American country music which is more romantic).  New musicians literarily busk on every corner, while bigger concerts and the Australian Country Music Awards are also held.
WOMAD
Each March, WOMAD (World of Music, Arts & Dance) takes places in Adelaide's inner-city Botanic Park, showcasing traditional and alternative music from around the world. The program features performances and workshops to learn about music from Africa, Pakistan or whatever as well as performers. Music styles vary from indigenous to classic to contemporary rock and include dancers, DJs and exotic instruments. In 2014 the lineup will include Arrested Development (USA), Femi Kuti (Nigeria), Billy Bragg (UK), Asif Ali Khan (Pakistan), Muro (Japan) and Roberto Froncesca (Cuba),  plus dozens of other musicians from just about every corner of the globe including Australian indigenous musicians.