Manila's Most Unusual Bar
The Hobbit House

New Zealand's scenic Hobbiton is considered to be the mecca of Lord of the Rings travel destinations.  For fans wanting to check out "Middle-Earth", New Zealand is second to no other destination in the world.  However, 25 years before Hobbiton even existed, a small bar opened in the Philippines that is truly the first Lord of the Rings inspired tourist attraction.   It's name is The Hobbit House.  A restaurant/bar within the chaotic city of Manila, fitted out with hobbit-themed paintings and a large circular door, whose staff consists only of little people.
The Hobbit House was opened in 1973 by an American Peace Corp volunteer, and has become one of Manila's most-famous bars to see up and coming Filipino musicians and bands.  We didn't eat here, instead we came for some beer and some music.  The bar features beers from all over the world, including Miller beer from my hometown of Milwaukee.  Being on a budget, we alway opt for the local brews, but it was tempting to order a Miller or two.  The nightly live music seems to keep the crowd younger and creates a fun atmosphere to drink and meet fellow tourists.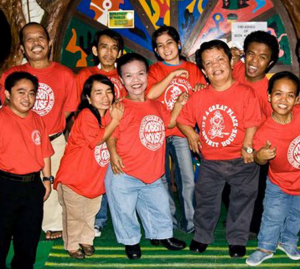 I was impressed by how this whole bar operated.  The employees here seem to like the attention they receive by guests, and are frequently posing for pictures.  Being at this bar made me wonder what would happen if someone in the United States tried to open something like this.  Now Hiring: Little People ONLY.  The amount of lawsuits that would probably follow would shut the bar down before it could even open.  In the Philippines, where work is already harder to come by than in the U.S., I assume it is even tougher to find work as a little person.  In my opinion, this bar is helping provide service jobs to a group of people who otherwise would find it difficult to work in that industry.
Visit The Hobbit House website