Stranded in the South China Sea
Our nightmare journey while backbacking the Philippines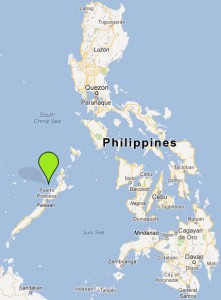 We've been in the Philippines for a week, and have made our way from Manila to the western island of Palawan.  Our first three days in Palawan were spent at the island's biggest city, Puerto Princesa, as well as a day exploring the Subterranean River National Park in Sabang.  We then took a four hour boat ride to the small beach town of Port Barton. The last leg of this journey was to make our way to the top of Palawan and the town of El Nido, also known to many as "Heaven on Earth".
Transportation on Palawan is not convenient, and we only have two options to get from Port Barton to El Nido:
1. Bus – Buses on Palawan are the most affordable option, but they are often over-crowded and travel along bumpy, windy jungle roads.  Many times people will even end up sitting on the roof of the bus.  For the trip between Port Barton and El Nido, there is no direct bus, and we would have to make a change-over in Roxas.
2. Boat – The more common option for tourists on Palawan is chartering outrigger boats, known as bankas, to take you from town to town.  This option isn't that much more comfortable than the bus, but it's definitely more scenic.  It is typical to see groups of tourists pair up to split the cost of a boat ride tp the next town.
Early morning start
Our journey starts promptly at 6am.  We meet up with two Filipino men that were hired by the owner of the boat to take us on the 6-7 hour ride, as well as a Frenchman named Johan, also looking to get to El Nido.  We were told that the sea can get rougher in the afternoon, so the earlier we leave, the smoother the ride.  Our boat is only about 15 feet long, with two hard benches to sit on.  It moves along extremely slow and looks like it was hand-made 20 years ago.  Alissa and I sit on one of the benches, Johan settles in on the other, and the two Filipinos are steering the boat from the back.
Trouble at sea
About three hours into our journey, we are startled by a loud thud, followed by a splash that sounded like someone dropped a bowling ball into a swimming pool.  Immediately, one of our drivers leans over the back of the boat to inspect the engine.  The look on his face when he comes back up says it all.  It is clear we are in trouble.  Our propeller has broken in half and sunk to the bottom of the ocean.  The boat has no radio, no flares, and no paddles.  Even if we did have paddles, we wouldn't even been able to keep up with the speed the current is pushing us at.  We are now heading directly out to the South China Sea.
Calling for help
It is quickly clear that these two men are not only unequipped, but they also lack any training or experience in boating.  Johan and I began drilling the two men with questions on how they plan on getting out of this mess.  We discover that our only method of communication is texting on their pre-paid cellphone, as they do not have a voice plan for the phone.  Over the next 30 minutes, text messages are exchanged with someone back in Port Barton, who relays our SOS message to the owner of the boat.  Eventually we get a text that says the owner is on his way to help us, but that he was coming all the way from where we started.  This meant he wouldn't be able to get to us for at least three hours or more, depending on whether he can find us, and how far we drift in the hours it takes him to find us.  I insist that he send a text to everyone on his phone, or try and text the coast guard for help.  But they just keep assuring us that the boat owner will find us.
It was hard to believe them when just a few minutes later they are both at the edge of the boat, waving their t-shirts above their heads, yelling "help us!" to a passing boat.  Even though the boat seems far, we join in and help with the waving and yelling.  I thought about how loud our motor was before it broke down.  The motor had been so noisy that we could barely hear each other talk across the boat.  Yelling at this boat that is half of a mile away is useless.
Johan and I figure our best bet of being rescued is being seen, not heard.  On every banka boat there is a 15 foot stick that the local boaters use as a paddle when they get close to shore.  They drive the stick into the sand so they can push the boat in the direction they want to go.  We take the stick, tie a bright orange life jacket onto the end of it, and raise it on it's end.  I know other passing boats might see us, but there really wasn't a way for them to realize we are in trouble unless something looked out of the ordinary.  Now, everytime we see a boat passing in the distance, I sway the orange-topped stick back and forth while everyone else waves white t-shirts.
Stranded
We stay as positive as we can, but we also begin preparing for the worst.  We have three two-liter bottles of water, a jar of peanut butter, six rolls, and half a can of Pringles.  No one on the boat is an expert on survival training, but we are smart enough to know we have to ration everything we have.  What we are most concerned about is the sun.  We originally had a canopy on the boat covering the two benches.  However, when we lost our engine, we had to take the canopy down because it began acting as a sail, and was pushing out to sea even faster.  Johan has a hat, but Alissa and I cover our heads with some extra t-shirts.  Even with sunscreen on, we can feel our skin slowly burning.
Time moves slower than ever.  The longer we sit here, the scarier it gets.  At one point I look over the boat to see how fast we're drifting.  It doesn't seem too fast until my sunglasses fall off, and I watch them float away and disappear in seconds.  We are moving much faster than I had originally thought, and it now makes waiting for the rescue boat even harder.
Note: We didn't take too many pictures while we stranded.  Alissa did take one small video (you can see it below)

Rescued
It has now been over six hours since we left the beach in Port Barton, the last three of which have been spent drifting out to sea under a burning hot sun.  We start getting into a routine of yelling and waving at boats miles away, then having Johan zoom in on the distant boat with his SLR camera hoping to see them turning our way.  As we close in on hour seven, Johan seems to think a boat in the far distance was heading in our direction.  We begin waving and shouting, I start moving the life saver pole back and forth.  Finally, Johan confirms that the boat is indeed heading right for us, and snaps some pictures so we can see our rescue boat up close.
It takes the boat what feels like forever to reach us, but the closer they get, the more certain we are that we we will be getting rescued.  They finally reach us and we find out that they were out fishing, and one of them spotted us waving for help.  They agree to tow us back to shore using an extra rope from their boat.  This is when we realize just how far we had drifted.  Once the rescue boat gets our boat all secure, it takes us almost two hours just to get back to the shore.
Visiting with the locals
We get towed to a small fishing village near New Canipo in the San Vicente stretch of Palawan.  Our two "captains" have texted our new location to the owner of the boat.  He tells us his brother-in-law, who happens to live in this village, will be meeting us on the beach.  We are taken to his house where we are greeted by his wife and three of his fishing partners.  His wife kindly makes us a traditional Filipino meal of adobo pork and rice.  Meanwhile, the four local fisherman are passing around a bottle of gin (they all looked like this guy).  Although it is only 1pm, they have been working since before sunrise, so I assume this is their version of happy hour.  For a while, we almost feel fortunate that we got stranded.  Here we are experiencing an authentic Filipino meal with some locals that we would have never experienced without the boat trouble.
After eating, we are told that the boat will be fixed in about an hour.  We decide to take a walk down the beach, take some pictures, and strike up a conversation with some of the local kids.  We end up spending most of the time in the shade, just enjoying being on dry land.  The new propeller gets installed on the boat, and we get waved over to get right back on the same boat that we just spent 8 hours on.
Back on track
We're quickly reminded just how slow our boat had been traveling before it broke down.  Three hours into this second trip, it begins getting dark.  The two Filipinos casually suggest that maybe we would be more interested in staying in a town closer than El Nido.  The first thought in my mind is that I haven't spent that last 12 hours of my day on a boat, just to end up coming a few miles short.  Johan has beat me to it and told them that he only wants to go to El Nido and wants to eat a pizza and drink a cold beer.  They reluctantly continue on.  For two more grueling hours.  Then, at 8pm, we finally arrive in El Nido.
El Nido and one more headache
We're exhausted, our skin is a nice bright pink, it's been 14 hours since we left Port Barton, but the sight of El Nido makes us forget how horrible the day has been.  The night before, we negotiated with the boat owner, and had agreed on a price of 3,000 PHP ($70 USD) for the trip.  The driver hands us our bags, and as I begin to hand him the stack of cash, he lets me know that back when we were getting the boat fixed, the owner had instructed him to charge us 4,000 PHP because of the extra gas that had to be used on our trip!  The only reaction I can think of is to simply laugh.  Part of me wants to not pay them at all, but I know that me not paying the owner means these two won't get paid.  I avoid getting angry, but I start losing patience when they refuse to take the cash from my hand.  They begin texting the owner, but we don't plan on sticking around for the answer.  Johan has already walked away, and I drop the stack of cash at their feat, nicely, and we walk to go find a hotel.  We don't turn around to see their response, but by the next morning their boat was gone and there was no cash laying on the beach.
Read about our amazing time in El Nido