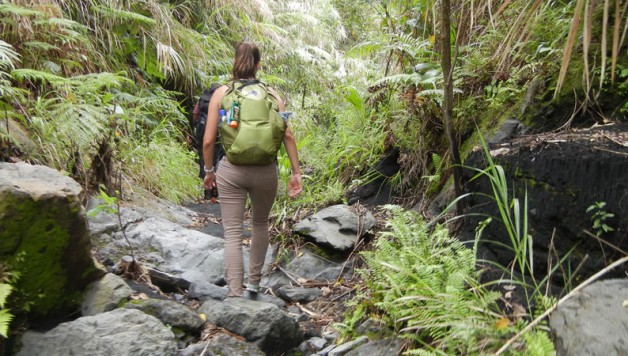 Alissa's Top Five Memorable Experiences in 8 Months in Asia and the South Pacific
Published On November 17, 2013 |
Asia, Burma, China, Myanmar, Recent, South Pacific, Southeast Asia, Thailand, Top Lists, Travel Journal, Vanuatu
Now that we've had time at home, taking a break from our break, and telling our stories to family and friends, I've had more time to reflect on the awesomeness of our life in 2013 so far.  A common theme of my memorable moments is accomplishing a physical challenge. I've found when I push myself physically, the rewards are even sweeter because I accomplished a goal (i.e. great view, remote villages, unique activity).  Meeting new people is also an important and memorable part of traveling, and is another common theme.
So here are my favorites, in no particular order.
Hiking an active volcano on Ambrym, Vanuatu
Our 12-hour trek up Mount Marum yielded the most amazing natural wonder we've ever seen – an active, bubbling crater of lava. The spurts of fire and lava, the heat from the 100-yard-deep pit, and the terror of leaning over to see it are all things I'll never forget.
A horse trek with Tibetan nomads
My first time riding a horse was a two-day trek over the grasslands inhabited by Tibetan nomads and their herds of yak and sheep. Not many people can say that.
Dinner with a Myanmar family
When we got to see the home and eat with the family of Tun, a 25-year-old painter/hawker in Bagan, Myanmar, it really summed up the best part of Myanmar for us – the friendliness, generosity, and overall happiness of the Myanmar people.
A bike tour of Cambodian villages
I loved Siem Reap for many reasons, but one of my favorite afternoons was spent with Yan, a tour guide who Dan's brother met and kept in touch with over the last few years. Yan took us and a few other travelers on a bike tour through a few villages in the rice paddies. We stopped at a temple where Yan translated a conversation with a woman asking a monk for help with her heart problems, while Yan interjected his advice that maybe a doctor would have better solution. Next we bought some cold beers and continued through the rural landscape, enjoying the Cambodian agriculture. We tried out our rudimentary Khmer phrases and greetings with everyone we could, and got a lot of smiles.
Celebrating Songkran in Bangkok
I'd never even heard of Songkran until the week before before we got to Thailand.  Upon hearing of the festival, we decided to fly to Bangkok two weeks early so we could participate in the huge, three day water fight. We spent day one in the craziness of Silom, day two with a group of kids on the offensive side of the water fight, and day three in a massive dance party on Kho San Road. Other countries and areas of Thailand even go for seven days, which I couldn't imagine having enough energy for.